The Colonial Group has joined forces with one of the world's most recognizable brands to launch a new programme to get Bermuda fit.
The Colonial Group has signed an exclusive deal with Virgin Pulse, a member of Sir Richard Branson's famed Virgin Group, to bring a get fit scheme to Bermuda.
"Virgin Pulse is pleased to partner with The Colonial Group," said Chris Boyce, CEO of Virgin Pulse. "Through this partnership, we're excited to help improve the health and wellness of the island's people, helping them to be more engaged and productive both on the job and off, and ultimately change their lives for the better."
Naz Farrow, Colonial's Chief Operating Officer for health, said, "There is a great strain on the health care system in Bermuda with costs spiraling. We have to come to grips with our health issues in Bermuda or face the consequences of higher premiums, which will hurt everyone.
"We think this is the best wellness programme we have seen and we hope our partnership with Virgin Pulse will have positive results for everyone involved.
"It is a fact that the fitter people are, the lower the health care costs, the rate of sickness falls, there are fewer safety incidents, and a much higher level of productivity.
"Virgin Pulse is a company that likes to have fun, and this is a fun initiative that we think people will love."
Lisa Blackburn, Colonial's Wellness Coordinator in Bermuda and Cammie Simmons, a Colonial wellness champion, show the Virgin Pulse Max device.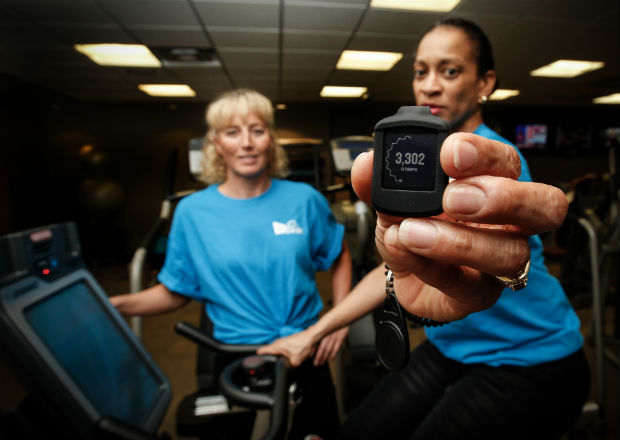 Virgin Pulse already works with 200 clients representing more than one million employees.
The programme works through an online health portal, which helps to keep administration costs down and which centralizes information, making it easily available to participants. Virgin Pulse has also integrated the latest technology from social, gaming, devices, and mobile apps.
When a person signs up, they will get access to fun social programmes aimed at improving not just physical health, but all aspects of life. Employers get instant access to data on participation, behaviours, and risk factors delivered through real-time analytics.
Rather like some social media platforms, they will also be able to interact with other people to support a friend on the programme, or create active groups like a tennis group, add supporters and friends, and encourage colleagues.
There are two editions under the Virgin Pulse programme: "Ultimate" for Colonial clients with Corporate Wellness Benefit in their medical plan, and "Express" for Colonial clients who have major medical coverage.
With the Express edition, participants will be able to access a secure, personalized online portal where they can monitor their health and track their progress, use compatible wearable fitness devices and apps, including the Virgin Pulse Max, Fitbit, Polar, and RunKeeper to track their activity, participate in fun, engaging challenges throughout the year, enter their key biometrics like weight and blood pressure, earn badges and virtual rewards for their accomplishments and reaching key milestones, and participate in an online social community where they can make friends, join groups, share ideas, get peer-to-peer support, and more.
From left to right: Lisa Blackburn, Colonial's Wellness Coordinator in Bermuda, puts Cammie Simmons and Kevin James, both Colonial wellness champions, through their paces as part of the Virgin Pulse programme.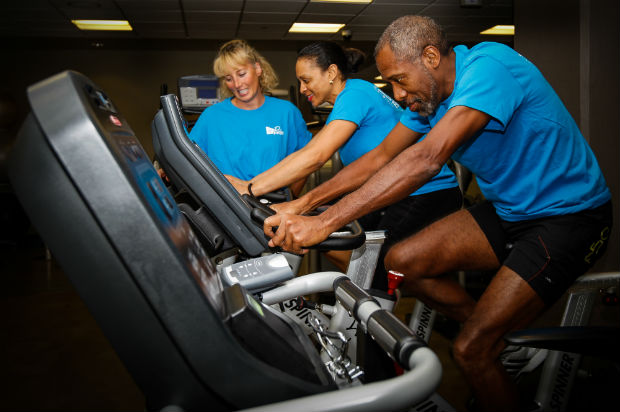 With the Ultimate edition, participants will get all the same great features as Express, plus a Virgin Pulse Max included with their membership, quarterly Colonial-sponsored challenges in which they can earn points and great rewards, incentives for engaging in healthy behaviour and reaching key milestones in the programme [participating Colonial clients will administer their own internal rewards programme], integrated biometrics tracking, including biometric testing by Colonial's in-house staff and nurses, and more.
Jacqueline Perreault, Colonial's Corporate Wellness Director, who is responsible for the wellness strategy in all of Colonial's jurisdictions, said they had looked at more than 20 social wellness platforms and that Virgin Pulse was the most "exciting, engaging, and results-oriented."
"Clients are demanding a return on investment from their wellness programme. Virgin Pulse has been able to demonstrate not only phenomenal participation rates, but also outcome-based results," said Miss Perreault.
She added: "Companies are trying to save money and Bermuda has a population with a high incidence of heart disease and diabetes. I really think that this programme has the potential to make an impact on the health of people on the island and the cost of health care."
Read More About
Category: All, Business, technology