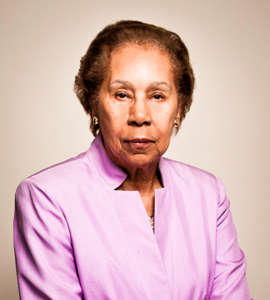 [Updating] The island has lost one of its most respected figures with the passing of former Member of Parliament Louise Jackson.
Known in her later years for her contribution to politics, Mrs Jackson's service to Bermuda extended back decades with her involvement in both education and the performing arts.
She passed away this afternoon at 83 years old.
Just before her passing, Mrs Jackson was named to the Queen's 2014 New Years Honours List, awarded an OBE for her public service and service to seniors.
Her official bio said, "For public service and service to seniors. Louise Jackson stepped down as a Member of Parliament in December 2012, however she continued to remain active in public life. In recent years, she has devoted her efforts and energies towards advocating for the fair and equitable treatment of Bermuda's seniors.
"She has been a tireless health campaigner, commanding respect across the social and political spectrum. Mrs. Jackson has been involved in all areas of public service having served on numerous boards and committees."
"Most recently she was appointed by the Governor, George Fergusson to serve as a member of the Security and Defence Review Committee, a committee whose aim was to provide a comprehensive assessment the Island's security needs. She was a teacher for the majority of her adult life and has helped in the development of children in Bermuda for many years.
"As the Founder of the National Dance Theater of Bermuda, she contributed to shaping Bermuda's cultural landscape. Mrs. Jackson was recognised in 1979, for her service in the arts."
A ferocious advocate for seniors while she was an MP, Mrs Jackson generally commanded the respect of her fellow MPs from both sides of the aisle.
We will update this article with tributes as they come in.
Tribute from the Progressive Labour Party
Shadow Health Minister Zane DeSilva said he had known Mrs Jackson long before he got into politics, and always had the greatest respect for her, even though they did not always agree.
Acting PLP Leader Derrick Burgess said, "The Bermuda Progressive Labour Party today joins the people of Bermuda in mourning former MP Louise Jackson OBE.
"Mrs. Jackson's contribution to issues surrounding seniors and her unswerving commitment to her constituents will be honoured and remembered always.
"To the family of Mrs. Jackson we wish to express our condolences and support during your time of bereavement."
Tribute from Governor George Fergusson
Update 5.57pm: Governor George Fergusson said, "I was deeply shocked to hear that Mrs Jackson was so seriously unwell, followed so quickly by the news of her death. In my relatively short time knowing her, I had come like so many others very much to enjoy her company, to heed her wisdom and to appreciate her enormous dedication to the people of Bermuda.
"While her political commitments were clear, she had close friends – and relations – across every divide, reinforced by her teaching background. I appreciated her continuing commitment to public service in agreeing last year to join the Security and Defence Review. And I am delighted that before she died Mrs Jackson knew of Her Majesty's additional recognition of her service in the award of an OBE."
Tribute from  Premier Craig Cannonier
Update 6.09pm: Premier Craig Cannonier said, "It is with profound sense of sadness, shock and loss that we learned of the passing this afternoon of our colleague and friend, Mrs. Louise Jackson, JP, OBE.
"Mrs. Jackson was a teacher of children, a defender of the elderly and an entrepreneur who used her love of dance to build the arts across Bermuda. She was also a political colleague of singular character and integrity who gave voice to the weak, the infirm and the forgotten.
"Mrs. Jackson was passionate about Bermuda, and the life she led made the Island a better place. She was an ally to all who needed fair hearing, and she was fearless in the fight. No one took on the powers-that-be better than Louise Jackson. Her passion for justice, fair treatment and truth made her a shining star in the community across many years.
"As her one-time colleague, I can say that Mrs. Jackson's example continues to inspire. I will miss her sense of humour, her sense of fun and her fighting spirit. We have lost an amazing women.
"On behalf of my colleagues, I express our deepest condolences to Mrs. Jackson's family, including daughter Susan who succeeded her mother as Member of Parliament. I know they are proud of her, of the way she lived and what she accomplished.
"May she rest in peace."
Tribute from Independent MP Terry Lister
Update 6.15pm: Independent MP Terry Lister said, "I have known Mrs Jackson since I started attending the Berkeley Institute in 1965. She was a stalwart teacher and educator at a time when there were many great teachers and school leaders. Although she did not teach me her influence on the girls in my class was evident.
"As an adult I became closer to Mrs Jackson through a friendship that I developed with her husband, the Senate President, the Honourable Albert Jackson during the 1993 to 1998 period. As a new Parliamentarian, I sought out Senator Jackson's advice on numerous occasions and was grateful for the time he gave me.
"I greatly admired and appreciated Senator Jackson but it was clear that his dear wife was his support and counsel as he addressed many challenges in his role in the Senate.
"After Senator Jackson retired I was surprised to see Mrs Jackson herself come to the House as a new Parliamentarian. However, her contribution in the House was significant. She was fearless in defending the causes that she took on.
"There were many occasions when Members scorned her comments but this did not deter her from speaking out and seeking solutions for the benefit of those who had sought her help.
"She leaves a political legacy that her daughter and political successor, MP Susan Jackson, will find hard to match simply due to the level of hard work, determination and pure love for country that Mrs Louise Jackson, OBE brought to the job every single day."
 Tribute from OBA Chairman Thad Hollis
Update 6.23pm: Chairman of the OBA Thad Hollis said, "I am deeply sorry to hear of the passing of Mrs Louise Jackson, only the day after Her Majesty the Queen made her an Officer of the Order of the British Empire. I can speak for the whole of the One Bermuda Alliance when I say we have lost one of our best-loved members, and Bermuda has lost one of its most valued and cherished citizens.
"Mrs Jackson was a key member of the One Bermuda Alliance team that fought and won the last election.
"Her feisty and tireless work on behalf of seniors – the OBA made the plight of seniors one of the major planks in its election platform – won her friends and admirers all over Bermuda, regardless of political affiliation.
"In Parliament, she was an eloquent champion of seniors and those she felt were at a disadvantage, especially in health matters. She had an elegance and air of authority about her that put her opponents at an immediate disadvantage in trying to argue against her.
"Her effectiveness as an advocate was cited as the reason she was given an OBE.
"She retired from politics after the election, but kept in close touch with her many friends in the OBA. Her daughter, Susan, now represents the OBA in Constituency 20, Pembroke South West."
Tribute from former UBP Leader Kim Swan
Update Jan 3: Former UBP Leader Kim Swan said, "It is with shock and deep sadness that I offer condolences on the passing Mrs. Louise Jackson MBE.
"I have known the late Mrs. Louise Jackson for 45 years since 1969, first when she was a school teacher at Berkeley Institute where I attended; second where as a golfer she frequented Port Golf Course in the early 1970 with Shirley James and the late Gloria McPhee often golfing with former Golf Pro Walter King; and thirdly as a political colleague within the United Bermuda Party, an association which spanned more than 30 years, as we were members of the Southampton West Branch in the late 1970′s when I first joined.
"In recent years, on several occasions we joked about a special golf match when she, Gloria (McPee) and Shirley (James) were victorious against Golf Pro Walter King – and with it a fabulous lunch at Waterlot Inn – but they were all furious when Walter King was called away for a pressing business meeting and they still had to pay.
"Louise and I were fellow legislators for 9 years from 2003 to 2012, but it was not until we were parliamentarians together since 2007, that I came to best know and fully appreciate Louise Jackson the Parliamentarian, her abilities and tenacity.
"Her work ethic was unquestionable, she would not shy away from a task but was not afraid to ask for assistance from a colleague when needed. She was a team player who went along with the consensus but was never afraid to express her opinion.
"But it is as the Shadow Minister for Health and Seniors that many will remember Louise and her dogged pursuit of issues on behalf of Seniors in Bermuda.
"As an Opposition Member of Parliament she fearlessly took to task Health Ministers the late Nelson Bascome, Patrice Minors and Zane Desilva. In spite of the many heated exchanges which focused around Mrs. Jackson's questions &/or statements she was affectionately Aunt Louise to most.
"Through it all, it is impossible to speak about Louise Jackson without mentioning Jackson School of Dance and her contribution to the Arts and the appreciation of the Bermuda Gombeys.
"But in my humble opinion, the combined contribution of Louise and her beloved late husband the Hon. Albert Jackson as educators and legislators that will go down in history as a fine example to emulate but a hard act to follow. They were an adorable couple who gave a lot of themselves to Bermuda.
"Notwithstanding, Louise Jackson made an invaluable contribution to Bermuda in her own right and she will be sadly missed by her family, friends, colleagues and the general public.
"Cindy and I extend our deepest sympathies to her daughters Deborah and Susan, grandchildren, relatives and friends."
"May she rest in peace."
Tribute from former Premier Dr Ewart Brown
Update Jan 3: Former Premier Dr Ewart Brown said, "Wanda and I were shocked to hear of Louise's passing.
"Long before we engaged in the battles of partisan politics, Louise and her late husband Albert were frequent guests of my parents, the late D.A. and Helene Brown of Flatts.
"Always an energetic, civic-minded lady, Louise will be remembered for her persistent advocacy on behalf of our seniors."
Read More About