Floyd MacMillan Davis was an American painter and illustrator who was stationed in Bermuda in the 1940s as a war correspondent, using his artistic talents to capture life of that era.
Known for his work in marketing and advertising for nearly two decades before beginning to work with Life Magazine, Davis was described as "someone who could capture the rich, beautiful people of the 1920s," making him a likely choice for advertisers and print publications alike.
In 1942, it was Life Magazine that sent Davis to Bermuda as a war correspondent in order to cover preparations for World War II. He completed nine paintings, one of which was used for the double page spread at the center of the magazine.
One year later, Life Magazine would call Davis the "#1 illustrator in America."
A painting by Floyd Davis in 1942 showing Front Street: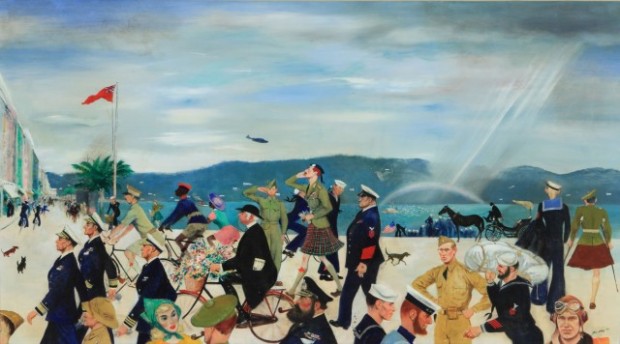 Davis described his Front Street painting [pictured above] as a "cross-section of life in Bermuda," featuring a variety of subjects that represent people and groups of the time, including Rear Admiral Jules James, Dunkirk survivors, Cameron Highlanders, native troops, U.S. sailors, and several other soldiers and airmen.
Davis said that Front Street was a "wonderful place to sketch," and that it reminded him of the South of France or North Africa. He also made special mention of the fact that the Front Street area was "very clean and healthy."
Spread from a 1942 issue of Life magazine about Davis in Bermuda: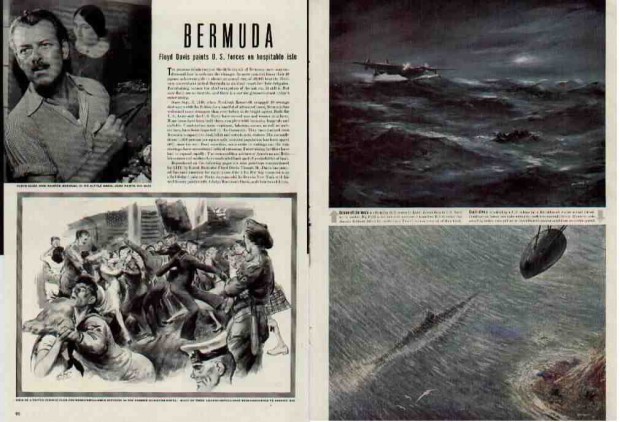 In 1943, Floyd Davis covered the war from England and was able to capture the English people as they lived throughout the siege. One of his most famous paintings is of Bob Hope entertaining troops in the countryside, a product of that assignment that later graced the walls of the Pentagon in Washington, DC.
During the 1950s, Davis lived again in New York and slowly allowed himself to fall naturally into retirement, even while still creating the odd piece for high-end publications like New York City's Post newspaper.
In 1961, while in full retirement, he was elected at the fifth inductee into The Illustrators Hall of Fame, solidifying his place as one of the most compelling and noteworthy artists of the twentieth century.
Floyd Davis continued to paint for leisure until the final years of his life. He died at the age of 70 on October 25, 1966 in New York.
Read More About