Middle and High School Visual Art Teachers were recognized for their work with students to produce the 49th Annual Student Art Show. The show which features student works from the public and private schools will be on exhibit at the Bermuda Society of Arts through April 1.
Teachers from the Island's Middle and High Schools along with Junior Minister of Education Leah Scott; Minister of Community Culture & Sports Wayne Scott and invited guest Reverend Nicholas Tweed, Pastor, St. Paul AME Church and Dr. Llewellyn Simmons, Department of Education.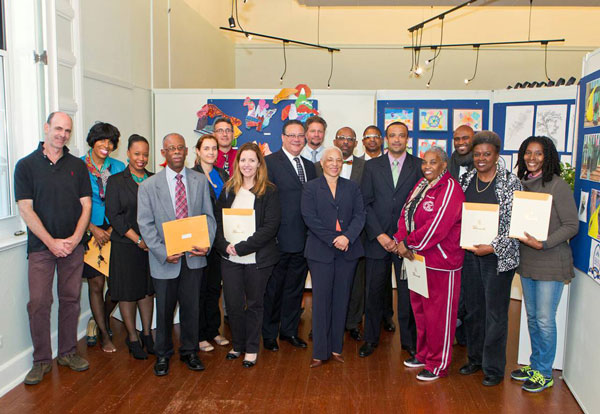 Annually students and teachers are encouraged to continue to produce artistic works that convey the theme of Bermuda Island Pride: Its People and Customs. Many of these artistic expressions will be featured in the Art Exhibition, held in Bermuda's Society of the Arts Gallery. Student works recognized and judged as the most expressive will enjoy recognition in a public display of their works in locations throughout the island.
Junior Minister of Education, Leah Scott, opened the ceremony and congratulated the teachers for the tremendous work with the students. Ms Scott stated, "The arts are essential parts of the human experience, they are not a frill. We recommend that all students study the arts to discover how human beings communicate not only with words, but through music, dance, and the visual arts.
"Everyone understands art. Like music, it cuts across racial, cultural, social, educational, and economic barriers and enhances cultural appreciation and awareness. The arts celebrate multiple perspectives and teach us that there are many ways to see and interpret the world."
The Art Show is open to the public Monday to Friday: 10 am to 4 pm and Saturday: 10am to 2pm.
Read More About
Category: All