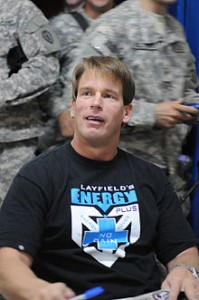 Former WWE champion and Bermuda resident John Layfield [pictured left] is urging people to turn out in force to show support for Earth Hour.
Mr. Layfield founded Beyond Rugby Bermuda, a partnership between the Family Center and Bermuda Rugby Football Union, to give children a better environment in which to do well.
"Beyond Rugby was developed as partnership between the Family Center and the BRFU as a means to help the island's youth have a better environment to succeed in. 
"With homework support and other needs young people need addressed, we use rugby and the discipline it creates to instill positive values in our youth," said Mr. Layfield, a commentator for the longest running episodic show in television history, WWE's Monday Night Raw, and WWE's Smackdown.
"Earth Hour hopes to be the catalyst for change in another way – that is by reducing our reliance on fossil fuels. That creates a more sustainable future for our children and that is a legacy that we should be supporting," added Mr. Layfield, who also appears weekly on Fox News and Fox Business.
A spokesperson said, "Earth Hour takes place on Saturday, March 29, from 8.30pm to 9.30pm and people in Bermuda are being urged to support it by turning off their lights for an hour or attending a host of events at the Washington Mall and City Hall.
"It is a world-wide event, involving millions of people, aimed at drawing attention to environmental issues such as reliance on fossil fuels."
The event is being organised by Greenrock, and its Executive Director Gordon Johnson, said, "It means an awful lot when someone like John Layfield, who is extremely well-known around the world, backs what we are doing.
"As well as creating a legacy for our children and their children which is sustainable, Earth Hour represents a time when we can do without electricity. Doing without electricity altogether is clearly not feasible but using less helps our environment and cuts down on our energy bill."
John Layfield contends with Charlie Haas in WWE action:
The full schedule for Earth Hour is as follows:
12.00pm – 5.00pm: Living Green Expo – Upper Level, Washington Mall
6.00pm: Children's activities, including face painting, bouncy castle and giant Jenga – City Hall Lawn
6.00pm – 7.20pm: Surviving Progress, an acclaimed documentary featuring interviews with film director Martin Scorcese, anthropologist Jane Goodall and physicist Stephen Hawking – Earl Cameron Theatre
6.00pm-7.30pm: Reading corner – Bermuda National Library hosts a reading to enlighten children through fun stories about how they can do their part to conserve energy and minimize their waste
6.45pm: Bermuda Yoga and Horizon Health yoga and Pilates classes – City Hall Lawn
7.30pm: Rebecca Faulkenberry and Reeve Carney, stars of Broadway's Spider-Man:Turn Off the Dark – City Hall Lawn
7.30pm – 9.30pm: Performances by In Motion dancers, Rock Fire, Island Teaser, DanceSations and TROIKA as well as spoken word artist Tiffany Paynter; ecoRUNWAY trash fashion show by Bermuda High School for Girls – City Hall steps
8.30pm – 9.30pm: Walk of Flame celebrating Earth Hour – begins and ends at City Hall. The Walk of Flame is a community walk through the unlit streets of Hamilton. Participants will be given tea lights and are encouraged to bring decorated jars to hold their tea lights and illuminate the way.
Read More About
Category: All, Environment, Sports