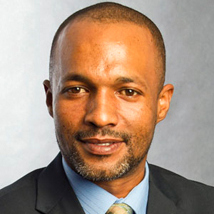 Minister Shawn Crockwell and Minister Michael Fahy should join Craig Cannonier and Mark Pettingill and also resign, Opposition Leader Marc Bean said last night.
The Opposition Leader was speaking after Mr. Pettingill tendered his resignation as Attorney-General, paving the way for him to accept a job in the private sector, which is reported to be at Clarien Bank.
Mr. Pettingill's resignation followed after that of Craig Cannonier, who stepped down late Monday evening amidst controversy surrounding his role in "JetGate" and the $300,000 donation.
While they have tendered their resignations as member of Cabinet, both gentlemen will remain in the House of Assembly as backbenchers. Michael Dunkley has replaced Mr. Cannonier as Premier, while Trevor Moniz replaced Mr. Pettingill as Attorney-General.
In a statement issued last night. Mr. Bean said, "The resignation of Mark Pettingill was a necessary step to bring Bermuda together and move Bermudians forward. Yet the dubious actions of the remaining JetGate 2, Ministers Crockwell and Fahy must be addressed.
"Minister Fahy collaborated in setting up the mysterious $300,000 account and sat silent when his honesty could have saved the OBA and Bermudians from being subjected to this ongoing political train wreck.
"Minister Crockwell violated the Ministerial Code and participated in over a year of deception and deflection over the JetGate scandal.
"The people and justice demand nothing less than their immediate resignations," added Mr. Bean.
"Interim Premier Michael Dunkley, repeatedly stood in defense of the JetGate 4 and assisted in their efforts to mislead Bermudians. He has an obligation to fire Ministers Crockwell and Fahy if they fail to do the right thing and resign.
"Bermuda's progress is being held ransom by the acts of the remaining participants in JetGate and for Bermuda to move forward, Ministers Crockwell and Fahy must join Mr. Cannonier and Mr. Pettingill and resign.
Mr. Bean concluded, "Failing that the Premier has an obligation to remove them from his Cabinet."
Neither Minister or the OBA responded to our request for comment.
Read More About