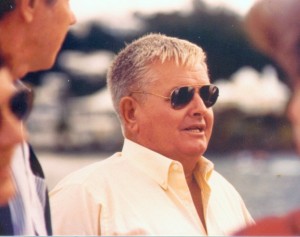 Teddy Tucker was a "Bermudian original" whose adventurous life and knowledge of the waters brought us worldwide attention and made us proud, Premier Michael Dunkley said following the passing of the legendary marine explorer.
Mr. Tucker began exploring the ocean's buried treasures in the late 1940s, and in his decades-long career he discovered over 100 historic shipwrecks in Bermuda's waters, found numerous sunken treasures, was featured in international films and magazines, served as a consultant worldwide.
Premier Dunkley said, "On behalf of the Government of Bermuda, I send our condolences to the family of Mr. Teddy Tucker, MBE, one of the great Bermudians of our time.
"Teddy, as he was known to everyone, was a Bermudian original whose adventurous life and profound knowledge of the waters around Bermuda brought worldwide attention to the Island for more than six decades.
"Mr. Tucker's accomplishments were almost incredible in their breadth. He was a sailor, diver, explorer, treasure hunter, lecturer, archaeologist, historian and author.
"He was also an extraordinarily successful promoter of Bermuda's history, culture and character, inspiring Hollywood films, best-selling novels and articles in major magazines from National Geographic to Life.
"Mr. Tucker's amazing knowledge of Bermuda's waters began with his first jobs as a boy aboard local fishing boats and never stopped.
"He inspired writers and scientists, school children and students. He was always approachable and ready to work with the curious, imparting his first-hand knowledge with simplicity, precision and enthusiasm.
"Teddy Tucker enriched the life of Bermuda and brought the most positive worldwide attention to the Island. He made us proud to be Bermudian," said the Premier. "May he rest in peace."
Read More About