[Updated] In a repeat of last week, none of the Progressive Labour Party MPs are seated in the House of Assembly this morning [July 18], with only One Bermuda Alliance MPs and Independent MP Terry Lister seated as of this writing [10.40am].
Also in a similar vein to what occurred last week, many of the PLP MPs appear to be present on the property, but none are actually sitting in the House — which they normally are at this time, as Parliament gets underway at 10.00am. The proceedings are underway anyway, with various Government Ministers delivering Ministerial statements at this time.
This boycott of Parliament by the Opposition is in relation to the Governor's decision over the Commission of Inquiry, with the PLP saying they will "abstain" from Parliament until a solution is found.
Tweet sent by MP Walton Brown last week: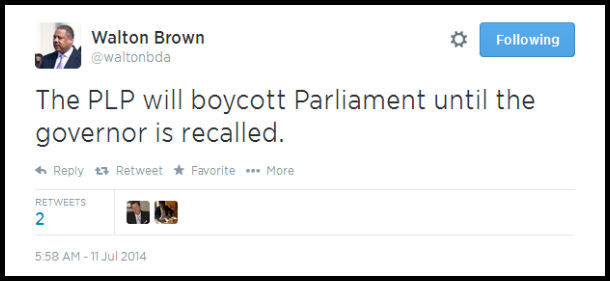 On July 4th the House of Assembly passed a Motion which proposed the Governor appoint a Commission of Inquiry into certain historic land transactions
Opposition MP Walton Brown brought the Motion which read, "That this Honourable House take note of the historic losses in Bermuda of citizens' property through theft of property, dis-possession of property and adverse possession claims; and be it resolved that this Honourable House calls on His Excellency the Governor to establish a Commission of Inquiry into all such known claims and to determine, where possible, the viability of any such claims and make recommendations for any victims of wrongful action to receive compensation and justice."
However, Governor George Fergusson issued a statement saying the debate "raised serious concerns" but "they are not clear enough or urgent enough to justify a Commission of the type proposed."
Following that, the PLP said the Governor "made a mockery of Parliament and disrespected the Bermudian people" and said they will march on Government House and call for the "immediate recall of the Governor."
The march took place on July 15th, attracting a massive crowd who descended on Government House to protest the Governor's decision.
Video of the march:
Update 11.35am: The situation remains the same, only OBA MPs and Terry Lister in the House.
Update 2.18pm: The House broke for lunch at 12.30pm, and came back at 2.00pm, and the situation remains the same, no PLP MPs are in the House.
Update 4.44pm: The House has now adjourned until November.
Read More About