The Bermuda's Under 15 Girls Football Team recently took part in the inaugural CONCACAF Under 15 Girls Championship in Cayman Islands, and Bermuda's third match saw them take on Barbados, and walk away with a massive 7-1 victory.
Bermuda's starting line-up was Micah Pond, Zakiyah Durham, Taznae Fubler, Ember Butterfield, Symira Lowe-Darrell, Leah Smith, Leilani Nesbeth, Nia Christopher, Teyah Lindo, Delia Ebbin, and Nyanje Burgess; while the substitutes were Tae-eja Bean, Jada Samuels, Makayla Robinson, Victoria Davis, Brianna Swainson, Lauren Way and Camille Chin,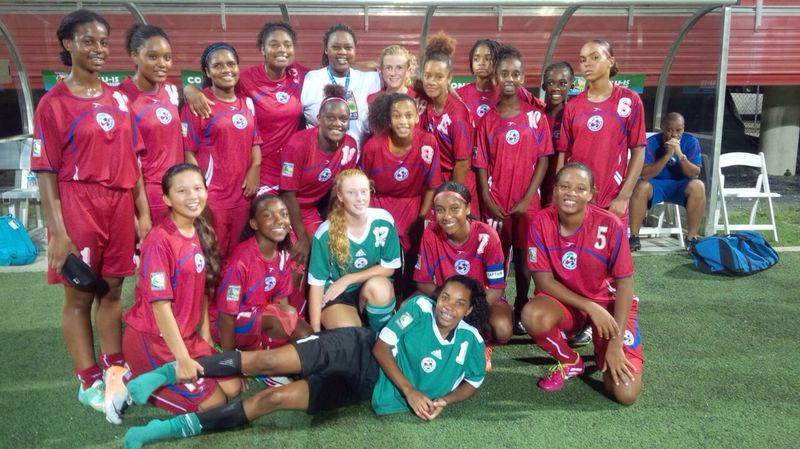 The game started out with Bermuda having the first attack of the game which was finished with a shot by Lowe-Darrell that was saved by the Barbados goalkeeper.
Barbados then had their first attack, which was cut out by Pond, following a Bermuda attack the Barbados goalkeeper had a bad goal kick that went straight to Nesbeth, who slipped by a defender and her shot went into the back of the net giving Bermuda a 1 – 0 lead.
Minutes later Bermuda won a penalty and from the resulting free kick the ball was handled by a defender in the box, Nesbeth stepped up and took the kick, scoring to make it 2 – 0.
Barbados went straight back on the attack, with Pond forcing a shot from an attacker to go wide, but on another attack Barbados won a penalty of their own, which saw Pond go to her right but she could not reach the spot kick as Barbados pulled within one when Shaunte Carrington scored making the score 2 – 1.
Bermuda went in search of restoring their two goal lead and did just that, as Barbados handled the ball outside the box resulting in a free kick, which Lindo fired a shot into the top left hand corner giving Bermuda a 3 – 1 lead.
Bermuda gained possession once again and Lindo tried her luck from some 35 yards out catching the Barbados goalkeeper off her line giving Bermuda a 4 – 1 lead, which they took to the half time break.
The second half started in the rain, and saw Bermuda surge ahead 5 – 1 before substitutions were made.
Bermuda made their first substitution with Robinson coming on for Nesbeth, then Chin entered for Burgess, Way came on for Christopher, and Pond was then replaced with Davis coming on.
From the kick Bean slipped pass her defender cuts in and watched her shot go through the Barbados goalkeeper hands giving Bermuda a 6 – 1 lead, which was eventually extended to a 7-1 lead.
Speaking after the match, Coach Robinson said, "This is a very young team. Many are playing off raw talent and others have had a bit of experience. Moving forward, we must pay particular attention to our technical skills as that's what separates us from the rest of the field.
"Physically we matched all of our opponents but we struggled with the basic skills at times. We are not far off from the more elite competitors but we must step up our technical training and development sessions. All and all it was a great tournament to gauge where we are and where we need to get."
Read More About