The Bermuda Health Council [BHeC] and Bernews have teamed up to help answer your questions about the island's healthcare system, bringing you useful information on a regular basis.
You can visit BHeC online in order to submit your queries, with responses to be published at both Bernews and the BHeC website every month.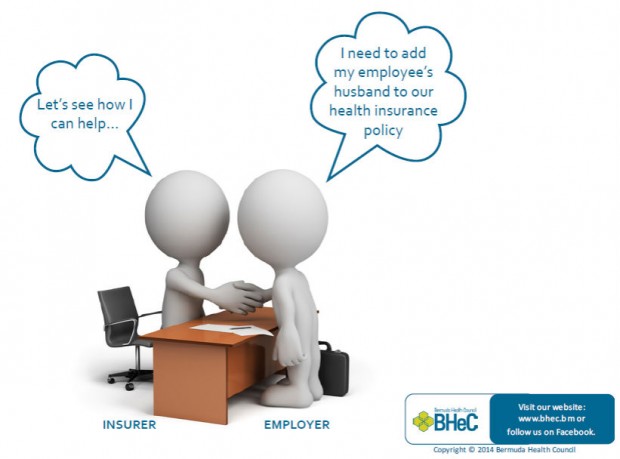 Question: I'm employed, but my husband just lost his job so I need to add him to my health insurance. I understand this is possible by law, but the insurer won't accept my husband because he has a pre-existing condition. Are they allowed to do that?
Answer: The simple answer is: yes. Luckily, it doesn't happen often, but when it does it certainly puts a family in a difficult position. Your rights in this respect are given by the Health Insurance Act 1970 [Section 20, in case you want to read it].
The Act places the responsibility on the employer, not the insurer. Insurers are mandated to include the minimum package in any policy they sell, but they are not obliged to sell the policy to any individual – each insurer can set eligibility criteria. As such, it is your employer that has to secure an insurance contract for your non-employed spouse.
The Health Insurance Act 1970 also defines the deductions an employer can make for a health insurance premium, as well as the consequences for failure to supply health insurance for employees and non-employed spouses.
In situations like yours, there are a few options. You should speak to your employer and see whether they can negotiate with your health insurer on your husband's behalf.
The insurer may be able to work-out an option with your employer and may make exceptions based on a case-by-case basis. But again, this will have to be discussed between your employer and the insurer, as the employer holds the contract with the insurer.
Failing this, Government does provide a safety net for those who are unable to find assistance in the private sector. The Health Insurance Department [HID] offers both HIP and FutureCare health plans to all residents without screening for pre-existing conditions.
These are affordable health plans that can be purchased by your employer to ensure your husband has health insurance and peace of mind. For more information on HIP and FutureCare, visit online.
Read More About