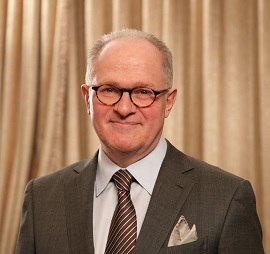 Hurricane preparedness procedures have been put into effect at The Fairmont Hamilton Princess in advance of the anticipated arrival of Hurricane Gonzalo.
"Hurricane procedures, as well as safety and security plans, have been implemented," said Allan Federer [pictured], general manager, The Fairmont Hamilton Princess.
"Our management team is continually monitoring the progress of Gonzalo and will adjust plans as necessary to accommodate our guests. As always the safety and security of our guests and colleagues is our primary concern.
"At this point we have not seen a tremendous number of cancellations, but our guest service team is in touch with guests in-house and those expected to arrive in the next few days to assist with their plans."
A spokesperson said, "The hotel is not encouraging local residents to check in to the property prior to the hurricane as it is keeping operations to a minimum so that as many of the colleagues as possible can be at home with their family and friends during that time.
"As part of the preparedness plan the hotel is engaged in regular communication with guests advising that they may want to consider departing Bermuda tomorrow, in advance of the storm.
"Guests scheduled to arrive over the weekend may choose to postpone their travel plans until the storm has passed. Fairmont has also implemented its Guest Hurricane Guarantee over the affected dates, which allows guests to depart early, cancel their reservation or revise their travel dates at no penalty.
"Hotel colleagues at The Fairmont Hamilton Princess are working together to take care of guests and make sure that, despite the storm, they enjoy their stay in Bermuda and with Fairmont."
For all our coverage of Tropical Storm Fay click here, for all our coverage of Hurricane Gonzalo click here, and for our live blog covering both Gonzalo and Fay click here.
Read More About