[Over 800 people served, updated with video + photos]
With 30 more minutes until the doors open, a line has already formed outside the Four Star location in Flatts today [Nov 19], as locals flock to take advantage of "Free Food Wednesday."
Four Star previously announced that they will be holding "Free Food Wednesday" today at their Flatts location from 4pm to 6pm, saying that "while the primary goal is to provide free food and beverages to persons in need, all are welcome."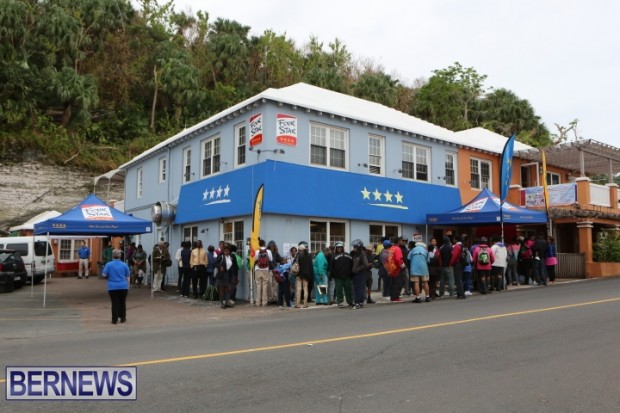 A spokesperson said, "Four Four Star family along with the help and generous donations from our vendors Butterfield & Vallis, Barritts, and Rich's will be hosting 'Free Food Wednesday'.
"Persons coming to Free Food Wednesday, should show up at Four Star in Flatts where meals will be provided from 4pm to 6pm, or until supplies last.
"During this giveaway, Four Star in Flatts will be open only for the purpose of the free food giveaway. All delivery orders will begin again after the event ends at 6pm.
People will receive one or more of pizza, sandwiches, flatbreads, desserts or Coca-Cola, Four Star said.
Update 4.32pm: Speaking just before the doors opened, Marico Thomas said, "Today is 'Free Food Wednesday' and  we've partnered with some of our food vendors to provide food to those in need, and people that might be hungry; whether they be hungry today, this hour, this week, or even this month.
"We're not going to judge. We are choosing to open up our doors, open up our fridges, open up our bakery in the back, and we are going to give free food. It's really a simple thing.
"We've got people lined up. We closed our business down at 2.00pm or 2.30pm today and we started preparing.
"We have pizzas, we have sandwiches, we have drinks, we've got cake, we've got cookies, we've got beverages – we've got a whole bunch of stuff for people; we could feed at least 1,000 people today.
"I'm not sure how many are in line, but it's a couple of hundred already and it's not even 4.00pm," Mr. Thomas added. "It's a wonderful day – I was a little concerned about the rain, but we've got hundreds of people coming out and Flatts looks a little different today."
Update 9.07pm: Four Star President Marico Thomas said, "Free Food Wednesday was conceived as means to give back to the community and to support those in need. Four Star is in the business of serving lots of people, and we can handle a lot….., but WOW!
"When we closed our doors at 2:30pm to prepare, people were already in line from 2:15. By 4pm, the line had snaked around the front of the building, through our car park and down the street towards St Georges. We were thinking…. Ok it's on!
"By 4:45, we had served at least 500 people, with each person receiving hot food, a piece of cake and a cookie or other dessert, and a coke or other beverage.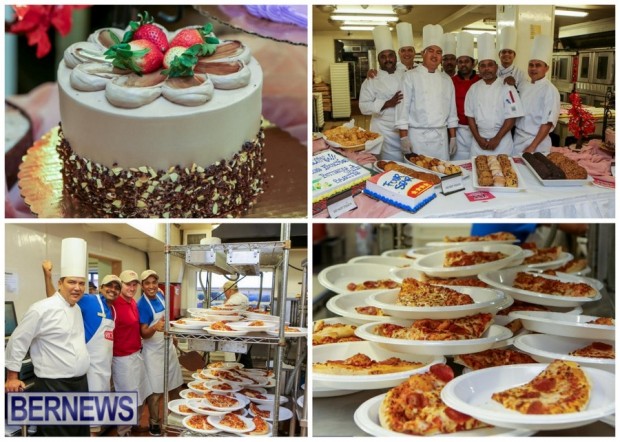 "The crowd was hospitable, well behaved and organized. That said, there was indeed a crowd. Lots of people, lots of traffic and lots of onlookers. Flatts hasn't seen that much action in a while!
"By 5:15, a second wave occurred. Mother Nature was perfect. No showers, but there was a tiny sprinkle to keep us all cool.
"By 6pm we had served over 800 people. It was a terrific experience. People in line expressed all sorts of gratitude. Personally, I experienced children of all ages saying "Thank you", adults sharing hugs, peers giving hand-shakes accompanied by deep looks from their eye into mine.
"There were those persons who made me slow down and in fact stop so that they could share the story of their circumstance which caused them to come. There were others who wanted me know the depth of significance this event had to them.., or their family.
"There was our staff – over 15 people, all smiling, happy and having heart-felt moments themselves, living this experience in their own way. There were the volunteers, and business partners, and past employees (one proudly in her Four Star Pizza corduroy cap from the late 1990's!).
"Today was an experience in the joy of giving. Did we have to work fast – yup. Did we have to work hard – yup. But it was FUN …and rewarding. Tonight, each one of us, whether amongst the crowd, in the kitchens, behind the counters, or behind the scenes, tonight, each one of us will be going home with a great story to tell. What we did, and how it made us feel.
"For me, it felt good. Really good.
"My heartfelt thanks to our partners – Butterfield and Vallis, Rich's and Barritts for their support. My deep gratitude to our staff and volunteers. My appreciation to the Bermuda Police Service for swinging by. And my applause to those persons able to put pride aside and have the courage to receive our gift in a public venue.
"I think I feel the adrenaline wearing off. Tonight, I'm going to have a good sleep!"
Click to enlarge photos:

Read More About
Category: All, Most Popular, News, Photos, Videos