North Village Community Club officially closed its 6th consecutive "Kicks for Cancer" campaign yesterday with a cheque presentation of $3,075 to the Bermuda Cancer and Health Centre.
During the month of October the North Village premier team and youth players wore their signature pink jerseys in an effort to raise awareness for breast cancer. Freisenbruch-Meyer Group once again partnered with North Village by donating $100 for every North Village goal scored.
Left to right: Stephen Coddington [President, North Village Community Club], Sarah Cook [Controller, Bermuda Cancer and Health Centre] and Michael Freisenbruch [President, Freisenbruch-Meyer Group]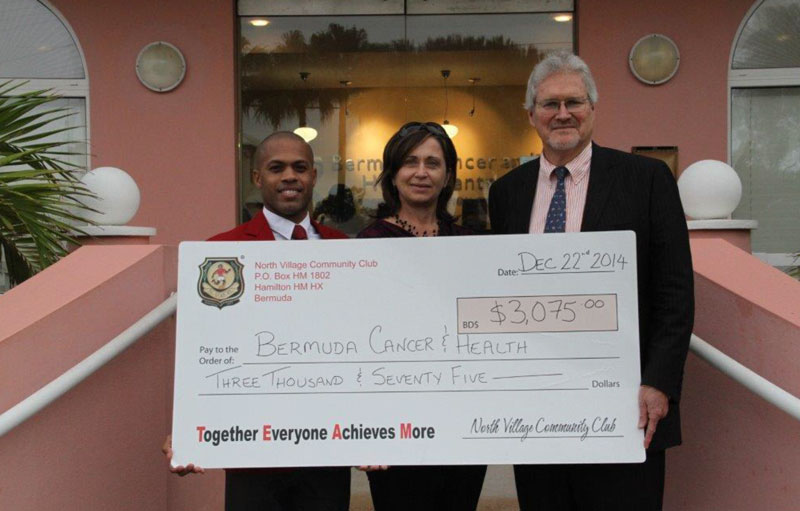 North Village President Stephen Coddington said, "This was a tough campaign. Three of our Premier games were cancelled due to hurricanes Fay and Gonzolo. It would have had a devastating impact on the campaign if not for the generosity of Freisenbruch-Meyer who agreed to extend the goal donation to the youth games."
Freisenbruch-Meyer donated $25 for every North Village goal scored during all youth games played on October 25th. North Village youth players did not disappoint scoring a total of 35 goals. "It truly saved the campaign. In addition, it gave our young athletes a great sense of pride to be able to contribute towards the campaign", said Coddington.
Earlier in the month, the young Rams attended an education session on the importance of breast cancer awareness, and a representative from Bermuda Cancer and Health Centre Education spoke to the children about the importance of bringing forth awareness for breast cancer.
North Village Premier team defender, DeVrae Tankard, also spoke to the children about the history of the Kicks for Cancer campaign, why it was developed and why North Village continues to do it, saying: "Giving the children the opportunity to not only raise awareness by wearing their pink jerseys for the month but also to give them the chance to contribute towards the monetary donation by way of scoring goals was icing on the cake."
Slideshow of NVCC sporting their pink shirts during a game against PHC in October 2014
-
Additional funds were raised through the sale of the official Kicks for Cancer hats which were also sponsored by Freisenbruch-Meyer Group. Coddingon added, "Freisenbruch-Meyer Group really stepped up. When we informed them of the impact the storms had on the campaign, they agreed to donate an additional $1,000. That was on top of their per goal donation and hat sponsorship. Their commitment to the campaign is truly impressive".
"North Village is so much more than a football club. We are committed to offering our players an environment in which they can develop the necessary life skills to achieve success both on and off the field.
"We believe that learning the importance of giving back to one's community is certainly an important component of that success. The Kicks for Cancer campaign is a prime example of following through on that commitment to both the children and our community."
When asked about Freisenbruch-Meyer's involvement, President Michael Freisenbruch said, "We are very pleased with the partnership that we have established with North Village Community Club. Getting the children to be active participants in this year's campaign was a great idea, one I think should continue going forward. Raising Breast Cancer Awareness is so important and we look forward to many more successful campaigns in the coming years".
Accepting the donation on behalf of Bermuda Cancer and Health Centre was Financial Controller Sarah Cook, who said: "It's because of the generosity of donors such as North Village Community Club and FreisenbruchMeyer Group that we are able to ensure that the women of our country have the proper resources in place to achieve early detection which is so critical. We are very grateful for their efforts and continued support".
Read More About