Months of collaborative planning between the Bermuda Tourism Authority [BTA], the Bermuda Economic Development Corporation, the Town of St. George and St. David's Island businesses has resulted in an array of new or enhanced experiences designed to elevate the cultural area's lure for visitors and residents alike.
This weekend, 400 year-old St. George as well as the island of St. David's [named collectively as Hub 1 in the National Tourism Plan] will be on full display in an open house weekend this Saturday and Sunday, May 30 and May 31.
The weekend is designed to highlight the area's heritage assets, beach experiences, attractions and also see the return of Olde Towne Market featuring an eclectic mix of local art, crafts and food vendors.
"We congratulate the retailers, cultural attractions and other stakeholders in Hub 1 for making the east end experience even more unique and memorable," said Pat Phillip-Fairn, the BTA's Chief Product & Experiences Development Officer.
"This weekend they're calling on the hospitality industry to send visitors to the east and also inviting residents to reacquaint themselves with our rich cultural heritage in the area.
"Hub 1 is more vibrant than it was before, has more diverse offerings and – perhaps most encouraging of all – there is a collection of new, motivated small business owners."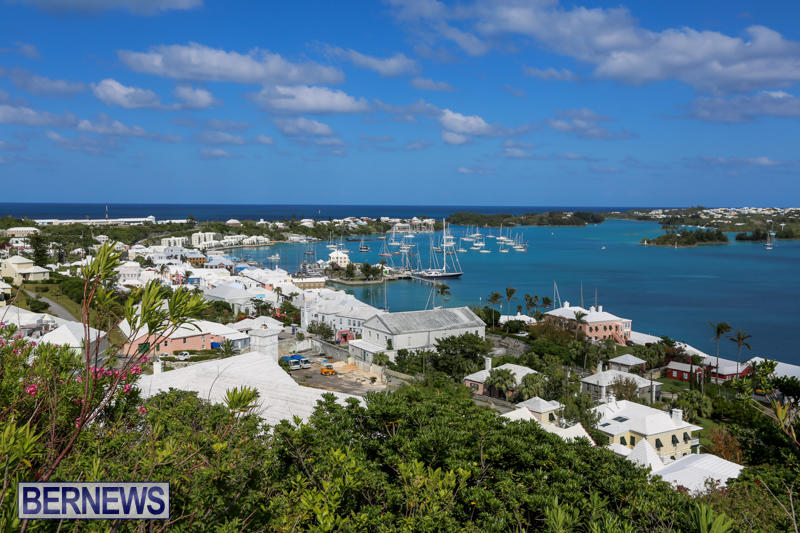 "Come relax and enjoy the natural beauty of our old town and harbour, loaded with visiting yachts," said St. George Mayor Quinnell Francis. "Take the time to stroll through the town and enjoy finding the unique items St. George is famous for.
"Sunday the Olde Towne Market will be open from 2pm to 6pm and many vendors offer food and fashion to help with your preparation for the summer months. We welcome your support."
A spokesperson said, "History remains at the core of the town's character, but now with fun twists like a night time haunted history tour with actors in full costume, winding through St. George's alleys and lanes. Other examples include a lively weekly beach bash at Tobacco Bay that doubles as a pirate party harkening back to the Gun Powder Plot 250 years ago.
"There's also a new transportation option in the east end known as the St. George's Beach Bus, created by a collection of entrepreneurs in the area. The hop on, hop off service picks up at Penno's Wharf, taking passengers to Tobacco Bay, Fort St. Catherine, Alexandra Battery, Gates Fort, Just Add Water and St. George's Dinghy Club."
Mrs Phillip-Fairn said, "We were very excited to see the launch of the St. George's Beach Bus. Entrepreneurs at Just Add Water and Tobacco Bay identified a gap in service and have now filled that gap, while at the same time literally driving visitors to their businesses and other attractions. This is exactly the kind of economic activity the BTA wants to encourage in the tourism industry.
"In addition, although not finalised, we are looking favourably at the funding application from the same team for a St. David's Beach Bus. This will give the same kind of exposure to experiences in St. David's like Clearwater Beach, Gombey's and Carter House. Ultimately this enhances the visitor experience, it fills a service gap and it ties together two equally important parts of Hub 1: St. George and St. David's."
BTA Examples of Experiences in Hub 1
Haunted History – A Walking Tour in Ye Olde Ghost Towne [NEW]
Join us for a walking tour like no other in the beautiful Town of St. George. With over four centuries of incredible history, our guides will take you down the winding alleys and lanes of this UNESCO World Heritage Site while sharing haunted stories about the town, its famous residents and buildings.
Location: Town Hall on King's Square
Dates: every Thursday
Time: 7:30 pm – 9:00 pm
Price: $30 adults, $25 for children and seniors; tickets available online at the Visitor Information Centre on King's Square, or via www.ptix.bm
St. George's Historical Re-enactment [NEW TIME]
Watch Bermuda's history come to life as the St. George's Town Crier conducts an 18th centre trial in King's Square. This entertaining and light-hearted historical re-enactment shows how an offender was publicly punished and includes the ducking of a nagging wench.
Location: King's Square
Dates: every Monday, Tuesday, Wednesday, Thursday and Saturday until November 30
Time: 12:30 pm – 1:00 pm
Price : FREE EVENT
Our History in Hats [NEW]
Bermuda hats, made from natural local products such as palmetto, coconut palms and banana leaves, have been a part of our fashion and history for centuries. Check out the practical and fashionable headgear worn by women throughout the ages.
Location: Bridge House off King Street
Dates: Wednesday – Saturday
Time: 12:00 pm – 4:00 pm
FREE EVENT
St. George's Beach Bus [NEW]
The Town of St. George is abundant in natural historical sites and has some of the best beaches Bermuda has to offer. Take the St. George's Beach Bus that allows you to hop-on and hop-off all day and visit beaches, bars, forts and attractions both in the Town of St. George. Total circular route is approximately 30 minutes.
Departs from: Penno's Wharf
Dates: Monday – Saturday
Departure Times: 10:00 am|10:30 am|11:00 am|11:30 am|12:00 pm|12:30 pm|1:00 pm [every 30 minutes until 6:00 pm]
Price: $6, children under 12 are FREE; tickets available at the Visitor Information Centre on King's Square, Town of St. George
Gun Powder Plot Pirate Party [NEW]
Come to Bermuda's hottest beach party, known to many locals as Wet Republic, every Sunday. Try our floating dance floor as you listen to the best of the 80s, 90s and today's top hits or simply relax and enjoy the scenery. Find out how Bermuda helped America win the war of 1775 as we celebrate the 250th Anniversary of the legendary Gun Powder Plot.
Location: Tobacco Bay Beach, 1 Coot Pond Road, St George's
Time: 12:00 noon – 6:00 pm
Dates: every Sunday until September 27
St. George's Olde Town Market
Explore the hidden treasures along Water Street while enjoying local foods, arts and crafts, fresh local produce and a peddlers' market in the historic Town of St. George.
Location: Water Street
Dates: last Sunday of each month until November 29
Time: 2:00 pm – 6:00 pm
Price : FREE
Blue Sky Flights [NEW]
Take an unforgettable aerial excursion onboard a Cessna 172 Skyhawk plane for a bird's-eye view of the many shipwrecks found in the waters around Bermuda, the reef dotted ocean and lush green fairways. Your experienced pilot will share with you unique tales of Bermuda as you soar above and through our blue skies for this once in a lifetime experience. Maximum of three passengers or 360lbs total.
Location: 6 Southside Road, St. David's Island, St. George's [NATO Hanger]
Time: 6:00 am- 11:00 pm [1 hour minimum]
Price: $450 per hour
Contact: 293 6083 or email reservations@blueskyflights.bm
Fort St. Catherine & Museum
Described as one of the Island's most extraordinary attractions, Fort St. Catherine is the largest fort in Bermuda towering against a scenic ocean backdrop and above pink sand beaches. This must-see fort was constructed in 1614 and underwent numerous upgrades in the 19th century. Get lost in Bermuda's history as you stroll through and view well preserved exhibits and artefacts and showcasing life in Bermuda in the 17th century.
Open: Monday – Friday
Time: 9:00 am – 4:00pm
Price: $7 adults, $5 seniors, $3 for children 5 -12
Tobacco Bay Beach
See why TripAdvisor ranks Tobacco Bay Beach #1 for activities in St. George's, a nearby beach to the Town of St. George, a UNESCO World Heritage Site. From breathtaking views, live weekly entertainment, beach rentals, great food, a series of beach activities and two-for-one specials on large frozen Dark 'n Stormy® cocktails…this beach location truly has something for everyone. Stay connected with family and friends and share your Bermuda beach experience with beach-wide Wifi as you relax or partake in the many activities offered at Tobacco Bay Beach.
Location: 1 Coot Pond Road, St George's
Time: 10:00 am – 6:00 pm
Date: Monday – Sunday
St. Peter's Their Majesties Chappell Tour
Visit the oldest Anglican Church in continuous use outside the British Isles that was originally built from Bermuda cedar in 1612. Learn about the significance of this church through your guided tour guide. A small donation to this Bermuda iconic treasure, described as a must-see, will greatly assist in keeping this top visitor attraction open for our visitors to experience.
Location: Duke of York Street
Open: Monday – Saturday, year round; tours as requested
Time: 10:00 am – 4:00 pm
Sunday Worship: 11:15 am
Read More About