58.7% of voters are in favour of conscription for the Bermuda Regiment, according to a recent poll released by Profiles of Bermuda.
In releasing the poll results the company said, "Although down significantly from 2012 [70.9%], the majority of voters are still in favour of the conscripting of officers for the Bermuda Regiment [58.7% in 2015 and 56.4% in 2014].
"The fall-off may be attributable to the media campaign led by Bermudians Against the Draft [BAD], which was highly active in the lead-up to the 2012 election[*] but has been less active since then. The Bermuda Government is, reportedly, committed to ending conscription by 2019."
Screenshot of the poll results from Profiles of Bermuda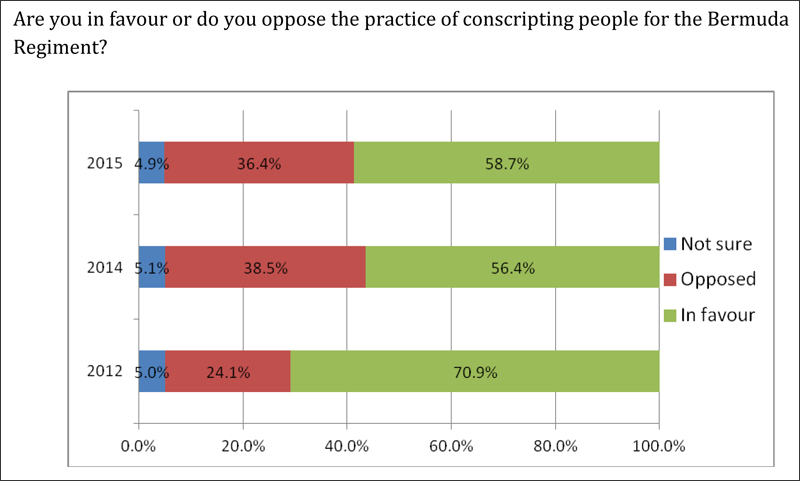 Differences By Age Groups
Profiles said, "Those over 55 [70.6%] and those between the ages of 35 and 54 [54.8%] were more inclined to support conscription. Young people [those between the ages of 18 and 34] were more inclined to oppose conscription [44.4%], but even among this group nearly half of them [48.5%] supported it."
Differences By Race
"Blacks [63.3%] were more likely than Whites and Others [50.3%] to support conscription. Conversely, 45% of Whites and Others, and 31.6% of Blacks opposed conscription."
Poll Notes
In explaining the poll, the company said, "Category totals may not add to 100% due to rounding. The 2015 survey was conducted among 407 registered voters between 15 Apr 15 and 10 May 15 and has a margin of error of plus or minus 4.8%.
"Some 75% of respondents were obtained by landlines, 11% by cell phones and 14% via the internet. Data for all demographics were weighted to reflect the 2010 Census. There were no differences by income and gender for this analysis."
* 2012 poll results were released in March of that year while the election was held in December.
Read More About