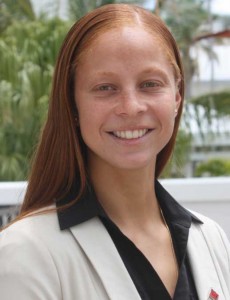 ACE Group announced that Dominique Richardson has been selected as the 2015 Graduate Trainee.
"Dominique joins ACE Bermuda's Professional Lines department for the two-year ACE Graduate Trainee Programme that prepares students for careers in the insurance industry, complete with business experience and professional designations," the company said.
"Dominique, a graduate of Berkeley Institute, earned her Bachelor of Science degree in Business Administration [Finance] from Barry University and recently completed her Master of Science in Finance at Nottingham Trent University.
"In 2013, Dominique was one of six students selected to participate in the inaugural ACE Select Internship Programme – a dedicated insurance programme aimed at Bermudian university students who are considering a career in Bermuda's international insurance industry.
"Dominique's enthusiasm for the industry was recognized and she was selected to return as an ACE intern in the Professional Lines department. She also participated in the 2-week BFIS Intro-To-Insurance Programme, providing her with experience in the Chicago insurance market.
"Dominique's scholastic honors include numerous awards such as the BELCO E.T. Oughton Postgraduate Business Scholarship, academic and athletic scholarships from Barry and Nottingham Trent University and ABIC and BFIS Scholarships.
"An accomplished athlete, Dominique has remained dedicated to her personal development and retained a position as an NCAA athlete throughout her academic studies. She has also played on the Bermuda Women's National Football and Netball Team for many years.
Judy Gonsalves, Chief Underwriting Officer, ACE Bermuda said, "ACE remains committed to providing learning and development opportunities for young Bermudians. The goal of our Graduate Trainee Programme is to identify and develop outstanding talent and build a pool of insurance professionals who will become the future leaders of our industry.
"Historically, both the ACE Graduate Trainee and the ACE Select Internship programmes have provided us with some impressive and highly talented employees. Dominique will be no exception and we are very pleased to welcome her to ACE Bermuda."
"The opportunity to intern at ACE for the past two summers has been an invaluable experience, both professionally and personally," said Dominique Richardson.
"The intriguing hands-on experience provided me with a solid foundation about the (re)insurance market and reaffirmed my desire to become an insurance professional. I believe the graduate trainee program will provide me with the necessary technical skills, resources and professional support to pursue my career goal of becoming a qualified underwriter."
To date ACE's graduate programme has helped launched the insurance careers of the following Bermudians:
Richard Voaden – joined ACE's political risk subsidiary Sovereign Risk Insurance as a graduate trainee in 2014 and participated in the ACE Select Internship in 2013.
James Chiappa – joined ACE Bermuda's Property department in 2014 and completed the Summer Internship Programme in 2011.
Jesse Kirkland – joined ACE's San Francisco office in 2014 as professional associate with the Inland Marine team.
Alexander Godfrey – joined ACE Tempest Re as a catastrophe modeler graduate trainee in 2013.
Venetia Furbert – joined ACE Bermuda in 2013 as graduate trainee with the Professional Lines department.
James Hillen – joined ACE Bermuda's actuarial department as a graduate trainee in 2013 and recently transferred to ACE's Philadelphia office to pursue his actuarial career in the company's Medical Risk department.
Christopher Parker – joined ACE in 2011 as a graduate trainee, completing the programme in 2013. He is now an Underwriter in Excess Liability.
Nicholas Boorman – joined ACE in 2011 as graduate trainee and is now an Underwriter in the Property department.
Kimberly Lewis, ACE Bermuda's first graduate trainee joined in 2010 and is now an Underwriter in the Professional Lines department.
For more information on ACE's Graduate Trainee Programme and the ACE Select Internship visit acegroup.com/bm/students.
Read More About