[Written by Kate Ross]
The Louis Vuitton America's Cup World Series Bermuda promises to be fun for everyone, especially kids. There are the actual races that children will enjoy, a dedicated Fun Zone and so much more. Here are ten things to do with your kids during the event.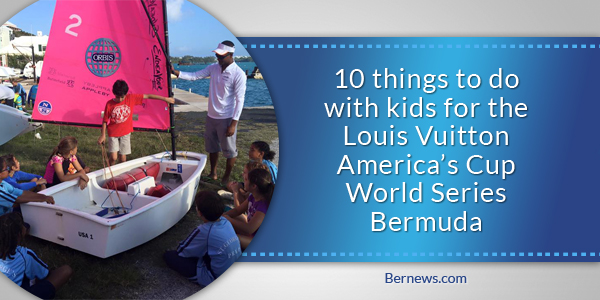 1] Endeavour Sailing Tastings:
The Endeavour Community Sailing Program will officially open on Thursday, October 15 in St. George's and they will bring a few boats for free sailing opportunities right in the Event Village on Saturday and Sunday. Email katrina.williams@americascup.com to sign up for a sailing lesson!
2] Zip Lining:
A zip line will be available over the water in the Event Village. This is obviously for the older kids who aren't scared of heights. Come down and check it out!
3] Sailor autographs:
The sailors will be signing posters for kids to take as keepsakes. This will be held in the Endeavour area from 4:00 to 4:30 pm on both Saturday and Sunday. If your kid is a sailing fan, or just wants a piece of history, make sure you bring them down to get a poster signed.
4] Fireworks:
Bring your kids out to the opening ceremonies on the Friday night where they will witness a larger than life fireworks show and tons of entertainment. All kids love fireworks, right?
5] Hop on a Spectator Boat:
The absolute best place to watch the races is on the water. If you don't have a boat, head to www.islandtourcentre.com to buy tickets on spectator boats. These boats will actually line the race course so you will have front row viewing. Tickets start at $75 with cheaper prices for kids.
6] Fun Zone:
This is the go to area for kids. There will be fun castles, slides, carnival-style games to win prizes, face painting, food vendors and so much more. Your kids will want to stay here all day – and day passes for unlimited rides are available – so come early and stay late!
7] Food Court:
All kids love food and what better place for a meal than a food court with Bermuda's top food vendors? There will be typical Bermudian food and some international flair. Your kids will love it and beg for more!
8] Train Like a Sailor:
If you've got kids who love sports they would love to learn how to train like a sailor. In the Endeavour area, there will be a mini gym set up where kids can go through the paces of a professional sailor. They will also learn what sailors eat, race against their times, test out the grinder and much more.
9] Red Bull Skydive Show:
Red Bull, is one of the main sponsors and they are coming to Bermuda with a big bang. A sky diving show is being planned and the Event Village is the best place to watch it. I can't give away too many details but be sure to look out for it!
10] America's Cup Cinema:
This mobile cinema will be a hit with everyone who attends the Event Village. Content will include America's Cup history, highlights of the AC34 and recaps of the two previous Louis Vuitton America's Cup World Series events. It will be in a container with a sunroof and huge screen. Pretty cool!
- Kate Ross – Event Coordinator, ACEA

20 Most Recent Opinion Columns

Opinion columns reflect the views of the writer, and not those of Bernews Ltd. To submit an Opinion Column/Letter to the Editor, please email info@bernews.com. Bernews welcomes submissions, and while there are no length restrictions, all columns must be signed by the writer's real name.
-

Read More About