Next month, The Masterworks Museum of Bermuda Art will be hosting a joint exhibit of artworks by John Kaufmann and Peter Perinchief entitled "Different Strokes".
"An architect and a pediatrician by profession, John and Peter may seem an unlikely pair to share an exhibit, but the two friends over the years have created a remarkable collection of paintings of Bermuda which Masterworks is honoured to share with the Bermudian public. The exhibit will open on October 23rd and run until November 4th," Masterworks said.
"John Kaufmann was born in Montreal, Quebec, and his family moved to the island in 1949. His Canadian father was a surgeon who married Bermudian Jeannette Hollis. John was educated at Whitney Institute and Saltus Grammar school, and attended McGill University where he studied Art and Design, followed by continued art studies at Bard College in New York.
"Over the years, John has exhibited at Hamma Galleries, The Bermuda Society of Arts and for most of his career was represented by the Windjammer Gallery in Hamilton. His paintings hang in important corporate and private collections in Bermuda and worldwide. John was awarded the Queen's Certificate and Badge of Honour in 1999 for his artwork and his work as an architect.
"John's paintings in the exhibit will be watercolour landscapes.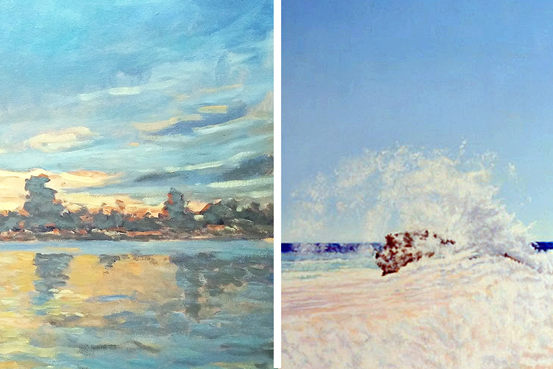 "Peter Perinchief is most well known on the island as a Pediatrician, with his creative side perhaps only known to those closest to him. An exceptional scholar, Peter attended McGill University also, and was a Rhodes Scholar at Oxford.
"He also holds advanced degrees from the Universities of Colorado and Cornell, and has practiced medicine in Bermuda since 1981. He also studied classical piano for nearly twenty years and his creative journey took him to painting also.
"His interest in art has led him to develop a style of painting where he attempts to capture the notoriously unforgiving Bermuda light on water, rock, sand and foliage.
"He has, over time, refined his approach to the Bermuda light, and he is honoured to be showcasing his works with his friend John Kaufmann. Peter's paintings are also watercolor landscapes.
"The exhibit will run in the Rick Faries Gallery at Masterworks in the Botanical Gardens from October 23rd – November 4th. All artwork is for sale.
"For more information contact Masterworks at 299-4004."

Read More About
Category: All, Entertainment