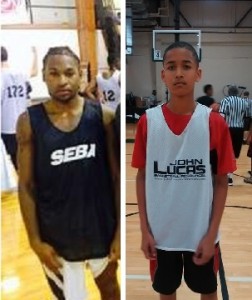 Kieron Burgess and Caelin Peters, two local youth basketball players, have been offered full athletic scholarships to attend Lee University in Chattanooga, Tennessee.
Burgess would start with the Lee University Flames next season at the start of the 2016 school year, while Peters would first need to complete his high school studies before taking the next step into university.
Burgess is a 22 year old post graduate player who is currently working at Marketplace, and Peters is a  high school student at Mt. Saint Agnes Academy, and they both received this opportunity by taking part in the Wolfpack Elite Basketball Programme.
Wolfpack hosted a showcase of the top 20 players in Bermuda along with a two-day clinic for its members with Coach Tommy Brown who identified Burgess and Peters among other players that he was interested in recruiting.
In addition to the two scholarship offers, Brown was very excited about Rye Ahronson as a potential Division 1 prospect who could play at almost any level, along with Andy Perez, Niall Waring, and Anna Gilliatt as players that he would like to keep on his radar.
A spokesperson for Wolfpack offered, "This event marks the first time two players from our programme have received scholarships and this is only the beginning. We already have coaches scheduled to come to Bermuda from the United States and Canada who will recruit both boys and girls directly from our programme.
"Our approach to player development has been designed specifically to produce athletes that can compete at the college level. Wolfpack Elite would officially like to congratulate Kieron Burgess, Caelin Peters, and all of the other prospects that were selected by Coach Brown.
"We also have many other players in our programme that can play at the college level and will work tirelessly to help these players achieve their dreams of becoming student-athletes."
"This year we have taken our players to participate in almost every notable elite youth camp in the United States including John Lucas, Five Star Basketball, and Point Guard College. We have also hosted college coaches, a former NBA player, and professional skills trainers here in Bermuda.
"Our alignment with these programmes, along with our commitment to bring in college coaches, professional players, and skills trainers each year makes Wolfpack Elite a world-class programme.
"You will not find many programmes like ours anywhere else in the world. We would like to thank Coach Tommy Brown for his support of basketball in Bermuda and look forward to working with him over the years."
Wolfpack Elite is a basketball Player Development Programme that focuses on individual player and skill development starting from the primary school level.
All of the coaches in Wolfpack's Elite Player Development programme have played at the University level and are uniquely positioned to help players develop the skills needed to play college basketball.
If you would like to learn more about the programme please contact Coach Peters at charles@wolfpackhoops.com.
Players who wish to register for the programme can do so online at:
Read More About