The Institute of Bermuda Architects [IBA] and Bermuda Association of Professional Engineers [BAPE] invite the public to attend the Cardboard Boat Challenge, a fun and entertaining event in which high school students design, build and race a boat made from cardboard.
A spokesperson said, "Students in grades 9 to 12 have been invited to participate in the event, which will take place on November 19 at the National Sports Centre Aquatics Centre. The organisations welcome everyone to attend and cheer on the teams in what promises to be an exciting afternoon.
"On the day of the event, teams of two to four students will build a boat in two hours out of only the supplied materials, including four cardboard sheets, duct tape and a box cutter.
"Once built, teams will race their boat with two passengers in the length of the pool at the National Sports Centre Aquatics Centre. The boats must have both passengers on board for the entire race and the fastest boat will be the winner.
"Students are encouraged to build and test a prototype before the event, and should be prepared to get wet during the race!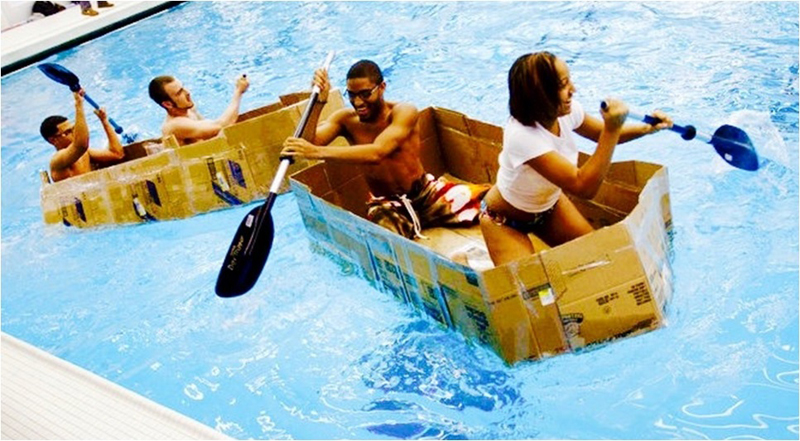 "Interested high school students should contact their design or science teachers who can provide entry forms and more information. Entries are due by November 13. There are 48 teams in total, with spots distributed based on school size."
Krystal Rodrigues, President, IBA, says: "To our knowledge, this is the first activity of its kind in Bermuda, but it is a popular exercise in the USA and Canada among science and technology departments because it encourages participants to work together as a team, use critical thinking and to apply design and engineering theories.
"The results are sometimes successful, sometimes disastrous, often funny and always a lot of fun. We are pleased to work with BAPE to bring this to students, particularly those who are interested in design and engineering. We hope the public will come out and cheer them on."
Stephanie Simons, BAPE Committee Secretary and co-organizer, says: "At BAPE we are always looking for ways to introduce kids to engineering as an interesting career option and this event is a fun and creative way to get them thinking like an engineer or architect.
"We are pleased to partner with IBA to bring this competition to the island, and we look forward to seeing the boats on November 19."
The challenge begins with a participant briefing at 1:00pm, boat building from 1:15pm to 3:15pm and races at 3:30pm. The event is being sponsored by BELCO.
Read More About
Category: All, Entertainment, News