Four Bermuda boccia athletes recently competed in the BISFed World Open in Colombia, with Steve Wilson, Yushae DeSilva-Andrade, Jaime Brangman and Omar Hayward joining elite boccia players from over 30 countries around the world.
Steve Wilson won his pool [Pool A BC4] and progressed on to the round of 16, where he lost 7-3 to Marco Dispaltro of Canada, world ranking #2. Mr Wilson played well and got 3 points from Mr Dispaltro during the last end.
The Bermuda boccia team and their assistants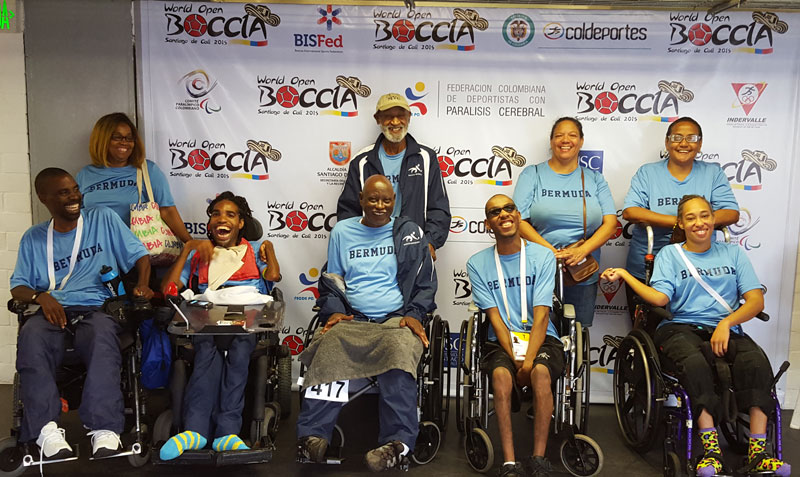 Yushae DeSilva-Andrade was second in her pool [Pool A BC2] and progressed into the round of 16 as well. She played Hoi Ying Kwok of Hong Kong, world ranking #29, and kept it to a tight game eventually losing 2-4.
Ms DeSilva-Andrade also played very well the whole competition and finished the tournament in 10th place [out of 26] in her division and moved up a few spots in the world rankings.
Omar Hayward was second in his pool [Pool G BC1]. Only the first in BC1 pools progressed so Mr Hayward just missed the round of 16. This was his first competition and  he finished 11th [out of 21] in his division, making an impressive first time showing.
Jamie Brangman played two games in the pool round against Russia and Slovakia, losing 1-13 to the Russian and 1-9 to Slovakia. Brangman also showed much improvement by his last game and was kicking the ball with more accuracy and managed to gain a point back in each game.
"The team faced long days and tough competition with the best in world all there trying to gain ranking points on the world stage and for Rio 2016," the Bermuda Boccia Association said.
"We are very proud of the whole team and how far they have come and how much dedication they show to the sport. They just keep getting better and better!"

Read More About