Could death taxes eventually be phased out in favour of a more efficient system? That is a question being posed by a leading Bermuda lawyer who is speaking at a prestigious conference on the Island.
Peter Pearman, a Director in the Private Client and Trust department of Conyers Dill & Pearman, is taking part in the Legal Week Private Client Forum Americas at the Rosewood Tucker's Point from today to Friday.
According to Legal Week's website, the conference will "unite the most senior and elite advisors to HNWIs and UHNWIs to discuss the most timely and concerning issues in The Americas".
From left: Alec R. Anderson and Peter Pearman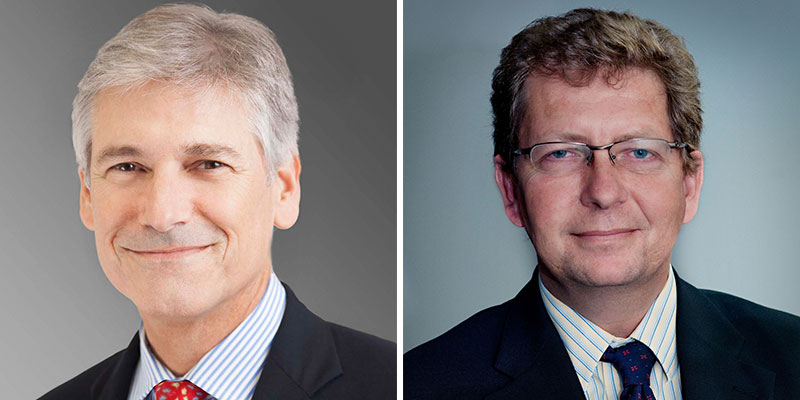 Mr Pearman will be speaking on 'Knocking on heaven's door: Death as a taxable event and its international implications' which aims to examine 'the possible shape and form of a wealth transfer system that abolished inheritance tax'. His panel is presented alongside Miguel Jáuregui Rojas and Timothy Youdan.
"Death Taxes, whether called estate taxes, inheritance tax or some other name, are a fairly common form of taxation for most countries, however there appears to be a growing trend to do away with such form of tax," said Mr Pearman.
"There is a growing perception that death taxes are inherently inefficient, and, as an example, it is estimated that US Estate tax amounts to less than one percent of annual federal revenue," he added.
Mr Pearman said that when advising clients with connections to multiple jurisdictions, death or estate taxes invariably become a key planning factor. "Being able to understand how the differing taxes inter-act is key to providing your clients with clear and concise advice.
"Conyers is sponsoring the fourth annual event, which continues to bring together a comprehensive group from around the world", according to Alec R. Anderson [pictured], the Global Head of Private Client & Trust for Conyers Dill & Pearman, who is also speaking at the conference.
He said: "This is a high-quality conference which has attracted key industry professionals. And is a sister conference to the successful events Legal Week also runs in Lake Como and the South of France."
His panel discussion, on Thursday, will focus on 'Around the world: International case update', which will analyse key decisions affecting planning and dispute resolution in today's complex environment. He will be speaking alongside well-known barristers including Shan Warncock Smith QC, Gilead Cooper QC and Carlos de Serpa Pimental.
The panel will discuss certain trends found in recent offshore trust cases, including developments on confidentiality of documents and hearings, cases on the removal of trustees and protectors, rectification and variation of trusts in light of tax rules which may apply.
Mr Anderson will be speaking on recent Bermuda decisions on these and other topics including the first reported case on the 2014 Bermuda Statutory Amendments allowing the Court to potentially reverse flawed exercises of trustee powers which they have made in error.
"Also covered will be reference to the law on the correct approach for trustee dealings with foreign tax authorities in the modern environment," said Mr Anderson.
Read More About