[Opinion column written by Minister of Home Affairs Michael Fahy]
In our work on the Home Affairs Ministry's Pathways to Status plan, we have tried to be rational and open, knowing that our fellow Bermudians are rational people who make their minds up about controversial issues by listening and reasoning.
It is clear that the majority of Bermudians support Pathways. Every survey done on the subject in the last sixteen years in Bermuda has shown a majority in favour.  Indeed, latest polls show that there is at least a 70% approval. Even a poll done in 2000 by Opposition MP Walton Brown's firm showed a majority in favour.
Replay of the CITV Pathways to Status programme:
I'm confident that the majority of us do make up our minds in a reasoned way although sadly the leadership of the Opposition have no intention of listening and no intention of using reason to judge whether Pathways is the right thing to do.
The Opposition brought an emergency motion on Monday seeking to have the House of Assembly agree to a Joint Select Committee on comprehensive immigration reform.  On the face of it, you may ask why in the world the OBA would have a problem with such a motion.
Well frankly, we have heard false calls for collaboration from the Opposition before. I say false since we have heard on the one hand a call for collaboration on immigration from MP Brown but on the other hand, MP Burt says that status is their red line.  The Leader of the Opposition, MP Bean has also said he will never collaborate with the OBA.
Which is it? If you are in any doubt about how disingenuous the Opposition is on this matter, all you need to note are the following comments made by certain members of the Opposition during the marathon debate:
MP Bean, said, "If they proceed to vote down the joint select committee, then they will have 48 hours to withdraw the bill." After that point the OBA will have involuntarily submitted themselves to the will of the people. All hell will break loose. This is the ultimate and final appeal."
Despite MP Bean's comments, the will of the people is quite plainly that we should proceed. What he means is the will of the crowd he controls that is prepared to be disorderly at his command.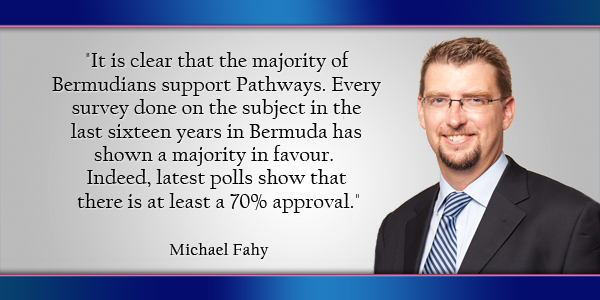 He knows the majority of Bermudians are not impressed by this kind of blackmail.  He's firing his supporters up, getting them prepared for the next level of protests.  His words constitute a classic incitement for his followers to take action.
My counterpart, the Shadow Minister of Home Affairs, MP Roban said in the House: "I have to… almost compare the OBA to a cockroach…which carry certain diseases of their appendages…"
One can only hope he regrets using such unparliamentary language in reference to his fellow Bermudians.  I ask what the result would have been if a member of the OBA had said such a disgraceful thing.
MP Bean does at least know that he should not be inciting his supporters, because he denied he was doing so, at least twice.  He does it anyway. "That is not a threat," he said, "it is what I suspect will happen."
And he said, "There are not enough police in Bermuda for you to hide behind!"   He made references to the 1977 riots and 1981 General Strike, but he said again "we are not inciting violence."
Since those statements were made, and others like them, it is difficult to believe that it is possible to persuade the Opposition to listen to reason or that they have any real desire to collaborate.  Perhaps in their desperation to regain power in Bermuda by any means possible, as Dr. Ewart Brown urged them to, they have abandoned reason and democracy.
This is clearly a naked attempt to strong-arm the One Bermuda Alliance and the majority of Bermudians into turning their backs on Pathways that will help ensure long-term viability for Bermuda's success.  We have shared all of the economic reasons and many personal stories as to why this must be done.  We remain convinced that this will be helpful for all Bermudians.
Bermuda is not the place for undemocratic action that jeopardises the economic recovery that is underway. I call on the Opposition Leader and his supporters to tone down the rhetoric, stop the threats and, re-commit themselves to the rule of democracy in our community.
20 Most Recent Opinion Columns

Opinion columns reflect the views of the writer, and not those of Bernews Ltd. To submit an Opinion Column/Letter to the Editor, please email info@bernews.com. Bernews welcomes submissions, and while there are no length restrictions, all columns must be signed by the writer's real name.
-
Read More About