In the first of a series of profiles of members of Bermuda's team in the Red Bull Youth America's Cup, we spotlight Emily Nagel, who provided insight into the dedication and training that it takes to represent one's country at the very highest of levels.
A former Somersfield Academy student, 22-year-old Ms. Nagel says that she wants to win "not just for myself and my team, but for Bermuda" and that "representing Bermudians in Bermuda on the world stage makes it that much more exciting."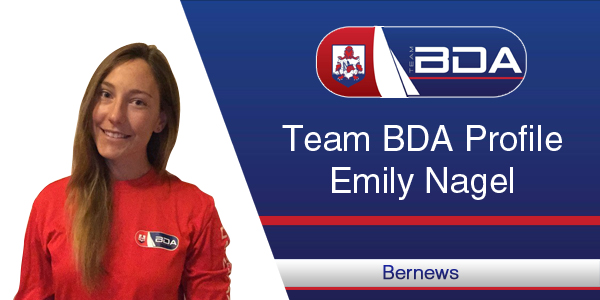 Q: Tell us something about yourself.
A: My name is Emily Nagel, I am 22-years-old and currently in my fourth year at the University of Southampton, UK, completing my Masters in Engineering with Naval Architecture. I am hoping to work within High Performance Yacht Design having specialised in Yacht and Small craft in my final years at Southampton.
Before I started at Southampton, I went to Somersfield Academy until I was 14 and then attended Oakham School, a boarding school in the UK.
Q: Do you think that taking part in an event like this is something that will stand you in good stead for the rest of your lives?
A: This has already been such an incredible opportunity and I can only imagine how many more doors it will open for all of us in the team. The contacts we will make and the skills we will master can only benefit us in the future.
Personally for my career it is an incredible opportunity, having spent this year designing and building my own hydrofoils; to sail the boats they were inspired by is unbelievable and I am hoping it will compliment my understanding of how they work.
Q: What made you try out for Team BDA in the first place?
A: I have been following the America's Cup for a very long time, stemming from my love of Match Racing. When it was first announced that the America's Cup was going to take place in Bermuda I couldn't believe it; the chance to see the AC45s in person was more than a little exciting and the opportunity to see the best sailors in the world compete for the oldest trophy in the world…incredible.
So when it was announced that there would be a youth team, an opportunity to train with some brilliant coaches and sail an AC45 against some of the best youth sailors in the world, I wasn't going to turn that down.
Q: Now that you are in Team BDA, what do you hope to achieve? You want to win, but do you think you will take sailing even more seriously and look for a career in it, or at least to get more involved in it?
A: More than anything, I want to prove that I belong on this team this year; I hope to build on both my sailing skills and physical strength. I want to win not just for myself and my team ,but for Bermuda, to show that if you work hard and train you can achieve anything, even if people think you are the underdogs.
I want to show other girls, as well, that they can have a future in sailing; it's a very male dominated sport, but it doesn't have to be like that. If I could make a career out of my sailing, I would do so in a heartbeat. I am hoping that through this experience I will have the opportunity to make contacts with design teams and get involved with the design side and at the same time have the chance to take part in more racing.
Alongside the Team BDA sailing this year, I am looking to continue my match racing and that is something I would love to take more seriously in the future.
Q: What does it mean to you to be a Bermudian, racing in Bermuda for Bermuda in such a prestigious event?
A: I am lucky enough to have represented both the UK and Bermuda at an international level already, but nothing can compare to this. For the next year, the 15 of us will be training together, sharing the same dream, which will make competing together that much more meaningful.
Representing Bermudians in Bermuda on the world stage makes it that much more exciting; having our supporters there with us will mean everything We aren't just racing for ourselves, we are showing the community what Bermudians can do with enough hard work.
Q: What excites you most about the lead-up to race time?
A: Everything. Preparing for the trials, I have gotten really into the fitness so I am really looking forward to working with our fitness coaches Craig and Sean to see how much I can improve and prove that sailors are athletes too. It is the prospect of sailing for the next year though that I cannot wait for. I only have six weeks left at University and I am counting down the days till I can get back on the water in the Nacra 17s.
The progression into bigger boats is incredibly exciting as so few people have the opportunity to see the AC45s up close, let alone be on one. As a sailor this is an incredible opportunity, and as an engineering nerd I am jumping out of my chair every time I see an AC45.
Q: Do you think the Red Bull Youth America's Cup has the potential to leave a lasting legacy for Bermuda?
A: Already the Red Bull Youth America's Cup has left a legacy. The America's Cup itself has brought so much to the island with regards to expanding the sailing opportunities for young people. There used to really only be Optimists and Lasers for youth sailors, which can be very restrictive and not suited to everyone; personally I sized out of Optis when I was 12/13 and had to move into a Laser 4.7, but as the only 4.7 sailor on the island, I couldn't really compete with anyone.
Now you look out on the water there are Optis, Fevas, Lasers, Bytes, SL16s, brand new 420s, and so many Moths. The RBYAC specifically is going to help provide a performance pathway for young sailors. The introduction of the Nacra 17s to the island is the first double handed Olympic class introduced here, not privately, allowing high performance racing to be more accessible.
I think the RBYAC is also going to show a lot of individuals that sailing is a demanding sport – it isn't just sitting around on the water in the sunshine!
Q: What sailing experience do you have?
A: I started sailing when I was 10 at the RBYC. I stayed in Optimists for three years competing in Bermuda and in some overseas events before sizing out and moving into a Laser 4.7. When I started boarding school in the UK sailing became a much more serious part of my life. I started RS Fevas and was soon selected for the British National Squad with whom I competed at the World and European Championships.
After Fevas, I moved into the Team Racing Circuit with my school, where again I had the opportunity to compete nationally and internationally at the European Championships [Bronze]. I continued Team Racing at the University of Southampton where I was selected as Ladies Captain in my second year and President in my third.
Additional to my team racing, I began Match Racing and in 2014 won the FISU Women's Student Match Racing World Championships as main trimmer and tactician. I continued my match racing that year, competing in the Women's Match Racing Series including the World Championships in Ireland and the World Final in Busan, Korea, where I sailed with the NZL team [only the helm has to have the nationality].
From 2014-2016, I was also the British University Ladies Captain and so captained a team of nine British Sailors to compete in the BUSA/ICSA tour to the USA in 2015 where we competed against the top American sailors in fleet racing, match racing and team racing.
Bermudians Joshua Greenslade and Jessie Kirkland have previously taken part, so I was proud to follow the tradition, even if for the UK instead of the US. In the Summer of 2015 I was also lucky enough to be part of the Bermuda team that competed in the ISAF Team Racing World Championships [with Team BDA teammate Connor Astwood], where we finished seventh overall and third country.

Team BDA is Bermuda's entry into the Red Bull Youth America's Cup, which will take place in the Great Sound in June 2017. They are mentored by Oracle Team USA and will race on the same high-speed AC45F catamarans seen during last October's Louis Vuitton America's Cup World Series in Bermuda.
The team is comprised of 15 young Bermudians who will form the crew, the back-up crew, and shore crew. Team BDA is being funded entirely by donations.
Team members include Connor Astwood, Mackenzie Cooper, Peter Dill, Preston Farrow, Na'eem Griffith, Philip Hagen, Kalin Hillier, Mustafa Ingham, Emily Nagel, Daniel Pell, Nicholas Pell, Owen Siese, Dimitri Stevens, Shomari Warner, and Cecilia Wollmann.

Read More About