In the final of a series of profiles of members of Bermuda's team in the Red Bull Youth America's Cup, we spotlight Shomari Warner, who provided insight into the dedication and training that it takes to represent one's country at the very highest of levels.
A former Clearwater Middle School student and current airport employee, Mr. Warner said he is excited about the opportunity to represent Bermuda on a world stage and showcase our Island.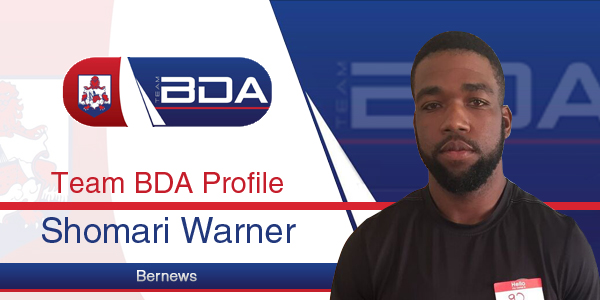 Q: Tell us something about yourself.
A: I am 22-years-old. I graduated from Fanshawe College in London Ontario, where I studied Music Industry Arts. I currently run a studio with a group called 'Dem Biez' and work at the airport. Before I went away to boarding school the last school I attended in Bermuda was Clearwater Middle School.
Q: What made you try out for Team BDA in the first place?
A: My parents who are my biggest supporters convinced me to try out for the time.
Q: Now that you are in Team BDA what do you hope to achieve – you want to win, but do you think you will take sailing even more seriously and look for a career in it, or at least to get more involved in it?
A: I want to just get better at all aspects. Physically, mentally and technically. I want to become a well-rounded person and be able to support my team anyway I can. I am not sure where this opportunity will take me, but I am enjoying the ride.
Q: Do you think that taking part in an event like this is something that will stand you in good stead for the rest of your lives?
A: I think it will. This opportunity isn't something that everyone my age can say they have on their resume. It's not something everyone gets to experience. Taking advantage of that is going to help me in a lot of ways.
Q: What does it mean to you to be a Bermudian, racing in Bermuda for Bermuda in such a prestigious event?
A: It means so much to myself my family and everyone in Bermuda who is going to be watching. We get to represent Bermuda on a new world stage and showcase our talent and our Island.
Q: What excites you most about the time up to race time?
A: The training and learning. Being able to grow as an athlete and sailor.
Q: What sailing experience do you have?
A: When I was younger I was about of the Sea cadets and I briefly sailed in some small boats but other than that my sailing experience is next to nothing. So it will be a challenge for me to try and learn all I can within these next couple months.

Team BDA is Bermuda's entry into the Red Bull Youth America's Cup that will take place in the Great Sound in June 2017. They are mentored by Oracle Team USA and will race on the same high-speed AC45F catamarans seen during last October's Louis Vuitton America's Cup World Series in Bermuda.
The team comprises of 15 young Bermudians who will form the crew, the back-up crew and shore crew. Team BDA is being funded entirely by donations.
Team members are Connor Astwood, Mackenzie Cooper, Peter Dill, Preston Farrow, Na'eem Griffith, Philip Hagen, Kalin Hillier, Mustafa Ingham, Emily Nagel, Daniel Pell, Nicholas Pell, Owen Siese, Dimitri Stevens, Shomari Warner and Cecilia Wollmann.

Read More About