In the latest of a series of profiles of members of Bermuda's team in the Red Bull Youth America's Cup, we spotlight Mustafa Ingham, who provided insight into the dedication and training that it takes to represent one's country at the very highest of levels.
The 19-year-old Bermuda College student said he tried out for the team at his grandmother's urging and  said he believes this "tremendous opportunity" will benefit him no matter what he does in life.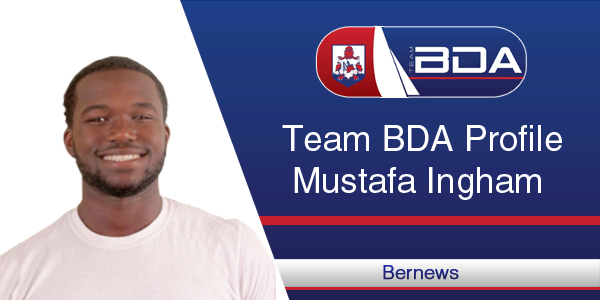 Q: Tell me us something about yourself.
A: I am 19 years old and enrolled at Bermuda College, studying motor vehicle technology. I am taking a gap year to keep fit while learning more about sailing. I graduated from the Berkeley Institute last year. I also work part-time at Goslings.
Q: What made you try out for Team BDA in the first place?
A: My grandmother had insisted that trying out for Team BDA would be a good opportunity and also I wasn't doing anything productive, so it was worth a try.
Q: Now that you are in Team BDA what do you hope to achieve – you want to win, but do you think you will take sailing even more seriously and look for a career in it, or at least to get more involved in it?
A: I hope to become a great/ fit sailor and win. I have already taken sailing seriously and I definitely want to pursue a career in the professional world of sailing, hopefully to become an America's Cup sailor.
Q: Do you think that taking part in an event like this is something that will stand you in good stead for the rest of your lives – in terms of career, self-esteem/confidence?
A: I believe that this is a tremendous opportunity that is well-recognized worldwide, so being able to put this on a resume or just to be a part of it will benefit me no matter what I do in life. It has already made me fit and helped me attain a healthy lifestyle and network with professional sailors.
Q: What does it mean to you to be a Bermudian, racing in Bermuda for Bermuda in such a prestigious event?
A: It puts a great deal of pressure on my shoulders knowing that I will be representing my Country on a global scale but also in my backyard. The event itself is already intimidating and stressful but this just adds an extra level to it.
Q: What excites you most about the time to race time?
A: I am most excited to work on and sail an AC45. Also how fit and muscular I will become.
Q: Do you think the Red Bull Youth America's Cup has the potential to leave a lasting legacy for Bermuda?
A: It will leave a huge legacy in Bermuda simply because it will be associated with the America's Cup any time that it is announced and the youth will be striving to better themselves in the world of sailing since we have had this opportunity.

Team BDA is Bermuda's entry into the Red Bull Youth America's Cup that will take place in the Great Sound in June 2017. They are mentored by Oracle Team USA and will race on the same high-speed AC45F catamarans seen during last October's Louis Vuitton America's Cup World Series in Bermuda.
The team comprises of 15 young Bermudians who will form the crew, the back-up crew and shore crew. Team BDA is being funded entirely by donations.
Team members are Connor Astwood, Mackenzie Cooper, Peter Dill, Preston Farrow, Na'eem Griffith, Philip Hagen, Kalin Hillier, Mustafa Ingham, Emily Nagel, Daniel Pell, Nicholas Pell, Owen Siese, Dimitri Stevens, Shomari Warner and Cecilia Wollmann.

Read More About