The Bermuda Health Council and Bernews have teamed-up to answer your questions about the island's health care system. Visit www.bhec.bm to submit your queries and look for our response on Bernews. Answers supplied by: Dr. Ricky Brathwaite, Health Economist


Question: I saw the reports from the Minister of Health saying that health insurance premiums will be $338.07, but my health insurance premium is much higher. Why is that happening?
Answer: First, we want to stress that having health insurance is important for managing your health and protecting your finances. We have a wealth of resources on our website about the requirements of health insurance in Bermuda [link].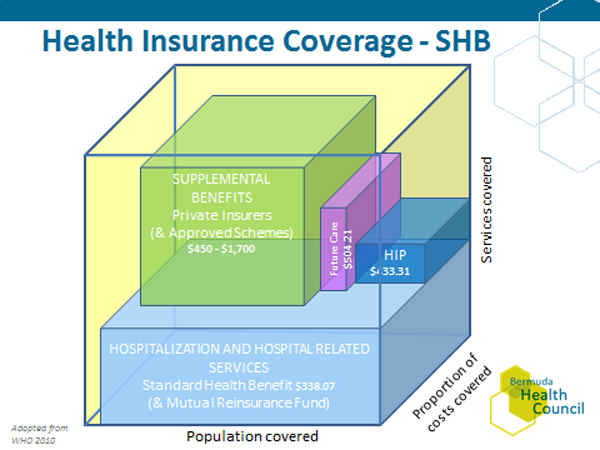 Second, regarding the cost of health insurance, the Standard Premium Rate [SPR], will remain at $338.07 for fiscal year 2016/17. The SPR is one component [See Figure 1] of the total cost of your health insurance premium. The SPR is the cost of select services that must be included in your health insurance policy by law. These select services are referred to as Standard Health Benefits [SHB].
SHB includes most local hospital services, some diagnostic imaging at approved facilities, some home medical services and peritoneal dialysis. The SPR is calculated through an Actuarial Review that looks at, among other factors, the population's use of these services during the prior year.
For fiscal year 2016/17, using the analysis of SHB use, and through collaboration between the Ministry of Health, Bermuda Hospitals Board [BHB], and the Health Council, it was decided to maintain the SPR rate at $338.07 per month. This rate, per insured person per month, pays for the delivery all of Bermuda's SHB services. Visit our website: www.bhec.bm and you can read the full report.
The second component of every health insurance policy sold on the Island is supplemental benefits [See Figure 1]. Supplemental benefits are services that are in addition to SHB services and can include your doctors' visits, overseas care and dental care. Make sure you understand what is covered as supplemental benefits within your health insurance policy and how much of the cost of these services are covered.
Unlike SHB, supplemental benefits typically have co-pays or charges you will have to pay out-of-pocket. If you are not sure what is covered by your insurance policy, ask your insurer. The cost of your supplemental benefits will depend on your insurer and various other factors such as your age, gender, and the size of the group you are insured with.
These types of factors are used to statistically predict your use of the supplemental benefits during the upcoming year. Depending on all of these items, your health insurer will provide you with a quote for a premium. You can negotiate and it is always worth discussing with each insurer options for your supplemental benefits.
If your health insurance policy is through your employer, speak with your employer about possible options. For more information about your health insurance product visit: www.bhec.bm.

Read More About