Twenty-eight members of the local running group The Weekenders will don purple shirts in next week's May 24th race to raise money and awareness for the charity Action on Alzheimer's & Dementia [AAD].
The group, which runs the annual May 24 Appleby Bermuda Half-Marathon Derby for a different charity every year, has chosen AAD as its 2016 recipient. The registered non-profit was founded in 2012 to raise public awareness and provide desperately needed help to Bermuda's growing number of dementia patients and their families.
"Running for Alzheimer's is very meaningful for me as my mother suffered with it for many years," says Liz Craig, a member of The Weekenders. "It's extremely upsetting to see a loved one go through this, not just for the person living with dementia, but for the caregivers as well. It's shocking how many people now have this disease.
"The Weekenders who are running for AAD have some connection with the illness, be it a close relative, an in-law or a family friend," she says. "Every one of the 13.1 miles on Tuesday will be significant to all of us. I hope we manage to help bring more awareness to the charity and of course any donation will gladly be welcomed!"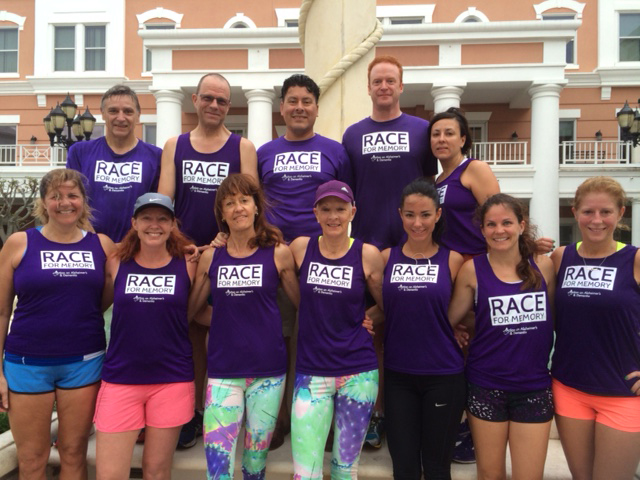 Action on Alzheimer's & Dementia [AAD], a registered non-profit, was founded by Bermudian Elizabeth Stewart, who recognised the dire need for the island to more effectively tackle issues related to dementia after her own mother was diagnosed with Alzheimer's disease at the age of 67, and died in 2012.
"We are very grateful to The Weekenders for showing their 'Purple Power' and taking up our cause to support AAD this year," says Stewart, who will also be running for the charity. "We encourage others to contact us to wear our purple shirts in next Tuesday's race or to donate to AAD as a show of support for all our runners this year."
Registered as charity 929, AAD is dedicated to supporting people living with dementia and their families, along with advocating for quality care. Among its services, AAD acts as a community liaison to government departments and care homes; provides dementia-specific training for those in healthcare settings; offers occupational therapy services, including safety assessments and care planning for families; identifies and helps those who are living alone with no caregiver or advocates; provides a dementia-specific activities programme and hosts monthly support group meetings for families.
Alzheimer's, which has no cure, is one of numerous types of dementia, and the most common. A progressive illness that destroys areas of the brain, it causes memory loss, confusion, and eventual loss of speech, understanding and movement. Worldwide, some 50-million people live with dementia—an estimated 1,000 in Bermuda alone.
Runners wanting to support AAD next Tuesday can contact the charity at 538-5494 or alzbermuda@yahoo.com for race shirts. Anyone can make an online donation to the charity via its Clarien Bank account: 6000065060.
Read More About