Following yesterday's referendum, Preserve Marriage released a statement saying they "will remain steadfast in seeking to preserve marriage in Bermuda for the years to come."
A statement from the group said, "Preserve Marriage, which consists of a diverse cross-section of our community, appreciates the people of Bermuda who came out to express their beliefs about same-sex marriage and same-sex civil unions.
"Although 46.89 percent of the voting population participated, it cannot be ignored that an undeniably clear message has been sent to retain marriage in Bermuda as a special union between a man and a woman for the benefit of society. Bermuda voted against same-sex marriage and against same-sex civil unions almost 2 to 1 on both questions.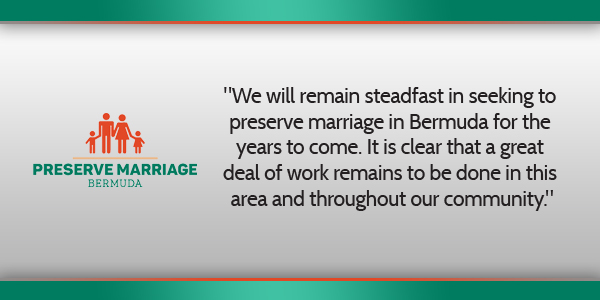 "The purpose of the referendum was to assess the prevailing community interest before implementing any legislative changes in Bermuda. The European Court of Human Rights has stated, "the Court observes that marriage has deep-rooted social and cultural connotations…", which means marriage has a huge impact on the social and cultural structure of a country.
"It is for this reason the ECtHR has consistently stated, "…that article 12 [right to marry] of the convention does not impose an obligation on the government to grant a same-sex couple… access to marriage." [Oliari and Others vs. Italy 2015 Judgment paragraph 192].
"In addition, in the most recent Chapin and Charpentier vs. France case of June 9, 2016, the European Court unanimously found that Article 12 [right to marry], taken together with Article 14 [prohibition of discrimination] and Article 8 [right to respect for private and family life] were not discriminatory. The European Court affirmed once again that there is no discrimination if the State denies the right to marry to two adults of the same-sex.
"We can only conclude that the Center for Justice in their passion to bring same-sex marriage to Bermuda is misleading the people of Bermuda to state that preserving marriage is preventing human rights to same-sex couples. They are out of sync with the European Convention that applies to Bermuda [Page 3 HRA 1981].
"This was clearly seen in the most recent case before the Chief Justice when they tried to quash the referendum on the grounds of it being against the Constitution, against the Human Rights Act and against common law; however, they lost on all three challenges. It has been our objective to simply ensure that the people of Bermuda understood the undeniable truth surrounding this topic so that they can vote intelligently, with both mind and heart.
"As Preserve Marriage, our uncompromising goal has been to respect all people of Bermuda regardless of their sexuality. We understand, along with over 90 percent of the countries of the world and the majority 13 European states that have constitutionalized the definition of marriage as strictly heterosexual and monogamous, that preserving marriage is not bigotry nor hate speech [Same Sex Unions and the ECHR, Gregor Puppinck, PhD, Director of the European Center of Law and Justice, April 20, 2015].
"As Rick Warren has stated, "Our culture has accepted two huge lies: The first is that if you disagree with someone's lifestyle, you must fear them or hate them. The second is that to love someone means you agree with everything they believe or do. Both are nonsense. You don't have to compromise convictions to be compassionate."
"Despite the tremendous hate speech Preserve Marriage has endured during this debate from some of those who support same-sex marriage, we have made it our mandate not to retaliate, nor to be intimidated by it, but to share the truth in love.
"We will remain steadfast in seeking to preserve marriage in Bermuda for the years to come. It is clear that a great deal of work remains to be done in this area and throughout our community. We all want what we believe is best for our country as a whole, and we will keep this in mind in our dialogue with each other, especially when we disagree.
"So where do we go from here? Benefits are available to all people without having to introduce same-sex civil unions or same-sex marriage. In fact, "more and more countries are moving on from what has been labeled as the 'failed experiment of civil unions'…" [Australian Marriage Equality 2010]. This is because a same-sex civil union is the engagement ring to same-sex marriage. All countries that have redefined marriage started with a same-sex civil union.
"Hence, if the current Government truly does not want to implement same-sex marriage in Bermuda, it is conflicting for them to continue to push for same-sex civil union legislation.
"Article 8 of the Convention can be applied in Bermuda as there are benefits available to everyone, whether two sisters that live together for economic reasons, married or single persons who need medical decisions made for them through a power of attorney, hospital visitation rights by persons stipulating who they deem as their next of kin, property rights by a will, medical rights for dependents who require it, or beneficiary rights in a pension. Rights can be enjoyed without redefining marriage.
"Finally, we would like to state that the LGBT community is not "them", it's us: our loved ones, our family members and our friends. Although we disagree on this current topic, we are confident that we can continue to love and respect one another as we live in peace and harmony together."

Read More About