[Updated] Mark Anderson — the well known local entertainer and LGBT advocate — is calling on the people of Bermuda to attend the Cenotaph in front of the Cabinet building at 6.30pm this evening [June 13] to pay respects and show our love following the tragic events which took place in Orlando, Florida.
The mass shooting in Orlando early Sunday morning was the deadliest mass shooting in U.S. history, and left 50 dead and more than 50 injured.
The attack took place at an Orlando establishment called Pulse, described as one of the city's "hottest gay bars", with the club reportedly playing host to hundreds of patrons before the shooting, which was committed by 29-year-old Omar Mir Seddique Mateen, who was later killed by police.
BBC news report on the mass shooting:
NBC news reports, "Investigators probing gunman Omar Mateen's massacre at least 49 people at a popular gay nightclub in Florida are trying to determine whether terrorism, homophobia or both pushed him over the edge."
"An ex-co-worker told NBC News that Mateen was racist, belligerent and 'toxic.' His father told NBC News his son was enraged after recently seeing a same-sex couple kissing in front of his family, an event that could have set him off.
"In 2013, Mateen was interviewed twice by federal agents after co-workers reported that he made "inflammatory" comments to them about radical Islamic propaganda. The following year, the FBI looked at him again because of ties with an American who traveled to the Middle East to become a suicide bomber."
"Our hearts are broken for the victims and families of the horrific tragedy in Orlando," said Sarah Kate Ellis, the President of the U.S.-based LGBT advocacy group GLAAD.
"This unimaginable atrocity has not only robbed countless people of their loved ones, it has also stolen a sense of safety within the LGBTQ community. As we mourn the victims of this unspeakable attack, we are also reminded that the work to end hate in all its forms must continue." Ms Ellis added.
Saying they stand "shoulder to shoulder with the LGBT community," the Governor of New York Andrew Cuomo directed the One World Trade Center to be lit the colors of the pride flag in a "tribute to LGBT Americans and the lives that were lost."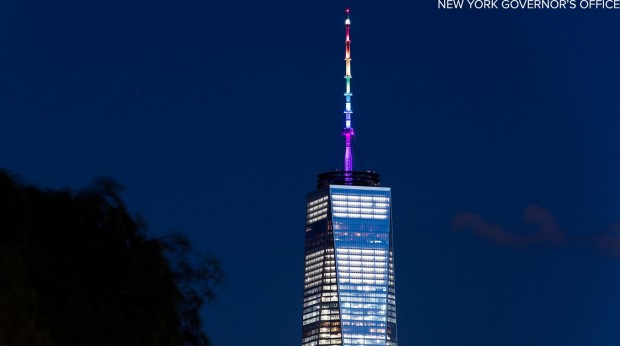 President Barack Obama ordered US flags at all federal buildings to be flown at half-staff, including at the White House and at embassies around the world.
Calling it an "unimaginable and senseless tragedy," Premier Michael Dunkley said, "Our hearts are heavy today and our immediate thoughts and prayers are with the families and friends of the those killed and injured.
"Bermuda grieves with the Orlando community and stands in solidarity with them. And we join in the global condemnation of this act of hate and intolerance. These will undoubtedly be extremely difficult days and weeks ahead.
"And as we struggle to come to grips with this unthinkable tragedy, let us all pray for peace, respect, tolerance and understanding for one another," the Premier added.
The event will be held at 6.30pm this evening at the Cenotaph in front of the Cabinet building on Front Street in Hamilton, and everyone is welcome to attend.
Update 6.45pm: The gathering is underway. It began with a prayer, Mark Anderson then read out the names of the victims, and now Tony Brannon is speaking.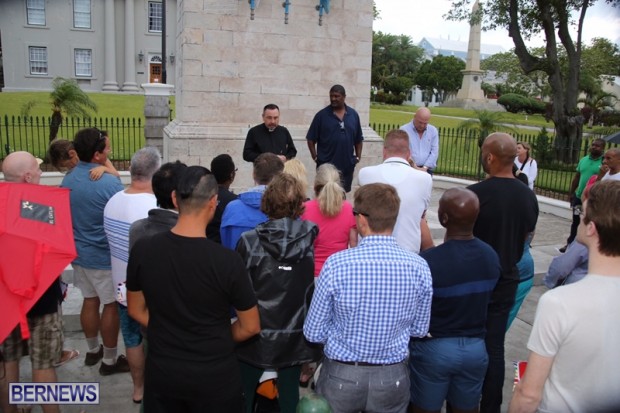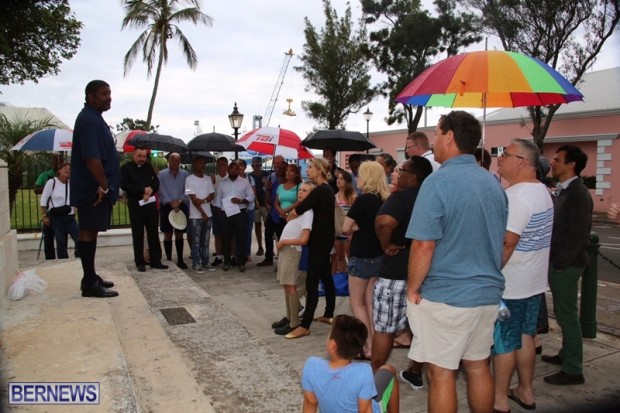 Read More About