Today at the Louis Vuitton America's Cup World Series Portsmouth started in spectacular style with the Red Arrows wowing the crowds across Portsmouth's seafront with an outstanding display of aerobatic skill.
On the water, Friday is designated official practice day, with four practice races taking place and the first two contests were dominated, appropriately, by Sir Ben Ainslie and his Land Rover BAR team.
Under the watchful eye of Prince Philip, the Duke of Edinburgh, Ainslie raced out to two quick wins.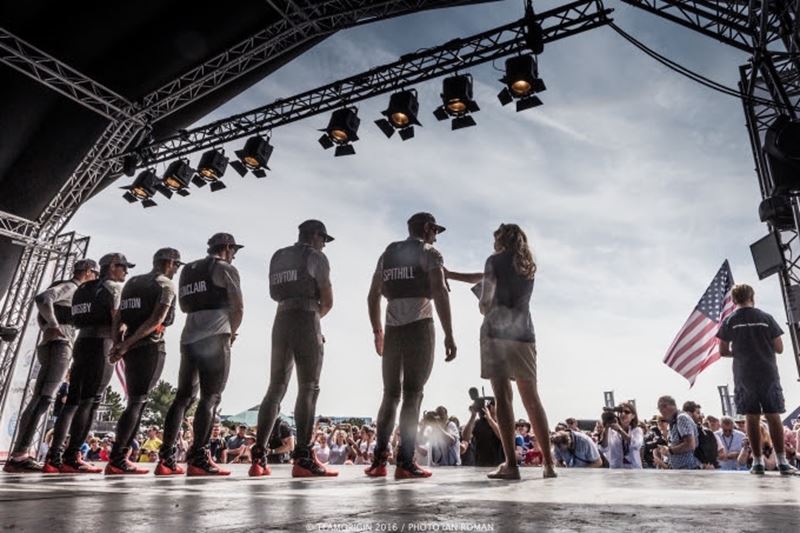 Light wind conditions greeted the teams as they took to the water, but the sizeable crowd was treated to exciting competition in the warm sunny weather over Portsmouth on Friday afternoon.
The first race of the day was dominated by a powerful performance from new father Sir Ben Ainslie and his Land Rover BAR team, finishing almost one minute clear of Groupama Team France and just under two minutes ahead of Softbank Team Japan.
After a slow start, Jimmy Spithill's ORACLE TEAM USA fought back to fourth, just ahead of Artemis Racing, with stand-in helmsman Francesco Bruni, making his debut with the Swedish outfit. Rounding up the pack was Emirates Team New Zealand, with new helmsman Glenn Ashby still looking to find his way, driving the Kiwi boat to sixth place.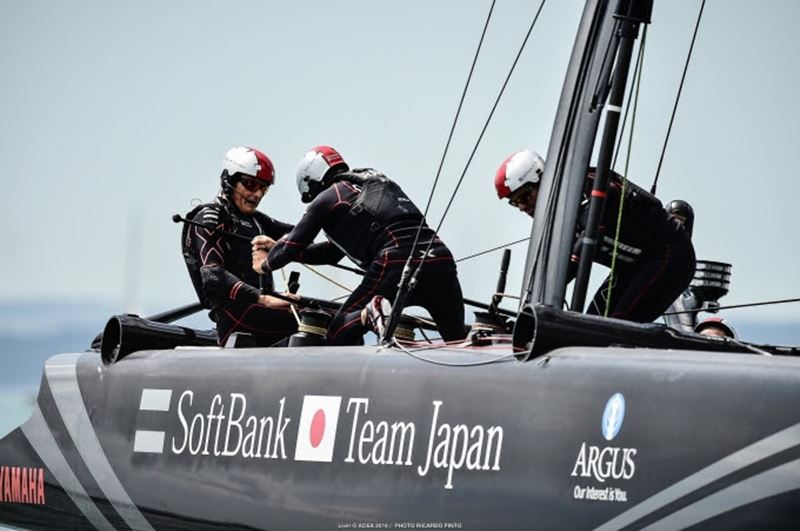 In race two Emirates Team New Zealand crossed the start line ahead of the pack, but they were a split-second ahead of the official start time and so had to take an immediate penalty, leaving Groupama Team France, ORACLE TEAM USA and Softbank Team Japan to fight it out for first place at mark one.
Good use of the wind conditions and local knowledge helped the British team overtake both the US and French crews, and at the halfway point of the race Land Rover BAR were back in front, leaving Groupama Team France and ORACLE TEAM USA to fight it out for second. Ainslie's crew built on their lead and again finished in first, 54 seconds ahead of Spithill's ORACLE TEAM USA in second and Franck Cammas and the French team in third, showing good consistency on day one of the regatta. Dean Barker's Softbank Team Japan were fourth and the last two places in race two were again filled by Artemis Racing and Emirates Team New Zealand in fifth and sixth places respectively.
After a short break, race three started with Groupama Team France making it three out of three as the first team across the line, but Artemis Racing were quickly ahead and rounded mark one ahead of the pack. Bruni and the Swedish team consolidated their position in first and they and Softbank Team Japan took off into the lead, leaving Emirates Team New Zealand in third, looking stronger in race three than they had in races one and two. S
oftbank Team Japan picked up where they had left off in Chicago taking a win in race. Behind them, Emirates Team New Zealand were second, a good fightback from the disappointments of the first contests, and Land Rover BAR were third, demonstrating that the only thing predictable about America's Cup racing is its unpredictability. Finally, Groupama Team France, Artemis Racing and ORACLE TEAM USA were fourth, fifth and sixth respectively, wrapping up Friday's practice races.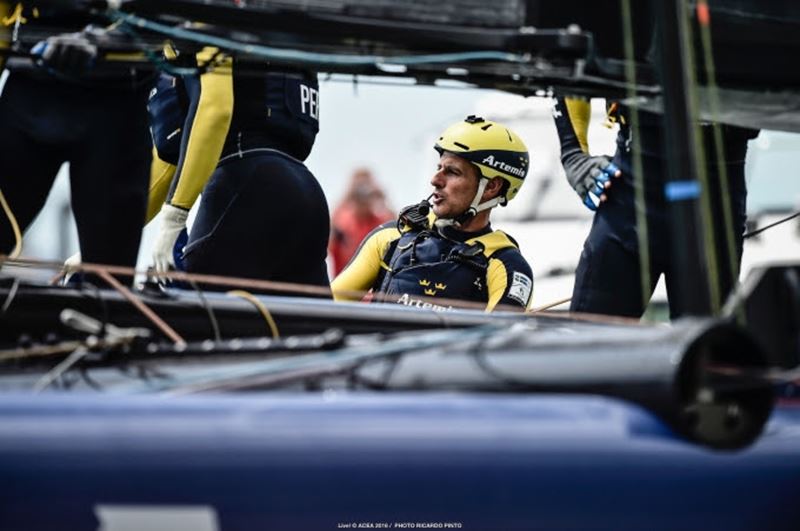 The final action on the water on Friday was the Substitute Race, which may be inserted into the international broadcast if racing is delayed over the weekend, and at that point it would be scored as an official race. Until that point it is the fourth practice race of the day and was won by Emirates Team New Zealand, making up for their previous three races in aggressive style. The Japanese crew were also on a roll, battling with Land Rover BAR and holding off the home team for second place, with the Brits in third, capping off a fine Friday for the home fans.
Francesco Bruni, helmsman, Artemis Racing said, "Today was ok, not great but not too bad. The conditions today were very tricky, but for me it was really about learning the boat. Every second I am on the water I am learning a lot and it was important to use this practice day to find out about as many of the boat's little tricks as I can, and while I have learnt a lot today, I hope to perform better tomorrow.
"We'll take a look at the video tonight, see where we can improve, especially in the start and the maneuvers, and go through the list of things to work on and be better tomorrow. One good thing though is that the team on board is strong. They are sailing well and the only mistakes we made were small, things that are easy to fix, so that's good."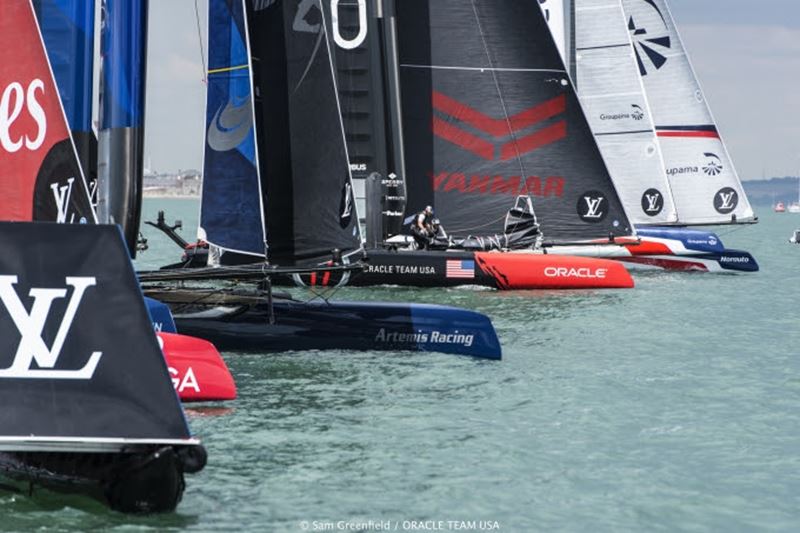 Paul Campbell James, tactician, Land Rover BAR, said, "We were really happy out there today. Ben was doing a fantastic job in the starts, giving us a good jump from there, and even though it was tricky stuff, we were making the right decisions. Importantly, when we weren't in the lead we were moving forward, so everyone is really happy. A lot of what we do is focused on crew work, improving every time we sail, and it's all about how well we work together. Days like today show that we are making progress and we approach a practice day like today exactly the same as tomorrow and Sunday, so the aim is to carry this through the weekend."
Jimmy Spithill, skipper, ORACLE TEAM USA, said: "It was tricky today. The first two races went well but in the last one I thought we were good off the starting line, but we had a hard time accelerating. The other guys passed us on the top and underneath and then banged us around the race course a bit. Every race is different though, and days like today prove that. We have to work on some little things, especially acceleration, and we have to sharpen up a little bit because on a tight track, if you fall out the back it's a tough climb back."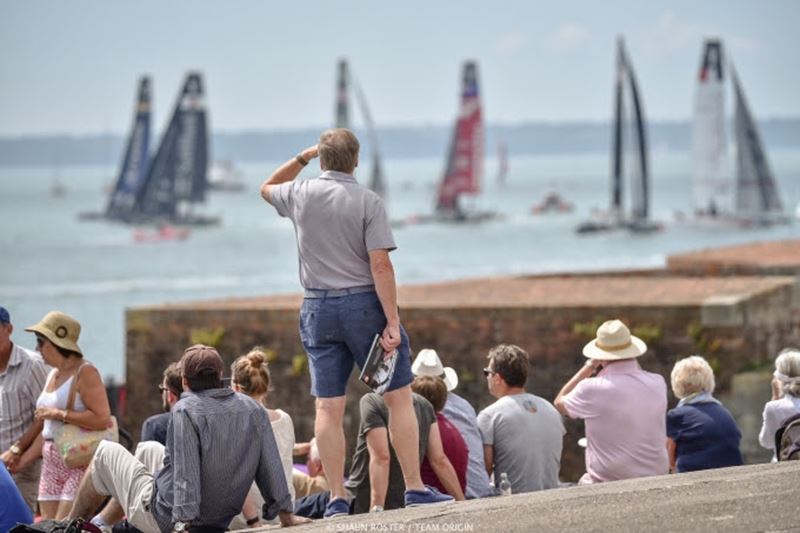 Franck Cammas, skipper, Groupama Team France, said: "The day didn't start well as we hit the mooring and had some damage on the port foil but we will pull the boat out tonight and fix it. In the races, the first three starts we were good but on the last start we were looking for an opening but it never opened up so we were right at the back.
"It happens sometimes and you just have to fight back. We have made a few adjustments here, in particular with the communication on board as we trying Adam Minoprio as wing trimmer here. That's a bit of a challenge but I think it's a good move for us, even if we have to switch to speaking English!!"
Ray Davies, tactician, Emirates Team New Zealandm said: "It took us all a few races to find our feet today. We really needed today to iron out our crew work as every race we felt like we were tacking and gybing better even though we weren't getting results, but it was great to win the last one. However, we have to do a big debrief tonight as there is still a lot of room to improve and we have a lot of work to do. It's a tough fleet and we're really looking forward to the racing on the weekend, but we still have a long way to go."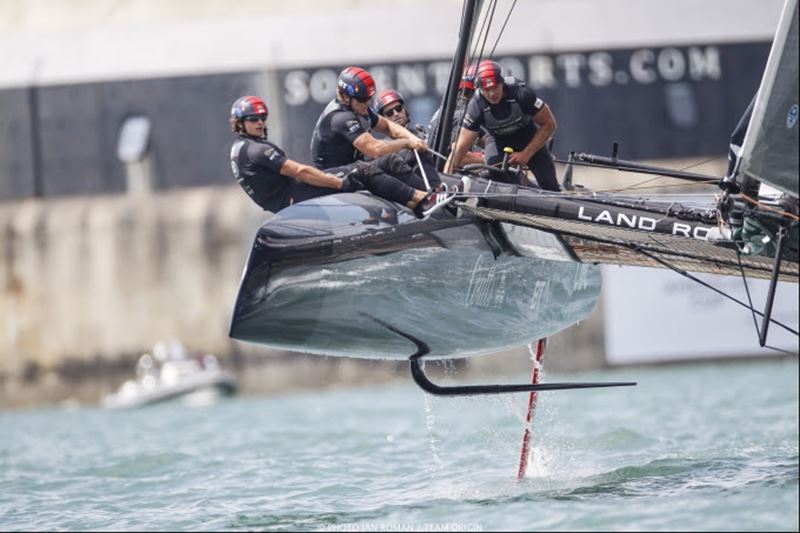 Dean Barker, CEO and skipper, Softbank Team Japan, said: "It's been a useful day, especially as this is a challenging venue. The currents can be strong and you have to read the course. It keeps you on your toes, but we definitely feel a lot better than we did a year ago when this was our first event.
"Even though the light winds made it tricky for everyone, we're not too opposed to any conditions and it's all good practice, whatever you're sailing in. Having said that, fingers crossed we'll have enough wind to get some exciting racing in for the rest of the weekend – we'll see."
Photo credits: Ian Roman, Shaun Roster, Sam Greenfield, Ricardo Pinto

Read More About