Last weekend Premier Michael Dunkley cut the ribbon as A.S. Cooper & Sons unveiled their new Vineyard Vines store at 27 Front Street, which marks the first overseas stand-alone location selling Vineyard Vines.
The company — known for its preppy line of clothing and smiling pink whale logo – was founded in 1998 on Martha's Vineyard by brothers Shep and Ian Murray.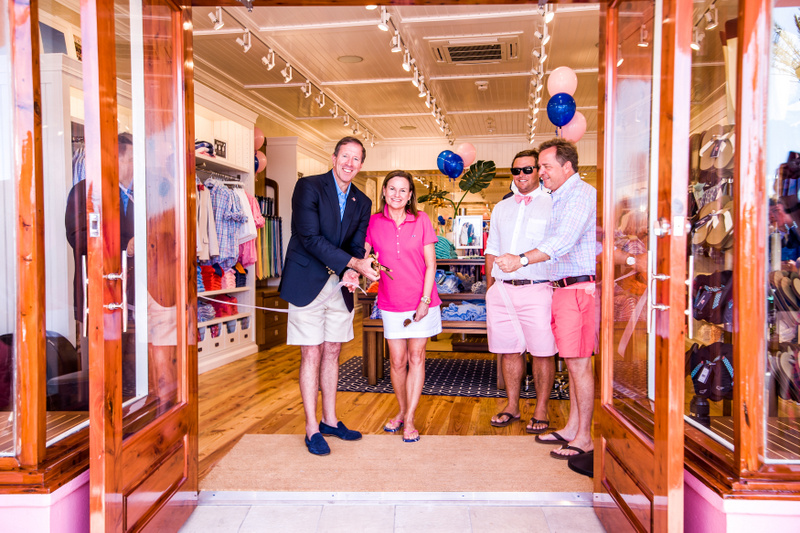 A.S. Cooper & Sons Ltd first started selling the Vineyard Vines brand about 10 years ago in their Men's store. The business steadily grew over the years fostering a close relationship with the Murray brothers.
During a visit to the island with his family three years ago, Shep Murray suggested that Cooper's consider opening a freestanding location saying,"We thought it would be a hit with both tourists and locals alike but at the time we didn't have the right location available."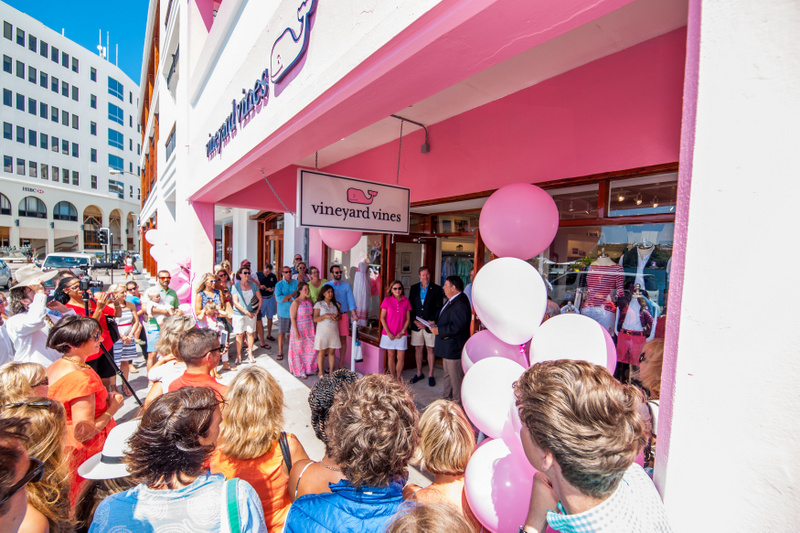 "Once Vineyard Vines became the 'Official Style of the America's Cup', it made sense for us to relocate our Children's Department to the 2nd floor of our Main Store and renovate the space at 27 Front Street to capitalize on the opportunity," Coopers said.
Coopers were assisted with design, planning, sourcing and manufacturing of the fixtures and fittings by Vineyard Vines. Cooper's used Ocean Interiors led by Mike Baker to do the demolition and re-fit.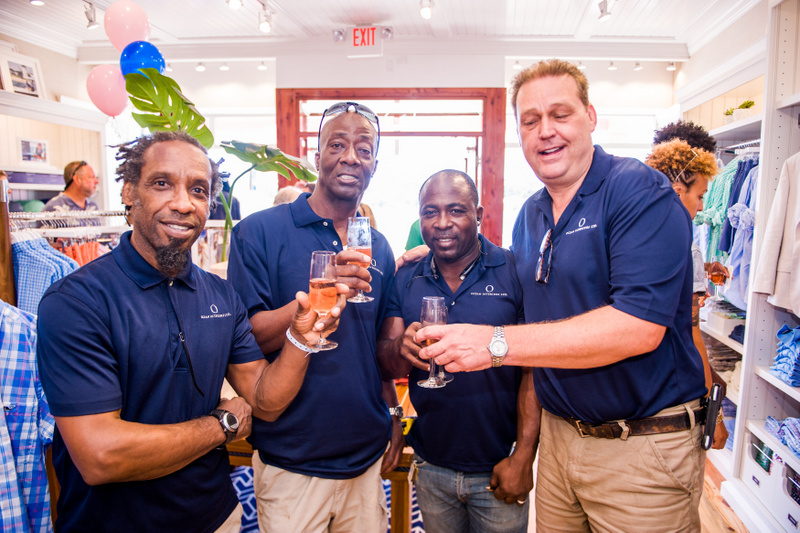 "Everything had to be done to a very high standard with great attention to detail so we had Ocean Interiors team up with Bothelo Wood Architecture to execute the job. We knew from our shop-fit last year at Astwood Dickinson that these guys could pull it off in a short timeframe," said Mr Cooper.
A beautiful gloss white coffered ceiling, wainscotted white shelving fixtures and light pine flooring give the shop a spacious New England beach house feeling.
Nautical decor is seen throughout the shop culminating in the cash wrap desk disguised as a fishing boat transom. A giant Teddy Tucker shipwreck map is displayed above with permission from the Tucker family and gives the store its unique local flavour.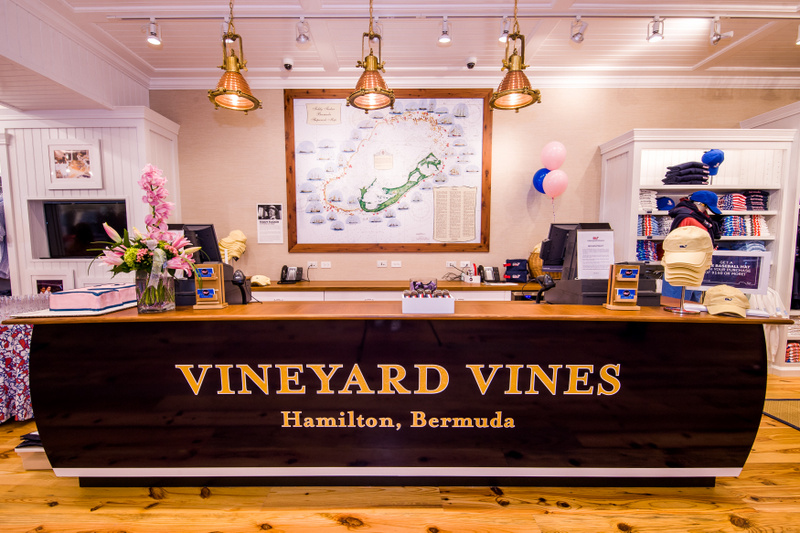 The merchandise for men, woman and children is decidedly preppy and feature a bright color palette. Plenty of graphic tee shirts featuring the whimsical whale are available including exclusive designs just for Bermuda. Their America's Cup collection is also available."
Speaking at the official opening, Kim White, Chairman, Board of Directors of A.S. Coopers Limited, said, "This bold new venture is the result of the creative effort of Somers Cooper and James Boyce, Directors and our vendor partner Vineyard Vines.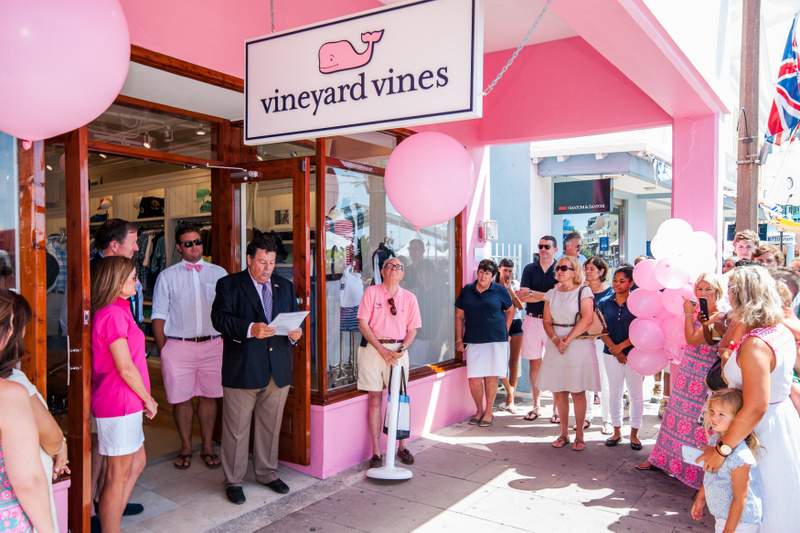 "I think that you will agree with me, once you go inside, that they have created a store that is bold and colorful. A store that is a modern setting, with a product mix, to suit our customer's desires. I thank them and the many members of our staff and Vineyard Vines staff who have worked countless hours to bring to life this store.
"We say a special thanks to Wendy Tucker who has granted permission to use her father Teddy Tuckers wreck map in the store.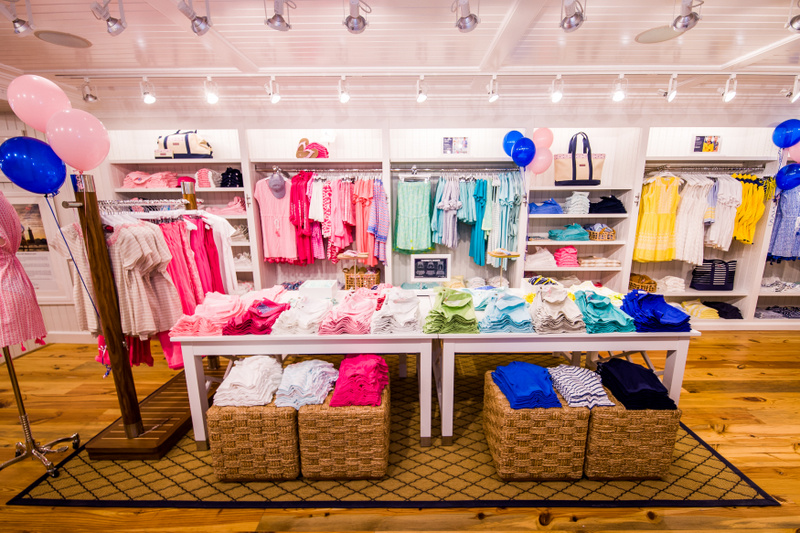 "Retail in Bermuda for the last 8 years has been, to put it mildly, a struggle. You may then ask why have we made this substantial investment, and also in the 2 new stores we have opened earlier this week, the Americas Cup Store and the Astwood Dickinson Store, in the Hamilton Princess and the new shop in shop with our vendor Bremont Watches in Astwood Dickinson.
"We have done so, because we believe, that Bermuda is turning the corner and that the Bermuda Government is creating an economy in which businesses can grow. Their success in winning the America Cup 2017 together with a number of other government initiatives are helping to grow the economy and have given our customers confidence to be consumers again.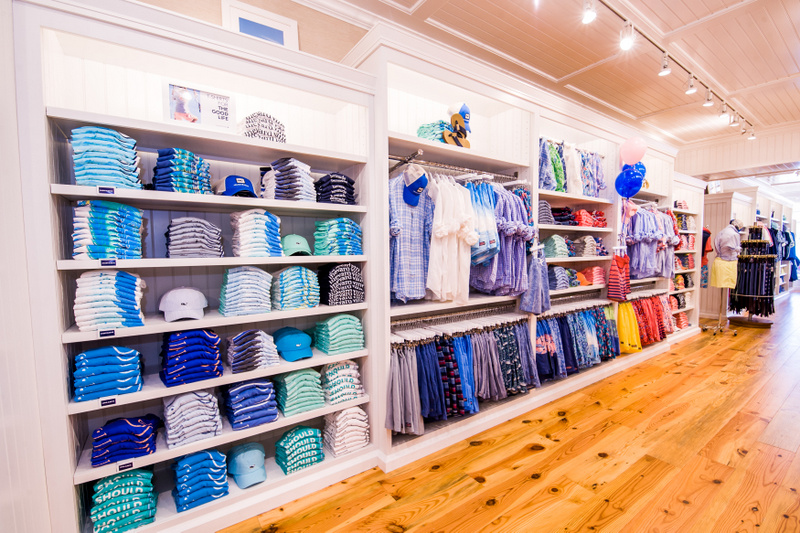 "Vineyard Vines is the official life style sponsor of the America Cup 2017 and we thank them for their support of this great global sporting event the Americas Cup 2017.
"This is Vineyard Vines first overseas store and we are honored, that they have chosen A.S. Cooper Limited as their partners in this exciting new store," added Mr White.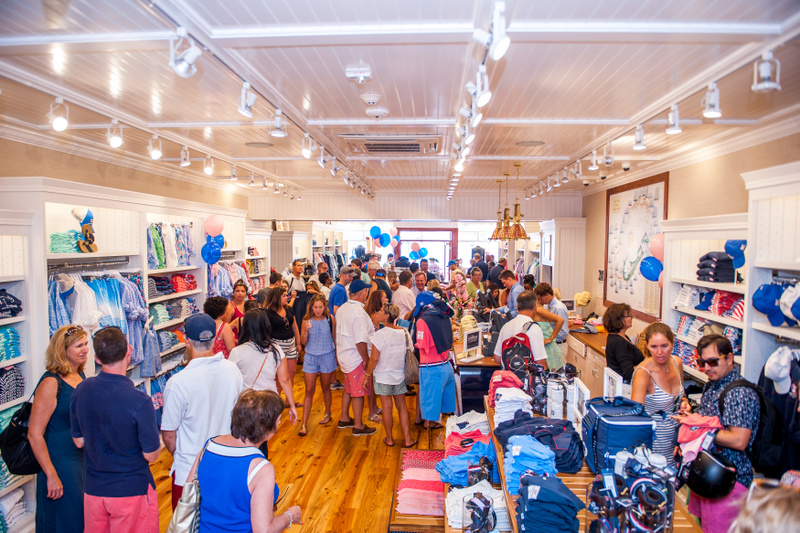 The store will be open from Monday through Saturday from 10am – 6pm and from 1pm until 5 pm on Sunday.
Two Bermudian senior sales staff and three Bermudian junior sales staff have been hired to operate the store, and ongoing training by Vineyard Vines is expected.
- Photos courtesy of Into Bermuda/Kondwani Williams
Read More About