The United Kingdom's Telegraph has taken note of the passing of Johnny Barnes, calling him a "familiar and beloved figure" and quoting the Bermuda icon as saying simply "I enjoy making people happy."
The story said, "Johnny Barnes, who has died aged 93, was a familiar and beloved figure in Bermuda, where he was known as "Mr Happy" for his habit of waving cheerily at commuters every morning for 30 years from his chosen place by the Crow Lane roundabout.
"Each weekday without fail, into his nineties, Barnes would rise at 2am, breakfast, and by 3.45 have stationed himself besides the road into Hamilton, the island's capital. Whatever the weather, for the next six hours he would salute passers-by, shouting: "I love you – God loves you!" and blowing a kiss with his hands."
Screenshot from the Telegraph article: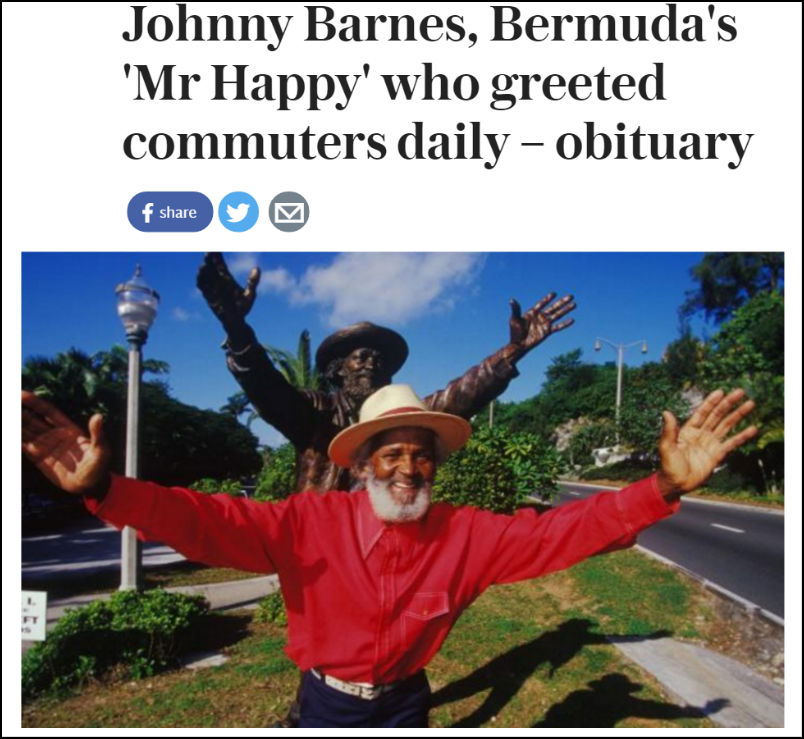 "A religious man who belonged to the Seventh Day Adventist church, he was inspired by Christ's teachings on brotherly love. "We human beings got to learn how to love one another," he said. "Then there wouldn't be any wars, there wouldn't be any killing."
"Bermuda's road layout meant that most traffic entering Hamilton would pass him. Many a motorist testified that the sight of the bearded and hat-wearing Barnes bestowing benediction had lifted their mood. In 2011, the director Matt Morris was prompted to make a short film about him, Mr Happy Man, which has since been viewed online more than 100,000 times.
"I enjoy making people happy," reflected Barnes. "I like to let them know that life is sweet, that it's good to be alive." In 1998, a statue of him was erected near the roundabout, paid for by local businessmen. There was some criticism of its having been done while Barnes was still alive, but he took the view that that way he could enjoy it too."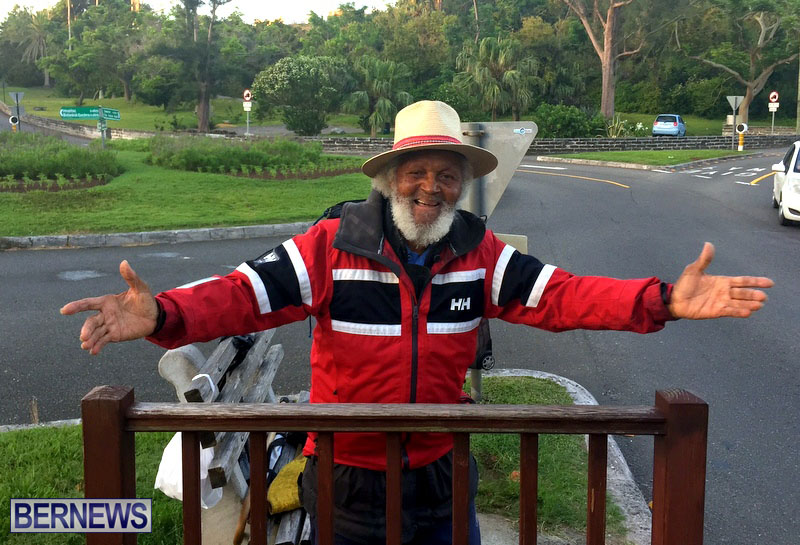 "On the rare occasions when he failed to appear, radio stations would be deluged by callers anxious for news. In 2012 he suffered a fall while waving at his usual spot and was unable to get up until an ambulance arrived. He later said that he had just tripped on the hole worn by his standing there for three decades.
"Never the less, he was provided with a bench and acknowledged that at his age it was time to take stock. "When you get to 92, you have to slow down a little bit," he said recently. "When you have an old bike you can put oil on the wheels, but I can't put oil on these knees."
"He is survived by his wife Belvina, to whom he was married in 1949. There were no children. Johnny Barnes, born June 23 1923, died July 9 2016."
Read More About