The Bermuda Plein Air Group will open its 14th art exhibit on Sunday, September 11, with the exhibit continuing to run until October 7.
The opening will take place from 5.30pm to 7.00pm at the Bermuda Arts Centre at Dockyard.
A spokesperson said, "The Plein Air Group of Bermuda meet every Sunday morning from September to June to paint at a different location throughout the Island. The show reflects 10 months of toils, sometimes in not the best of weather conditions.
"The show is that it is a documentary of Bermuda as the year has passed from stormy dark skies to beautiful sun kissed roofs. Often the group is invited to paint the historical homes of the Island.
"At this show, one can expect to see everything and anything that has been captured around the Island. Work is presented in all media and size and from an array of view points. It's interesting to see that one scene may have been painted by three artists, but every painting is completely unique.
"Whether a lover of Bermuda's history, Art or astonishing views, this show holds something for you.
"Along with the Plein Air show, Susan Thomas will have a solo exhibit entitled "Ebb and Flow". As opposed to taking calm and beautiful photographs of our beaches, Susan has focused on the water itself. A swirl of blues and pale sand create almost an abstract effect that creates a piece that one can look at and with conviction say 'this is Bermuda.'"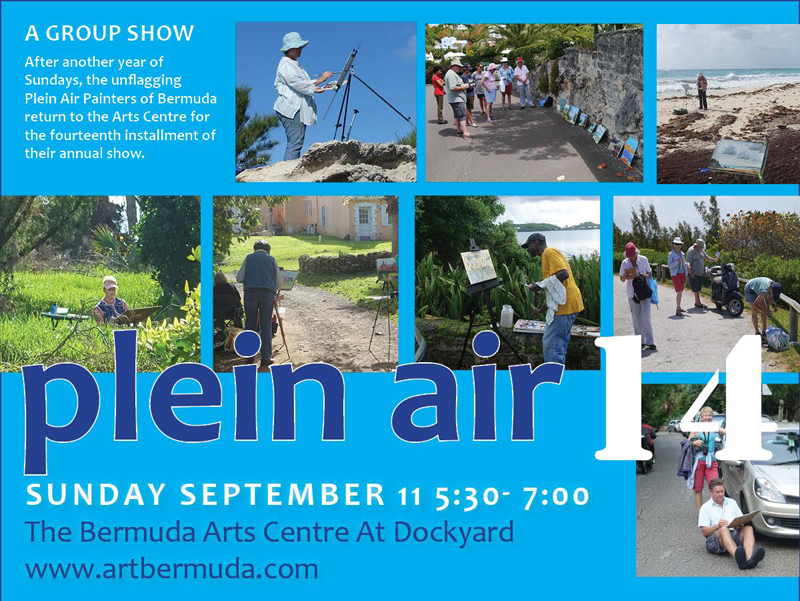 The Bermuda's Plein Air Group is also welcoming new members to take part in its activities.
A spokesperson said, "The group was started in Jonah Jones' backyard in Somerset about fourteen years ago since that time the group has had thirteen annual shows.
"For beginners, seeing how more experienced painters solve visual problems and the growth that comes from painting on a regular basis. For the professionals, a chance to share expertise and get feedback on current work from their peers.
"Usually every week, depending on weather, an email is sent out to the group, saying that we are going to be at a particular location, most often on Sunday and occasionally on a Saturday. The meeting places vary from private homes to public spaces all over the island.
"We start around 9.30 and paint until noon, at which time we put up all the work that has been done and have a group critique, the object of which is to help people grow and improve their skills.
"During the session the more experienced painters in the group often spend time going around offering advice and encouragement to anyone who needs help.
"Anyone can join us. All we need from you is a current email address, we welcome people working in any media. We have absolute beginners and experienced professionals working side by side and presently have over 60 names on our list.
"Around ten people show up for any given session, some come for a few sessions and then reappear a few months later. One steadfast member painted with us all through her pregnancy and and then came back with us while dad babysat. Simply email or telephone the Bermuda Arts Centre to join.
"The group is always looking for new and exciting locations. If you own a historic or interesting home, please contact us. All painting is done outside and respect is given to the surroundings."
For more information about the exhibit, call 234-2809, email artcentre@logic.bm, or visit the website.

Read More About
Category: All, Entertainment