The Anglican Church of Bermuda is getting set to present "Rooted in Faith," a series of workshops and lectures specifically designed to "discuss the issues surrounding race and religion."
The workshops will take place on Saturday, September 24 and Sunday, September 25 as "part of a wider discussion aimed at celebrating the contribution of black Anglicans to the life of the Church in Bermuda."
A spokesperson said, "Research is currently being undertaken to gather stories and history of this contribution going back 400 years in Bermuda and also in the context of a larger story from the Anglican Communion world-wide.
"It is the larger story that will be focussed on during this weekend – helping us to share and contextualize our own experience here in Bermuda."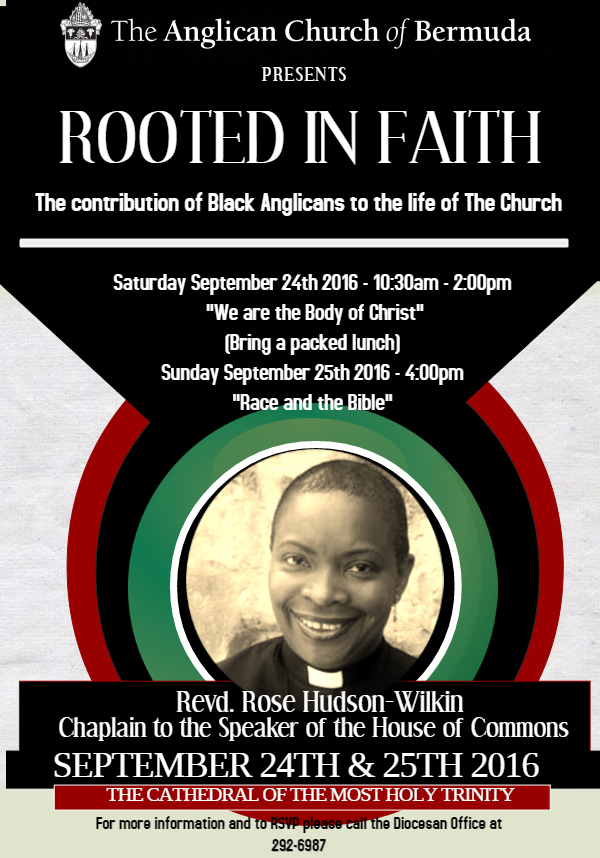 "These sessions will be facilitated by The Revd. Prebendary Rose Hudson-Wilkin. Revd. Rose was appointed as Chaplain to the Queen in 2007 and also to the role of Speaker's Chaplain in June 2010 by the Speaker of the House of Commons, Rt John Bercow.
"She is the Vicar of the United Benefice of Holy Trinity with St Philip, Dalston, and All Saints, Haggerston, in the London diocese. Rose combines this parish role with the position of Speaker's Chaplain and as Priest Vicar at Westminster Abbey."
"Originally from Montego Bay, Jamaica, Revd. Rose will speak on her experience in the Church of the West Indies and the Church of England and also touch on the issue of race in the scriptures.
"The workshops will begin on Saturday September 24th from 10:30am until 2:00pm [please bring a packed lunch] and Sunday September 25th at 4:00pm, at The Cathedral of the Most Holy Trinity.
"The topics to be discussed are both interesting and relevant to all people of faith and The Anglican Church of Bermuda welcomes the community to share in this important dialogue."
For more information, contact Juanae Crockwell at the Diocesan Office on 292-6987 or email diocese@anglican.bm.

Read More About
Category: All