[Opinion column written by Premier Michael Dunkley]
The OBA was elected to provide Bermuda with more transparent, more accountable, more responsible government.
With those goals before us, we've made big strides in progressing freedom of information, transparency, accountability and responsible spending.
It's a work in progress because we're trying to reverse a culture of secrecy, red tape and waste built up over many years.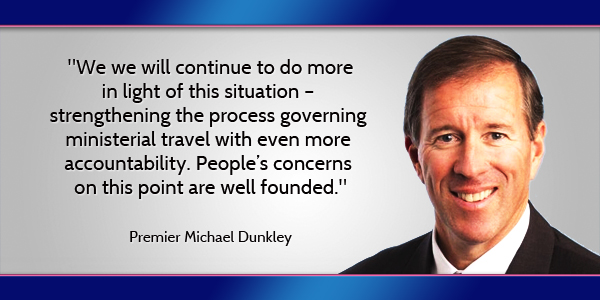 In light of the Sports Minister's trip to support Bermuda's young Olympians in Rio, let's look at the record so far:
In the 2009/10 fiscal year, the Government's travel budget for all Ministries was $6.7 million. The travel budget this year is $3.1 million – less than half what it was in 2009/10.
As Premier, I'm responsible for all Cabinet Office activities. In 2009/10, its travel budget was $612,000. This year it's $177,000 – down 71%.
We ended the questionable system that allowed Ministers a daily travel allowance without requiring them to submit their spending stubs.
In 2014, we made Public Access to Information a fact of life in Bermuda – a first – anchoring the relationship between citizen and government to principles of accountability and transparency.
In 2015, we implemented a Code of Conduct for Government Ministers. All ministers have signed this document that requires them to meet the highest standards of governance.
It is through this travel web site that the public was able to learn about the cost of the Rio trip – exactly as the webpage was intended to work, with Government ministers reporting back to the people.
This is the backdrop against which the Rio trip took place. To the many who've weighed in on this matter, I say: "We hear you. We get it." And, I would add, "We're actually on the same page."
What the situation says to me is that despite our progress, we still have a ways to go to make the system work as intended.
In this instance, we got caught between the cost of a relatively late booking due to ministerial changes, an extremely expensive destination due to the Olympics and our duty to support Bermudians competing in the world's biggest sporting event.
Have we learned from this episode?
You bet, no question.
The concerns expressed are well founded. There was clearly room for more oversight and cost efficiency and this will be discussed at the Cabinet table and with the Civil Service Executive.
Our aim is to make the system of government work better. To get us there, government needs to be open, making it possible for people to get the information they need to hold their representatives to account.
That's exactly what happened in this instance, by virtue of the transparency measures we put in place. It's an outcome that challenges us to be better, more vigilant. That's the system we're building and we wouldn't have it any other way.
We we will continue to do more in light of this situation – strengthening the process governing ministerial travel with even more accountability. People's concerns on this point are well founded.
- Premier Michael Dunkley
Update: The Premier's office has provided a correction to its comparative analysis of Cabinet Office spending on travel, saying that the travel budget change is down 71%, not 200%.

20 Most Recent Opinion Columns

Opinion columns reflect the views of the writer, and not those of Bernews Ltd. To submit an Opinion Column/Letter to the Editor, please email info@bernews.com. Bernews welcomes submissions, and while there are no length restrictions, all columns must be signed by the writer's real name.
-

Read More About