[Opinion column written by Walter Roban]
On 13 August 1996, Leonard Frederick Wade, Leader of Bermuda Progressive Labour Party [PLP], suddenly passed away while he prepared to go on a CPA trip to Singapore.
His passing saddened and shocked the whole island and brought a major transition to the Bermuda political landscape. Other than his family and friends who would be forever changed, it also brought change to the organization Mr. Wade had led and to which he had committed his life to for over 30 years.
In 1985 when he assumed leadership, the PLP had suffered a split amongst its members which resulted in a staggering election defeat. After years of steady progress, the PLP had been cut down to a mere seven seats after the 1985 campaign and hopes were shattered. With a third party emerging [the now defunct NLP] and the PLP decimated, many thought this would be the party's final chapter.
L. Frederick's Wade's job was not only to lead but to rebuild, refocus the party, and gather a team of candidates that would regain the faith of its supporters and also get the additional support needed to once again bring the party to the door of victory.
But who was Leonard Frederick Wade? The father, teacher, strategist and leader was born in 1939 in Devonshire. Educated at Central School and the Berkeley Institute, he would pursue a teaching career going off to Ottawa, Canada. He then went on to earn a Bachelor's Degree in Economics from Queens University.
Mr. Wade spent a number of years as a teacher before entering the political world. Mr. Wade joined the party in 1963 and was an active member of the old Devonshire Branch. He ran in the 1968 election, the first election in Bermuda under Universal Adult Suffrage, and was elected.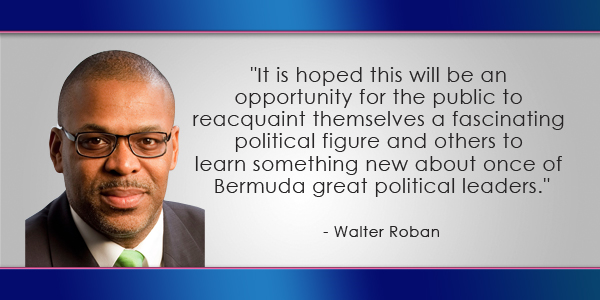 Since he could no longer be a public education teacher as well as a parliamentarian, Wade needed to be economically independent. In 1973, Mr. Wade went off to London to earn a law degree. When the election was called in 1976, he walked away from his Bar Exams to return and contest his seat in the Legislature. He successfully did this and returned to the United Kingdom, completing his legal studies at the Inns of Court, London, qualifying as a Barrister.
Mr. Wade, as a member of the Opposition, held a number of Shadow Ministries, including Finance, Home Affairs and Education, and he served as Deputy Leader of the Party from 1976 to 1980.
One of Mr. Wade's strengths was his formidable strategic political mind. Once becoming leader, it didn't take long for him to demonstrate that despite his party's small numbers, he would be a leader that was not to be underestimated. He applied his talents to the rebuilding process and remaking the image of the party in the eyes of the electorate.
In preparation for his first election as leader, Wade began the process of putting together the right team, with candidates such as Julian Hall, David Allen, Dennis Lister, Nelson Bascome, and Jennifer Smith. The 1989 election would ring positive for the PLP, increasing its numbers by over +100% from seven seats to 15 seats. Under Mr. Wade's leadership, the Party was regaining the trust of its supporters and new converts in the electorate.
Mr. Wade's conciliatory manner, keen strategic mind, and understanding of Bermuda's political landscape were crucial in positioning the party in the early 1990s. He was a consummate politician who was always confortable dialoging with the man and woman on the street as well as the CEOs and executives of business.
Mr. Wade initiated a programme of outreach to Bermuda's business community particularly international business, helping them to understand the party, its policies and goals for Bermuda. This was effective to transforming the party image beyond the propaganda of our adversaries and biased media headlines.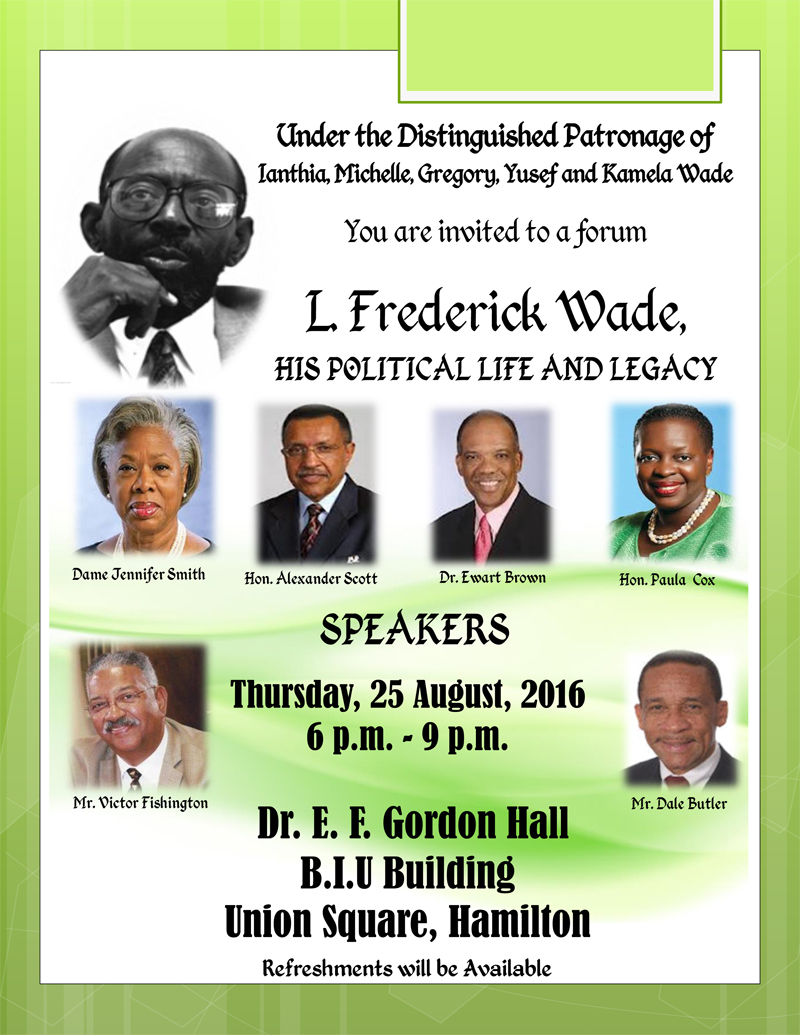 All of this work would also see the PLP progress once again during this election of 1993 when the Party would come as close as ever, winning 18 seats.
Once again, Mr. Wade recruited talented candidates such as Dr. Ewart Brown, Renee Webb, Leon 'Jimmy' Williams and longtime party operatives such as Senator W. Alexander Scott as candidates. All were successful at the polls, creating a formidable team of legislators who challenged the UBP at every turn.
After the 1993 election it was clear that the UBP was struggling with a steadily declining majority, the failed Independence referendum and the MacDonald controversy that followed. Through all of this L.F. Wade had positioned the PLP to be the obvious alternative government in waiting.
Yet with the Party on the cusp of victory, L. Frederick Wade died suddenly on the 13th of August, 1996.
On Thursday, 25 August 2016, from 6.00pm to 9.00pm in the E. F. Gordon Hall at the BIU Building, Hamilton, the public will have an opportunity to hear more about 'L. Frederick Wade, His Political Life and Legacy' from those who knew him, worked with him, and were led by him.
Dame Jennifer Smith, W. Alexander Scott, Dr. Ewart Brown and Paula Cox will all speak from their personal perspectives as former leaders who are part of his legacy. Victor Fishington, a Party Chairman during Mr. Wade's 11 year leadership, along with Dale Butler, author of two books on Mr. Wade, who will also speak.
It is hoped this will be an opportunity for the public to reacquaint themselves with a fascinating political figure and others to learn something new about one of Bermuda great political leaders.
- Walter H. Roban

20 Most Recent Opinion Columns

Opinion columns reflect the views of the writer, and not those of Bernews Ltd. To submit an Opinion Column/Letter to the Editor, please email info@bernews.com. Bernews welcomes submissions, and while there are no length restrictions, all columns must be signed by the writer's real name.
-
Read More About