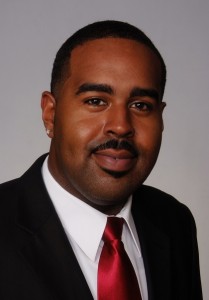 [Written by Eron Hill]
For as long as he can remember, Jakai Franks has had a passion for fashion.
I recently had the opportunity to sit down and speak with this budding Bermudian executive and entrepreneur and there are definitely some things that we all can learn from him.
Only recently entering the designing business this past year, he has taken the local stage by storm and he's putting Bermuda on the international fashion stage at the 2016 New York Fashion Week.
Mr. Franks was the 2016 winner of the Bermuda Fashion Festival. His fashion line is entitled, JRU, 'Just Respect Us'.
Many times we look at one's success, but don't see the process it took to get there. Hard work, commitment, and a relentless will to succeed accurately describe Jakai's journey to the top. He exemplifies the popular song lyrics "Started from the bottom, now we're here".
Now 30, Jakai has worked at Digicel since the age of 18. His journey began as a summer student at the Digicel Bermuda office. He was determined to work his way up the ladder, and that he did!
Holding several different positions over the years, he now works as the Customer Care Director of Digicel Bermuda. This career has taken him all over the world, and has presented enormous and invaluable experiences and opportunities for which Mr. Franks is eternally grateful.
He explains that he initially decided to enter the local fashion competition to prove to himself and others that even whilst having a 9-5 as an executive in one of Bermuda's largest telecommunication companies he had the discipline, drive, and determination to succeed.
With only 6 months to prepare, he had to balance his normal work duties, and family time along with organizing his fashion line.
While he acknowledged the difficulties that starting a fashion line presented, he did not shirk from the task. He was assisted by his fashion mentor, world renowned fashion expert, Mathew Henson, who is most famously known for working with rap stars such as Asap Rocky.
Jakai's success as a designer has much to do with his artistic creativity, and attention to detail. In preparation for the 2016 Bermuda Fashion Festival Jakai had prepared customized tags, hangers, and other memorabilia bearing the brand's name, something unique to the JRU brand.
When asked how JRU was received by the local community he responded, "The support has been amazing. I'd like to thank my family, friends, and the community for the tremendous support that I've received and continue to receive in my fashion pursuits."
In its first year, JRU has taken the island's fashion industry by storm. JRU hats, shirts, swimwear for both males and females of all ages have been seen being worn throughout the island at some of our most popular social events.
Jakai's journey and his unyielding pursuit of his goals serves as an inspiring example of how dedication, hard work, and focus come together to create a awesome recipe for success.
When asked what advice he'd have for fellow young Bermudians he said "Set goals, and smash them out the park. Be head strong about what you want and focus until you achieve it.
"Understand that achievement requires hard work and sacrifice. Never allow yourself to be complacent, always look for that next step forward, ask yourself how you can improve and enhance yourself daily".
These are timeless words by a budding star. Bermuda has a wealth of local talent and potential. Mr. Jakai Franks is but one example of the many inspirational young Bermudians that this island has produced. I'd like to join the rest of Bermuda in wishing Jakai and JRU continued success.
We know that he will do us proud in New York this week at the New York Fashion Week.

Read More About
Category: All, Business, Entertainment, News, Style & Beauty