The UpTown Cultural Committee, in partnership with the Bermuda Economic Development Corporation [BEDC], is set to continue the UpTown events in North East Hamilton with a range of initiatives including Moonlight Movie Series, Karaoke Showcase, UpTown Christmas Celebration and UpTown New Year's Eve Celebration.
A spokesperson said, "The block party atmosphere will be repeated on a bi-weekly basis until New Year's Eve 2016 and will feature a community-wide karaoke competition for $10,000 in prizes by performers of all ages and abilities.
"UpTown Saturday Nights is being supported by the BEDC, the City of Hamilton, the Bermuda Chamber of Commerce, the Ministries of Economic Development and Public Works, the Progressive Labour Party, People's Pharmacy, Spanish Town, Startime, Global Art TV, Chill Entertainment, Island Events Group, His and Hers Productions, and Gina Spence Productions to support N.E. Hamilton business owners and residents on this community driven initiative. Additional partnerships will be formed as the initiative evolves.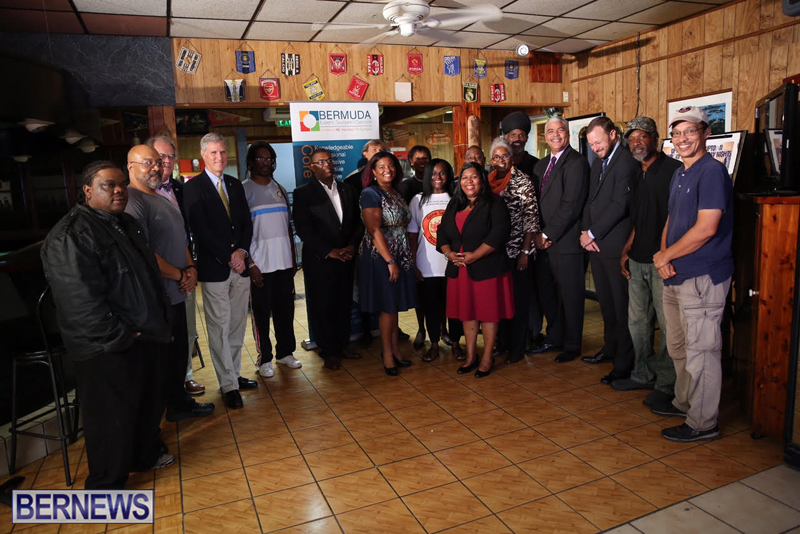 "The opening night will be dedicated to the recently deceased PLP Chairman, Maynard Dill, who was an enthusiastic supporter of this event. UpTown Saturday Nights is the result of a sustained collaboration between the BEDC, the Emperial Group, and area businesses and residents to facilitate positive change in North Hamilton by harnessing the universal appeal of live events to create a sustained commitment to unity, economic recovery and collective security.
"The project grew from the successful execution of the UpTown New Year's Eve 2015 which was well received by the entire community and led to the creation of the UpTown Cultural Committee that now works with the BEDC on matters of community outreach and engagement.
"UpTown Saturday Nights will be an annual feature of the North Hamilton calendar and presents a prime opportunity for vendors to showcase their wares and delicious food offerings. The event is also designed to bring additional tourists and locals to the area and provide the business community with an economic boost leading up to the holiday season."
The events planned between September and December under the umbrella initiative of UpTown Saturday Nights are:
UpTown Moonlight Movie Series – free family-friendly movies under the stars – Court Street between Dundonald Street and Ewing Street – Saturday October 22nd 2016 – 7 pm to 12 midnight and Sunday October 23rd 2016 – 7 pm to 10 pm.
UpTown Karaoke Music Festival – bi-monthly open air karaoke competition and music festival concluding with winner being flown away to compete – prizes up to $10,000 – qualifying rounds and final round – Saturdays October 29th, November 5th & 19th, and December 17th, 2016 – Court Street between Dundonald Street and Ewing Street – 7 pm to 12 midnight.
UpTown Christmas Celebration – celebrate the season and give to the needy – produced by Gina Spence Productions in Christ – Court Street between Dundonald Street and Ewing Street – Saturday December 3rd 2016 – 7 pm to 12 midnight.
UpTown New Year's Eve Celebration – open air concert and celebrations to bring in 2017 – UpTown in all its glory – December 31st 2016 Court Street between Dundonald Street and Ewing Street – 9 pm to 3 am.
The BEDC said, "The Gospel celebration held in September was a success with over 15 featured acts, 10 vendors and over 250 community members. Given the unfortunate shooting incident that occurred just last week on Court Street, the Uptown Cultural Committee believes strongly that an initiative such as UpTown Saturday Nights is needed more than ever to:
Promote the theme of "Unity in the Community World Vibe – Fighting with Peace and Not for It"
Show the community that NE Hamilton/Uptown has a rich vibrant culture, history, and positive things to offer locals and visitors alike.
Show those engaged in undesirable and anti-social behavior to become engaged in something more productive framed around music and entertainment as a tool
Promote the positive and active use of the area.
Eugene Dean of the Imperial Group
Councillor RoseAnn Edwards
Mayor Charles Gosling
Minister Craig Cannonier
BEDC Chairman Nick Kempe
Chamber of Commerce's Kendaree Burgess
People's Pharmacy's Tamara Richardson
BEDC Executive Director Erica Smith
Minister Dr Grant Gibbons
Read More About
Category: All, Business, Entertainment, News, Videos