The "people of Bermuda will still own our airport," Premier Michael Dunkley said, urging people to "not listen to the divisive language coming from some who simply want to stop progress and block hundreds of jobs for Bermudians."
The Premier's statement comes as debate on legislation regarding the redevelopment of the L.F. Wade International Airport is set to take place in the House of Assembly this morning, after being delayed from Wednesday in order to give MPs time to review newly released documents relating to the proposed airport agreement.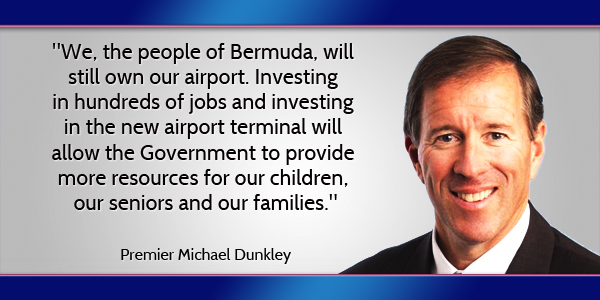 Premier Dunkley said, "I feel it is necessary to address some of the misinformation that has been spread about the airport redevelopment plan. What is this all about? This is about a badly needed airport terminal. This is about opportunity, and hundreds of jobs for Bermudians.
"The Opposition's airport plan goes back to the same old risky approach that has cost the Bermudian tax payer hundreds of millions in cost overruns and delays in projects such as the Dame Lois Browne-Evans building, Heritage Wharf and the Berkeley Institute, to name just a few.
"It is time for us to be responsible, and to provide more for our community. You deserve better, and for the tax payer, there is a better plan.
"The airport redevelopment plan is supported by the Bermuda Hotel Association and the Independent Airport Council and has been called creative, resourceful and solid. These are facts.
"Any comment or talks about privatizing our airport are simply not true, and they are very unfortunate and a desperate scare tactic. Our airport development plan is a public-private partnership with the Canadian Government.
"Rest assured, we, the people of Bermuda, will still own our airport. Investing in hundreds of jobs and investing in the new airport terminal will allow the Government to provide more resources for our children, our seniors and our families.
"I urge fellow Bermudians, do not listen to the divisive language coming from some who simply want to stop progress and block hundreds of jobs for Bermudians. Let's believe in our future, and let's move forward, because we can only rise together."

Read More About