The Officers and members of St Paul AME Church said they are "profoundly disheartened by the Bermuda Government's decision to deny our Pastor, the Reverend Nicholas Genevieve Tweed's work permit renewal" and they "feel utterly betrayed by the Government."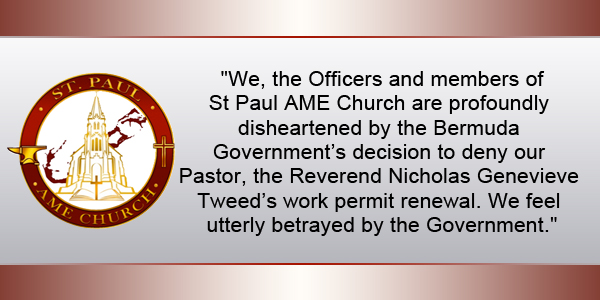 "In 2012, Pastor Nicholas Genevieve Tweed was appointed to St Paul A.M.E. Church by The Rt. Rev. Gregory G.M. Ingram, the Presiding Bishop of the First Episcopal District of the AME Church," a statement said.
"Since his appointment, Pastor Tweed has rejuvenated the church ministry. He has led our church with enthusiasm, compassion and most of all sound Biblical teaching. He has been a committed servant to his congregation and to the wider community.
"Pastor Tweed has led the congregation in Prayer, Bible study, Discipleship and ministering to the needs of members of the church and the community. Our Wednesday feeding programme and student scholarship awards have all increased under his leadership.
"He has been a true servant leader. He has carried out all his duties of ministering to his congregation with great care, to grieving families, to the sick and shut in, performing weddings and baptisms.
"He was appointed by the Bishop as deputy chair to manage Matilda Smith Williams Seniors' Residence and his leadership has served to stabilize and improve the operation of the residence.
"Our youth ministry has grown under his leadership, young people are serving and more visible in ministry at St Paul. They are devastated by this decision. The message that the Government sent will resonate for years to come. But we as a congregation will remain steadfast in our conviction and our faith.
"Martin Luther King Jr. in his Letter from the Birmingham Jail stated 'Injustice anywhere is a threat to justice everywhere. We are caught in an inescapable network of mutuality, tied in a single garment of destiny. Whatever affects one directly, affects all indirectly.' What has been done to the membership of St Paul and to the AME Church of Bermuda is an injustice.
"This is an attack on the faith community, Bishops, Elders, Pastors, and Reverends are called to serve and are called to speak out when there is injustice. When their voices are silenced there is a missing message of compassion, wisdom and justice that needs to be heard.
"The Government has stated that the Church has been a place of refuge, safety and renewal, their words are hollow to us as we close out 2016 and enter a new year without our beloved servant leader and Pastor, Reverend Nicholas Genevieve Tweed."

Read More About