[Updated] The Special General Council meeting is underway at the BIU this afternoon [Dec 30], as members gather to discuss the decision to refuse Rev. Nicholas Tweed's work permit.
Yesterday Home Affairs Minister Patricia Gordon-Pamplin confirmed that Rev Tweed will not be receiving a new work permit, saying, "In this particular instance, the applicant failed to comply with rules that were put in place for everyone. As a result, I had no choice but to uphold the previous decision to refuse the new application."
"The position was not advertised despite repeated requests by the Department to do so, and the actual application was incomplete and contained inaccuracies. On the basis of these failures to fulfil the requirements of Immigration policy, the work permit application was rejected," the Minister said.
Following the Minister's statement, the BIU said that President Chris Furbert called a Special General Council meeting for 12 noon today "to discuss the decision of Minister Patricia Gordon Pamplin not to renew Rev. Tweed's work permit.
Update: Photo of Rev Tweed outside the meeting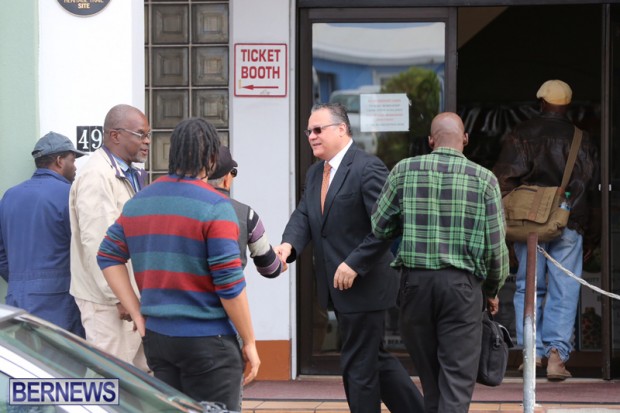 "All BIU Special General council members are urged to attend this very important meeting and all Shop Stewards are also requested to attend the meeting," the BIU said.
The People's Campaign group — which Rev. Tweed has been a key part of — said they "stand 100% in solidarity" with Rev Tweed, adding that it is "clear that the denial of Rev. Tweed work permit is political" as the "OBA Government and their supporters would like nothing more than to see Rev. Tweed placed on a plane and shipped out of the Country."
Shadow Minister for Home Affairs Walton Brown also commented on the matter, saying "the PLP is profoundly disappointed with the Minister and her refusal to grant Rev. Nicholas Tweed a renewal of his work permit," with Mr Brown urging the Government to "urgently reconsider this provocative decision at such a delicate time for Bermuda."
The meeting at the BIU is still underway as of this writing, and we will update as able, and in the meantime you can view all our coverage of Rev Tweed's work permit here.
Update 1.55pm: BIU President Chris Furbert just held a press conference, you can watch the 12-minute video below.
Update 2.58pm: Speaking at the press conference today, BIU President Chris Furbert said that there will be a general membership meeting at 9am on Tuesday morning.
He called the Minister's statement yesterday "four pages of garbage" adding that "the OBA want Rev Tweed out of here before February 3rd, before they bring the airport deal back on the table. That's what they want him out of here for."
Read More About