A press conference was held today to mark the financial close of the airport redevelopment project deal, with officials saying that "construction is expected to commence in April 2017″ and it will take "approximately 40 months to complete the construction of the new terminal."
Aecon announced this morning that it has "achieved commercial and financial close" on the airport project, saying "CCC will fully subcontract the work to Aecon, a construction contract valued at US$274 million" and "construction of the new terminal will begin shortly and is scheduled to be completed in 40 months."
Following this today's press conference, a Government spokesperson said, "This project is being implemented under a framework agreement between the Government of Bermuda and the Canadian Commercial Corporation [CCC], a Crown corporation of the Government of Canada.
"Commercially, the project is being delivered under a Public-Private Partnership [P3] business model. Aecon, as the private sector partner, is responsible for the project's development, financing and long-term operation and maintenance.
"In a press conference today to mark the occasion, Minister Richards was joined by Senator the Hon. Michael M. Fahy, JP, Minister of Tourism, Transport & Municipalities to make the announcement along with the officials from the Government of Canada, Canadian Commercial Corporation and Aecon Group Inc.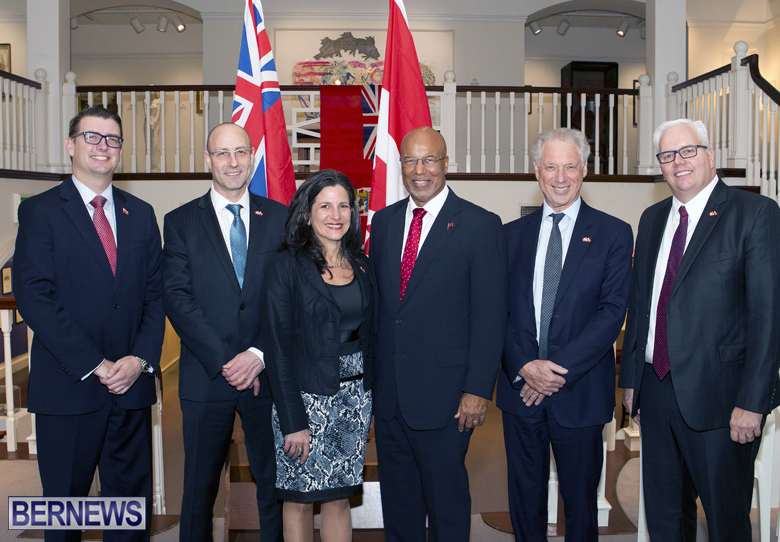 "In 2014, the Government of Bermuda, the owner of L.F. Wade International Airport, identified the Canadian Commercial Corporation and their sub-contractor Aecon to finance, construct and operate the project over a 30-year concession period through a public-private partnership [P3].
"Financial Close was reached on March 15th, and construction is expected to commence in April 2017. It will take approximately 40 months to complete the construction of the new terminal.
"Under the agreement, Bermuda Skyport Corporation Limited [Skyport], a special-purpose project company established by Aecon, will be tasked with operating and maintaining the existing airport, and with the financing, design, construction, operation and maintenance of Bermuda's new, state-of-the-art airport terminal and related infrastructure.
"Skyport will ensure that costs are contained and priorities are aligned without compromising standards for a world-class facility, and will help introduce ancillary activities and businesses that are consistent with the safe, secure and efficient operation of the airport to create a diversified revenue stream that will help pay for the project.
Minister of Finance Bob Richards said, "The Airport Redevelopment Project is one of the most important capital projects ever undertaken on our island shores and will play a crucial role in the renaissance of the Bermuda economy.
"This unique P3 model will enable Bermuda to create significant jobs for Bermudians without putting the government further into debt.
"The Bermuda Government is pleased to be working closely with the Canadian Commercial Corporation and its experienced, highly capable Aecon team on this project and I am very pleased that construction of our much needed, new state-of-the art airport can commence."
The 27-minute live video replay of today's press conference is below:
Minister of Tourism, Transport and Municipalities Michael Fahy said: "The hopes and dreams of every Bermudian are contingent on fully-functioning air services and there is no second option – no other airfield to land the goods we need to survive; no other airstrip to ferry our people back and forth on educational adventures around the globe; no other options for emergency airlift.
"We are obligated to mitigate the risk of losing this important asset, by putting in place the most necessary plans to replace out-of-date buildings that have out-lived their usefulness."
Martin Zablocki, President and Chief Executive Officer, CCC, said: "I would like to thank the Government of Bermuda for choosing to work with Canada on the redevelopment of L.F. Wade International Airport, and offer my congratulations on achieving commercial and financial close.
"This government-to-government project embodies the value, trust, and collaboration of the long-standing bilateral relationship between Canada and Bermuda. Knowing the positive economic impact a modernized airport can have on Bermuda, CCC is excited to play a key role in the delivery of a world-class, customized solution to meet the needs of Bermudians – for both today, and generations to come."
Steve Nackan, President, Aecon Concessions, said: "I would like to congratulate the Government of Bermuda on this momentous achievement. Reaching financial close is an important milestone for the project, bringing us one step closer to delivering Bermuda an airport to be proud of, and providing a first-class welcome to its visitors.
"I would also like to thank the negotiating and advisory teams on both sides who have worked tirelessly over the last two and a half years to make this landmark project happen. We look forward to building not only a new airport, but a lasting, positive relationship with Bermuda."

Read More About