"Local telecommunications companies are geared up for America's Cup by increasing Bermuda's mobile phone, data and internet capacity and all providers are confident that Bermuda's telecommunications services will be robust and will exceed consumer demand," the ACBDA said.
"It is anticipated that spectators, race participants, and all associated partner activity during the America's Cup event in May and June will consume as much international data as Bermuda normally does in an entire year," the ACBDA said.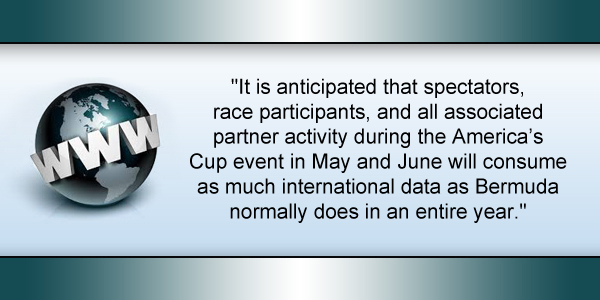 "This data is from forecast modelling conducted by the ACBDA Telecommunications Committee, tasked with ensuring sufficient telecoms infrastructure on island during the largest international sporting event that Bermuda has ever hosted."
Telecommunications Committee Chair, Fiona Beck, said, "We will be ready for the America's Cup, and we are ready for the new Bermuda. So much has been done, that this of course improves the infrastructure for Bermuda's long term benefit."
According to the ACBDA, here's what's being done:
1. New internet and fiber connectivity,
2. Increased cellular coverage and capacity,
4. New submarine cables to improve local resiliency and increased capacity on diverse international submarine cables, Bermuda relies on two main cables to the mainland USA for internet connectivity. To improve island wide connections, there is new international capacity coming on stream; this means more capacity is being added in anticipation of the huge data demands of the America's Cup coverage. Once this capacity is switched on and available in Bermuda, it stays on after the America's Cup event.
5. Sophisticated managed spectrum for the significant boat telemetry, radio and broadcast signals, and all the hand-held VHF's.
6. A new Wi-Fi network will be set up at the America's Cup Village, which is free to the public.
7. Both local cellular companies; One Communications and Digicel; are rolling out new LTE [or 4G] networks. This new 4G network effectively means that anyone on 4G networks will get faster connections on a cell phone. Both companies are also installing several new temporary cell sites [Cellular on Wheels, COWs] during the race month. This improvement will mean that the on water experience this year will be significantly better than during the Louis Vuitton America's Cup World Series event in Hamilton in October 2015. At that time, LTE was not available as the spectrum had not been awarded, where now we do and Bermuda's cellular networks will be ready.
8. Cellular capacity on the water, with possibly 1000 boats all streaming data, will still be a challenge. These companies have spent the past 18 months building new LTE networks, planning additional cell sites and redesigning the network to be America's Cup ready.
9. The companies have designed networks that will be monitored locally, and resources will be deployed on the water to keep an eye on cellular traffic congestion and any signal interference, to ensure that Bermuda delivers quality telecommunications.
10. Over the past two years Bermuda's providers have made a significant effort. One Communications, Digicel, CCS, TBi, Challenger Cable, East End Telecom, Fireminds, WOW, and many other contractors have been involved and have played a critical role in making this happen. This is a collective industry response, which means we will have an infrastructure and service we can be proud of.
The ACBDA added, "The investment by local telecommunications companies is another example of how America's Cup benefits Bermuda for the long term.
"When Bermuda hosts an event of this magnitude, local companies can identify commercial opportunities to see return for their investment. Without the event, these projects may not have been commercially viable and therefore may not otherwise be started.
"Tickets for the 35th America's Cup can be booked online at americascup.com/tickets. Local priced $10 tickets are still available for the first day of racing and the Bermuda-themed Open Ceremony and fireworks on Friday May 26."

Read More About
Category: All, Business, News, technology