Almost $190,000 has already been pledged to scores of Saltus Grammar School students having their heads shaved for St. Baldrick's.
On Friday [March 17] more than 120 students and staff will take part in the event, which raises money for the St. Baldrick's Foundation for research into childhood cancer.
And as well raising money, some pupils, staff and parents are donating their hair to Locks of Lovewith some also donating their hair and having their head shaved.
Nine-year-old Samiah Furbert is having her hair shaved for the first time and said: "My father had bladder cancer and that made me want to do this. I am a bit nervous about it."
Abby Sadeh is also taking part for the first time and she said: "My teacher inspired me to do it. He was talking about it and what he said made me want to take part."
Upper Primary students who are taking part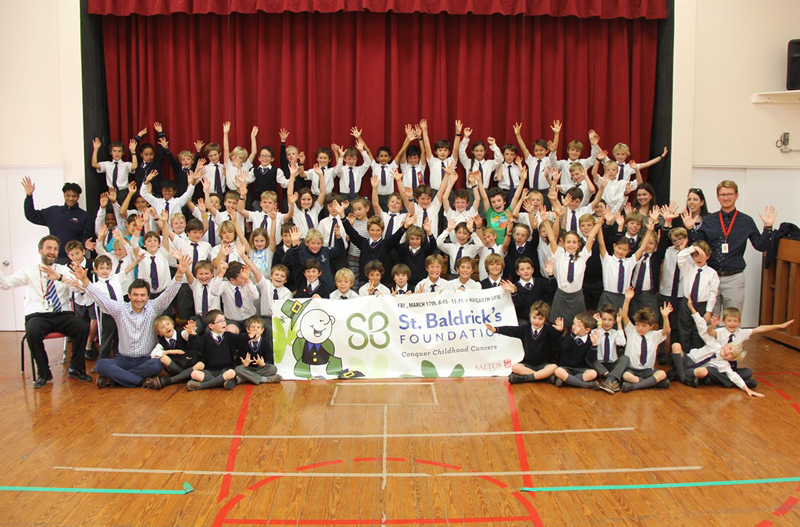 "It's my third time," said Cole Steinhoff, ten. "I feel so sorry for those children out there who have cancer. My mother had thyroid cancer and I wanted to do something to help."
Bryanna Regier, ten, is taking part for the second time and said: "Some of my family members had cancer, my great grandfather had brain cancer. So far, I've raised $3,000."
And there was some good advice from Nathaniel Swan, the Head Boy in the Primary Department who is doing St. Baldrick's for the fifth time: "Wear a beanie, it's cold with no hair!"
The event was started at the school 11 years ago by a Secondary teacher and has so far raised more than $1million. It's the School's 10th year as an officially registered site.
According to the St. Baldrick's Foundation, "out of 1,233 events, Saltus Grammar School came in at #14, with $246,648.80 raised in 2016".
Saltus Head Boy Trey Maybury explains why he is taking part:
Head of School Ted Staunton, who took part in the event last year, said: "What the students have achieved over a decade now, is nothing short of phenomenal.
"This started with just a handful of people taking part, raising a few thousand dollars. Now it is an event the whole school looks forward and participates in. I am extremely proud of everyone.
"The fact that almost $190,000 has already been raised is extraordinary and we know from experience that that amount will grow considerably."
Mr Staunton also thanked Headway Hair & Body, Kita's Beauty Salon & Barbershop, Salon Pink, Strands, The Hideaway at Surf Side, TK Hair, Quality Cutz [Metropolitan Express], and Sgt. Maj. Durham of the Royal Bermuda Regiment. "Without their help, this event could not happen."
People can donate to participants here. More information on St. Baldrick's in Bermuda.

Read More About
Category: All