With Mother Nature cooperating for the final event, organizers held the FEI World Jumping Challenge Finals for Bermuda at the National Equestrian Center On Vesey Street.
Kirista Rabain had a shaky start to her 1st round with an unfortunate rail down in the combination. Philip Correia was next in Category A and he had an unlucky rail down at fence # 10 which was a shame to an otherwise good round.
In round 2, Philip's mount Emerson was true as ever as Philip piloted him to a beautiful clear round. Kirista's ride Helsiniki Van de Heffinick jumped a bold and amazing clear round to be a hair faster than Philip and Emerson to win the local Overall Category A.
Casey Truran riding De Le Vega winner of Category C [BER] FEI World Jumping Challenge, being presented with the Central Carolina Trophy by Organizer Carla Stempel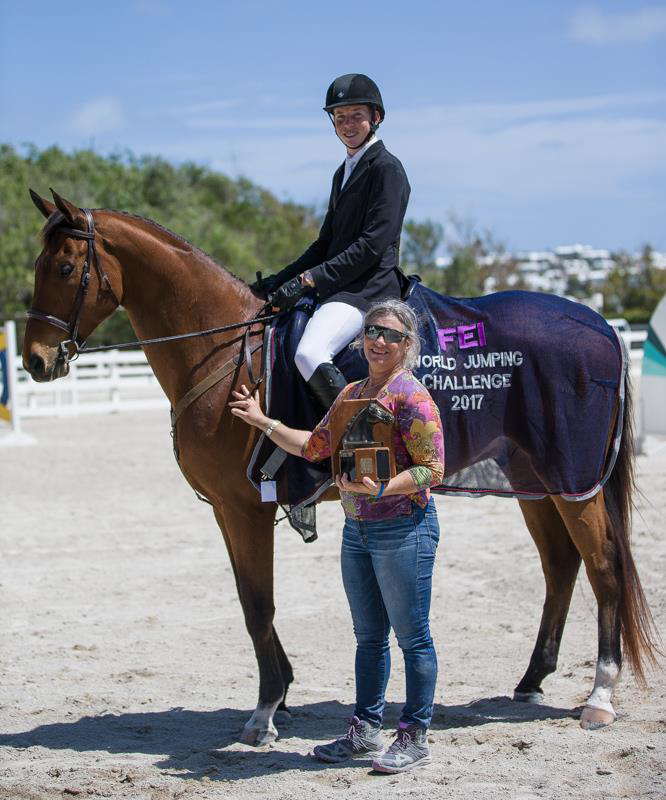 In Category B round 1, Viki Steele and her mount All in One, had a bit of a scramble through the combination 6a and b but managed to have a clear round. Dale Rochester on Carolina Gold posted a very consistent clear round.
For the second round in Category B, Dale and Carolina Gold posted another consistent clean round that was lovely to watch except he incurred 1 time fault. Vicki and All in One had a hard day at the office so to speak, as she finished with 2 rails down for a score of 8 faults. She did however manage to be the local Overall winner for Category B since the local competition is based on the total cumulative scores of all three competitions.
Kirista Rabain riding Helsinki V/D Heffinck winner of Category A BER 2017 being presented with the Aon Trophy by Ian Truran, President of the Bermuda Equestrian Federation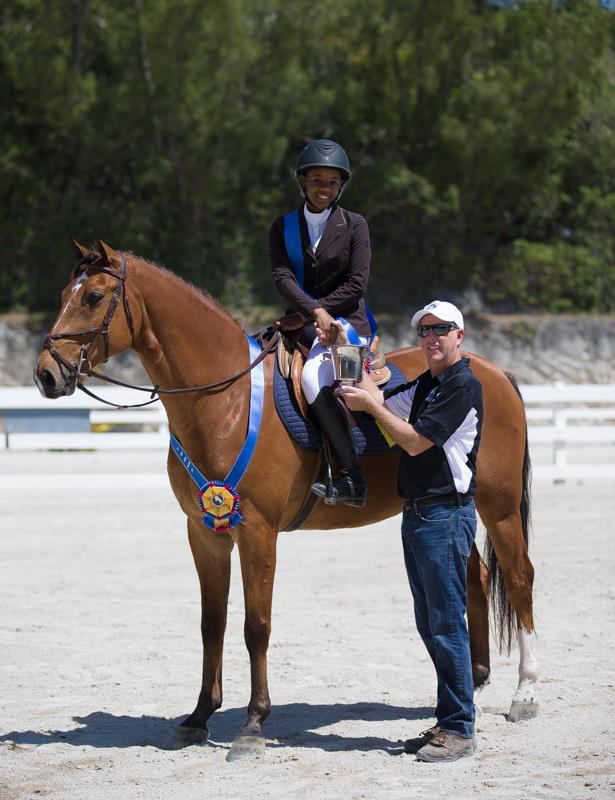 In Category C, the Guilherme Jorge course created trying rounds for Abby Bardgett riding New to the City and Dukes of Hazard, and Elizabeth Madeiros riding Mr. Bentley. Casey Truran went clear but with a single time fault. Casey's mount De Le Vega very honestly packed around the course for Casey to be the local Overall winner of Category C.
Under the FEI World Jumping Challenge Competition rules, competitors drop their worst one day competition scores of the 3 competitions and that is the FEI Provisional scores submitted to the FEI.
Bermuda is the first country to start competing in 2017 and the competition runs until the 31st December, so Bermuda will now wait to see how our riders will finish in Zone 10 where we compete against other countries.
Vicki Steele riding All In One winner of FEI World Jumping Challenge Category B [BER] 2017. Presenting the trophy is Ann Lindroth donator of the Night Mare trophy and winner of the FEI Challenge [BER] in 1984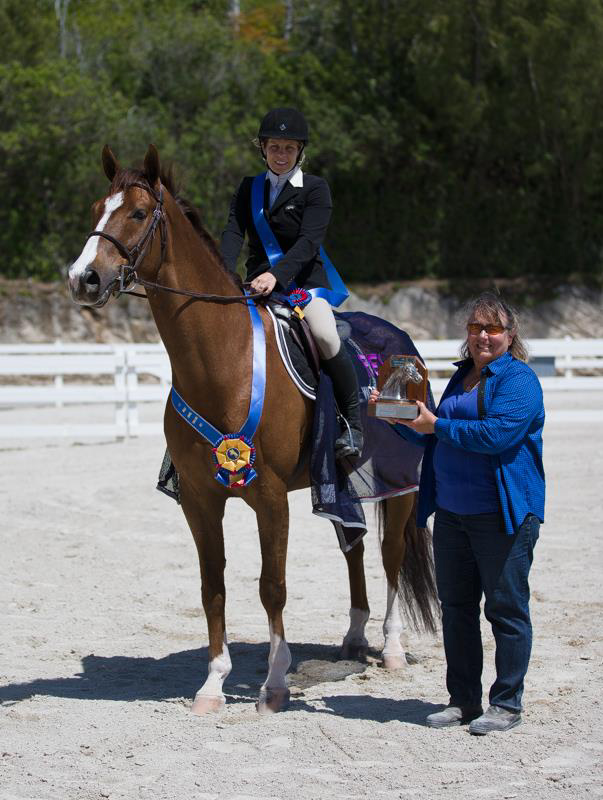 Of note, Kirista Rabain won both the 2016 local competition Category A A and our zone which subsequently qualified her for the Final FEI World Jumping Challenge which is set to take place in Algeria next month. Kirista will be traveling with her coach Mary Frances Gaglio .
"An event of this magnitude would not be possible without the help of our gracious sponsors: Clarien Bank, The Stempel Family, Freisenbruch-Meyer Group and Hiscox and the numerous volunteers who make sure the event runs as planned," the organisers said.
- Photo above courtesy of Andy Gibbs
The full results follow below [PDF here]

Read More About