It was another full day at the 2017 RIMS Annual Conference, as the Premier Michael Dunkley and Bermuda's delegation of government, industry and regulatory representatives were officially welcomed at the event in Philadelphia today [April 25].
RIMS CEO Mary Roth and President Nowell Seaman greeted the Premier, who was accompanied by Finance Minister E.T. [Bob] Richards, Economic Development Minister Dr Grant Gibbons, Bermuda Monetary Authority CEO Jeremy Cox, Brad Kading, Stephen Catlin, Deputy Chair of XL Catlin, Bradley Kading, President of the Association of Bermuda Insurers & Reinsurers [ABIR], Paul Scope, Chair of Willis Towers Watson Bermuda, and Ross Webber, CEO of the Bermuda Business Development Agency [BDA].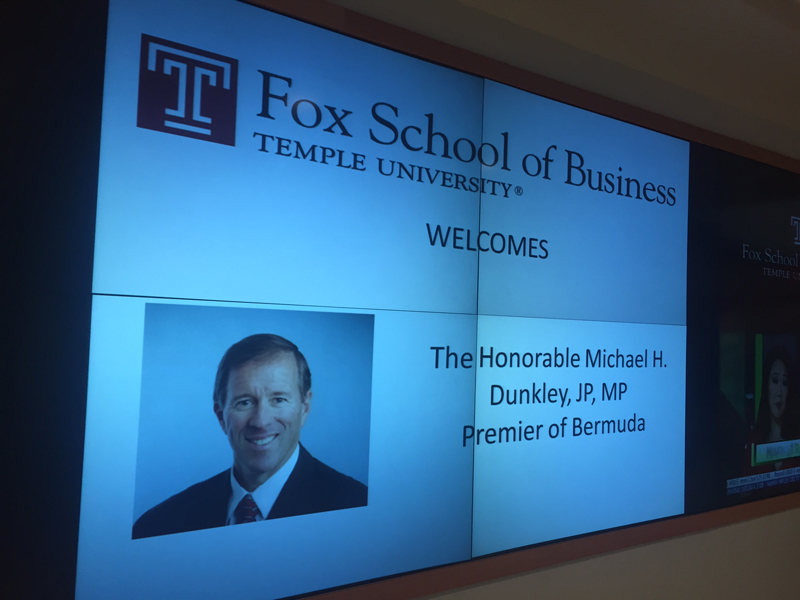 Premier Dunkley then joined the delegation for the traditional walkabout of the RIMS Exhibition Hall, visiting industry and stakeholder booths. He was interviewed by AM Best TV, RIMS TV and other media.
Later in the day, the Premier and Minister Richards visited Temple University's Fox School of Business, where students in the Risk Management & Insurance Programme included two Bermudians, Lady Carmela Robinson and Quaejah Cox, who will both graduate in 2018.
Lisa Zimmaro, Associate Vice President, Risk Management & Treasury, Temple; Janita Burke, Client Director, Estera Bermuda; Premier; JoAnne Epps, Vice President & Provost, Temple; Minister Richards; Temple Dean Moshe Porat.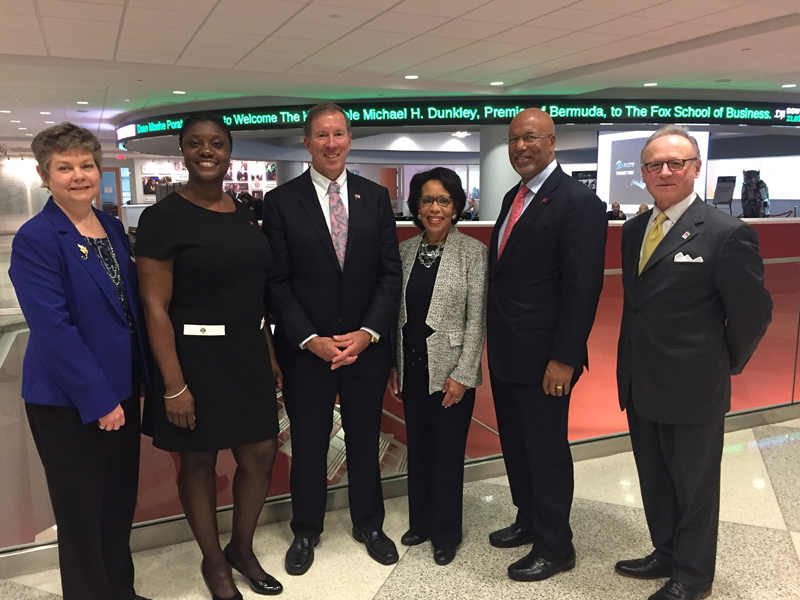 The university invited the Bermuda delegation to visit the campus during the RIMS conference to celebrate longtime ties to the island. The Dean of School of Risk Management Moshe Porat and Chair of the Department Robert Drennan welcomed the group and tour the school, visiting with insurance students, including Cox and Robinson.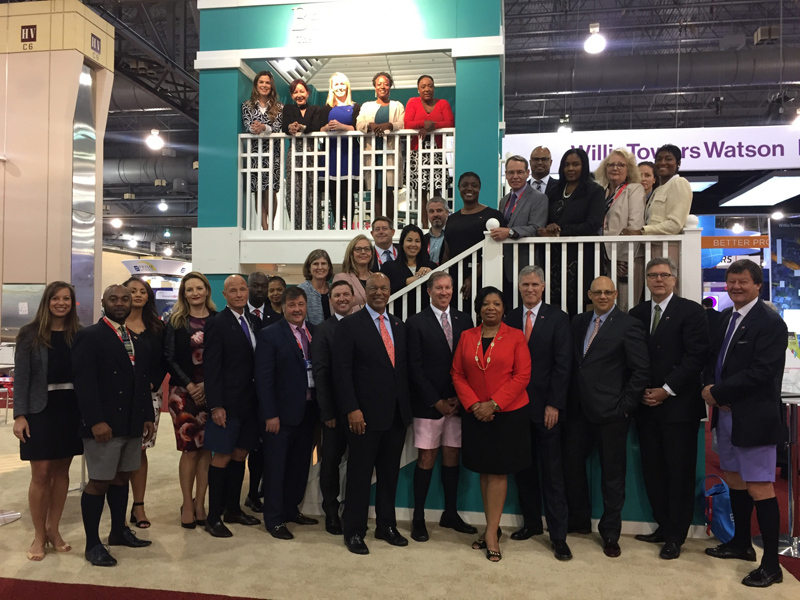 The university has also had two captive insurance companies on the island since 1989 and 1998 respectively.
Dean Porat had a further professional connection to the island; he was one of several key individuals who helped draft up the legislative and financial framework for the setup of captive companies in Bermuda.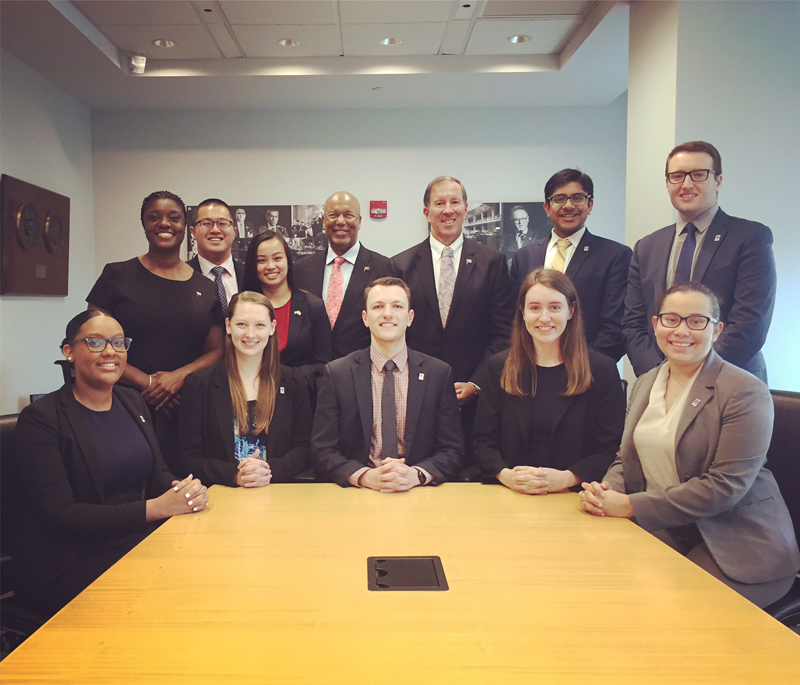 Premier Dunkley said, "We were delighted to take time out of RIMS and visit Temple University, an institution that has a great reputation as a very fine school, including its business school.
"To learn about the depth of Temple's relationship with Bermuda and the length of time it has been connected to our island was truly impressive.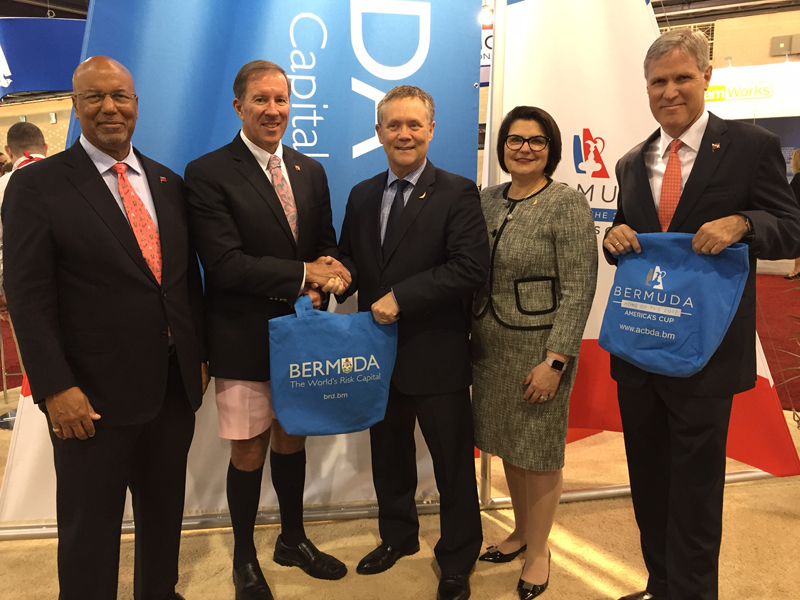 "I had the pleasure of meeting with Moshe Porat, Dean of the School of Risk Management, who also happened to be instrumental in helping draft the legislative and financial framework for setting up captive companies in Bermuda.
"We were also able to sit down with students and faculty from Temple's Fox Business School, and learn first-hand about their insurance studies programme. I was impressed by their enthusiasm and deep connections with Bermuda thanks to Temple's captive insurance companies on the island that go back years.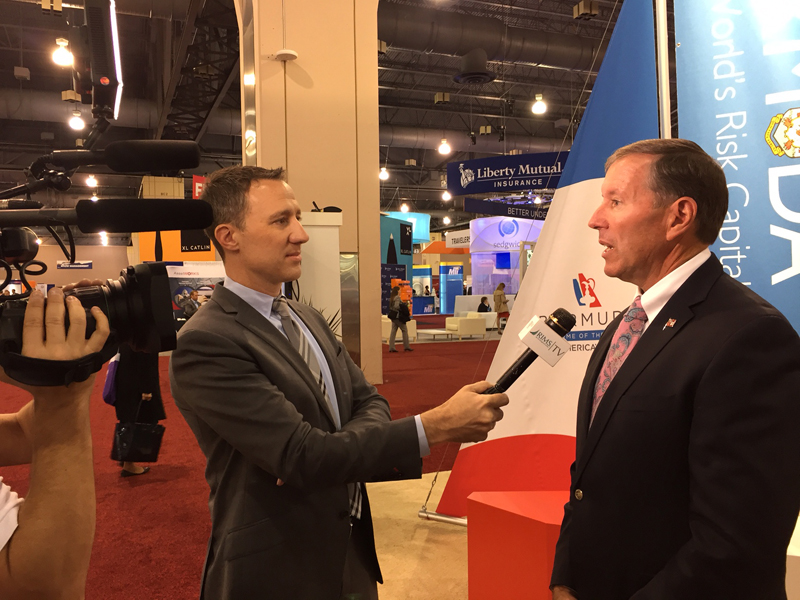 "Not only are they keen to educate their students and equip them to face the big world, but they certainly have a high impression of Bermuda. This will help us stay at the cutting edge of the insurance and reinsurance industry."
The Premier and Ministers later joined industry leaders at an evening networking reception held aboard Moshulu, a restored sailing vessel docked on Philadelphia's waterfront.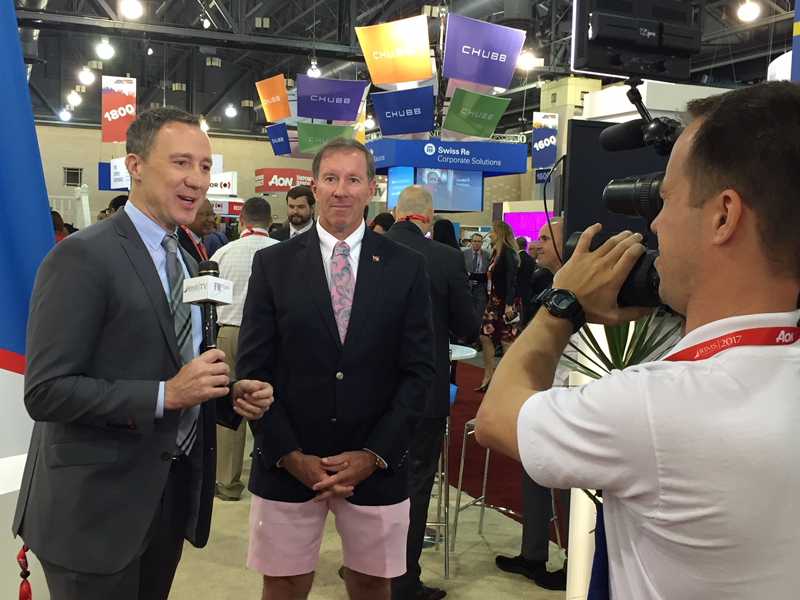 Read More About