In order to mark International Workers Day, the Bermuda Trade Union Congress [BTUC] will be holding a 'Solidarity March' from Victoria Park at 12 noon on May 1st, and a 'Solidarity Service' on Sunday, April 30th at St. Paul A.M.E. at 10.55am.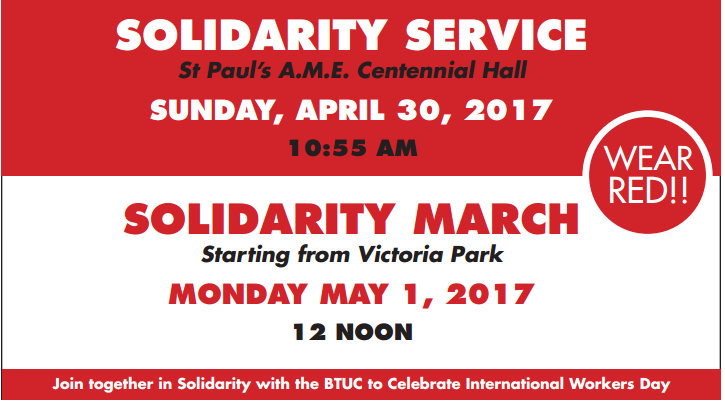 The BTUC said, "Annually, May 1st is recognized around the world as "May Day" or "International Workers Day". The day is typically marked by international celebrations, focusing on the contribution of workers and workers' organizations to the socioeconomic success of their communities.
"It is well documented that the rights and benefits won through the efforts of labour organizations readily transfer throughout the community. Because of these efforts, we are pleased to contribute to fair employment practices and a better quality of life for all in Bermuda.
"May 1st was chosen as the day to acknowledge the workers' contributions which resulted in the sacrifice of lives during a peaceful demonstration held at Haymarket in Chicago in 1884.
"As a progressive society, we cannot stand by idle while the government seeks to silence community leaders," the BTUC said. "These actions demand action!
"To that end, we are calling on all workers: Bermudian and Guest worker; organized and non-organized; public and private sector; blue and white collar; to join in solidarity to honour the important roles our labour leaders play in supporting our community, driving progress, and safeguarding the interest of working class persons.
"The BTUC welcomes the entire community to participate in a 'Solidarity March' on May 1st 2017, commencing from Victoria Park at 12 noon. In addition, members of the public are invited to attend a 'Solidarity Service' to be held on Sunday, April 30th at St. Paul A.M.E. commencing at 10.55 a.m.
"Let us not be fooled into thinking that any good can come from division; into thinking that one type of worker is better than the other; or into thinking that another's struggle is not valid if it does not mirror our own.
"Instead, let us move forward together with a true sense of respect for the rights and the contributions of the workers of Bermuda."
Read More About