In the fifth in a series of profiles of netball players who will be part of the team representing Bermuda at the Netball Europe Open being held in Scotland from May 11th to 14th, we spotlight Karlandra Smith, a 32-year-old who plays in the Goal Defence and Goal Keeper positions.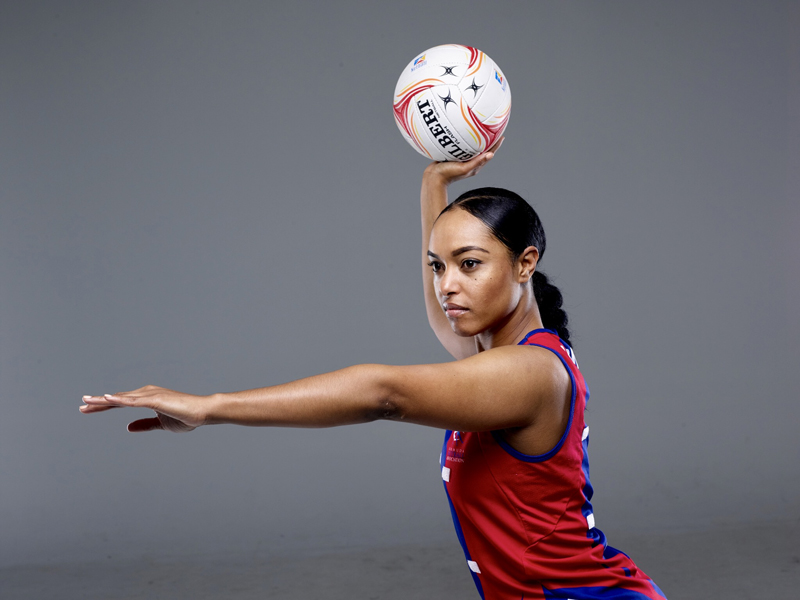 1. How does it feel to have been selected for such an elite squad?
It feels great to have been selected for an elite squad. Given the opportunity to represent my country is extremely self-rewarding. I know that we are about to make history however myself, and my team, are prepared to do the hard work to make it happen.
2. How will you prepare for the competition between now and May 11th?
Outside of intense squad training that consist of drills, set plays, and weight lifting, I have taken on a much more disciplined and healthy life style that include clean eating. I feel great though and it's really helped me prepare for the tournament, although it can be hard avoid pastries sometimes! I also take the time to watch a games played by top ranked teams, like New Zealand, to get a greater technical understanding of the game and pick up a few new tricks as well. I know that I need to be both physically and mentally fit to compete, so I take a very 360 degree approach to preparing overall.
3. Will this be your first time in Scotland? Do you plan to take time to see some of the local sights during your time there?
Yes, this will be my first time in Scotland. I'm really excited to experience the culture and of course visit a castle! I'm a little nervous about the cold weather but I went to university in New York, so I think that I will be okay.
4. When did you start playing netball and what prompted you to start?
I started playing netball when I was primary school. I always loved it but only started taking it seriously when my PE Teacher at Berkley Erica Russell started a commercial league team for her students. After a year, I moved into the more serious Bermuda Netball Senior League. I've been playing with the same girls for 15 years now and they are like family to me. The sport has allowed me to see some amazing countries but more importantly it has taught me how to be disciplined and be team player. Many skills I apply on the court I now use in the workplace. Net Ball overall I think has made me a better person.
5. Do you feel the sport of netball gets enough support from the local community?
No, I don't think netball gets enough support from local community. Netball is a hidden gem and a lot of people probably don't even know a league exists. It's a great sport to watch, although it can be aggressive there is also a sort of elegance, kind of like you are watching a dance. Every year a new set of rules come out and this year's allow us to move a lot more freely and the game more quick paced, so it's even more fun to watch.
6. What are ultimate goals in life, both on and off the court?
My ultimate goal in life is to leave impressions on people's heart. When I'm gone I want people to remember me for the girl that was outgoing, highly driven, and creative. I'm a hard worker with talent to inspire and bring people together. On the court I want to be a role model for the upcoming generation. I want young girls in Bermuda to view me as inspiration to know that you can achieve whatever you put your mind to.
7. If you had to, for some reason, have one non-netball player on your team, like a local politician/entertainer/public figure, who would you choose and why?
I would choose Shawn Goater. He is an iconic athlete in Bermuda and I would love to challenge myself from one of the best. He understands the importance of team work and strategy, something that reflects my own ethos. Plus, I'd just like to see his face when I yell across the pitch 'Feed the goat'.
8. Which Bermudian athlete, coach or sporting figure do you admire most and why?
My league coach Erica Russell because if it wasn't for her I wouldn't be where I am today. She has a unique ability to see your natural skills, even if you don't see it yourself at first. Her passion for the game is infectious and she is always trying to welcome new people into the Netball Community. Most important she just cares about people and will do anything to help you be a better person on and off the court.

Read More About