[Opinion column written by Shabnam Jheengoor]
Social media and news agencies alike have been abuzz recently with the Westminster attack where a so-called 'Muslim' man injured and killed dozens of innocents in London. Once again, it becomes important to reiterate that Islam condemns such barbaric acts.
Islamic teachings emphasize compassion, justice and respect for all faiths. Thus, intolerance and hate has no place in Islam. The distortion of Islamic teachings by extremists to justify such violence must be denounced.
The Ahmadiyya Muslim Community strongly condemns the terrorist attacks occurring with alarming frequency around the world and conveys its deepest sympathies to the victims of these crimes. The rise of this extremism worldwide is pulling people apart, creating further divisions and mistrust.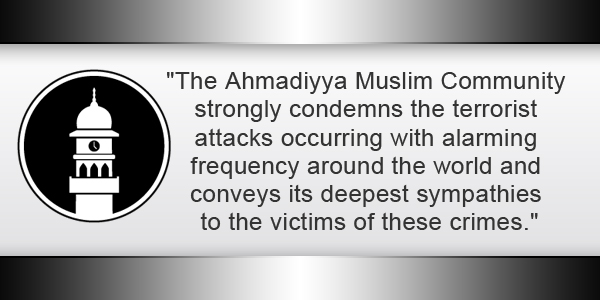 Under the leadership of His Holiness, Hadhrat Mirza Masroor Ahmad, the Ahmadiyya Muslim Community worldwide has been fervently engaged in the promotion of peace and justice. On the 25th of March, the Community in the UK held its annual Peace Symposium.
The event promotes a deeper understanding of Islam and other faiths and seeks to inspire a concerted effort for lasting peace. More than 800 guests from across the world attended the unique event including Secretaries of State, parliamentarians, diplomats, faith and civic leaders as well as representatives from numerous charities and faith communities. The event included messages from Prime Minister Theresa May and the Vatican. The full video of the event can be viewed on Youtube here.
To further remove the numerous prevailing misconceptions about Islam, the Ahmadiyya Muslim Community in many countries has also launched the True Islam campaign. The campaign clarifies eleven key misconceptions about Islam. Thus, the campaign explains that true Islam is a religion that:
1. Wholly rejects all forms of terrorism
2. Believes in non-violent jihad of the self and the pen
3. Believes in the equality, education and empowerment of women
4. Advocates freedom of conscience, religion and speech
5. Advocates for the separation of mosque and state
6. Believes in loyalty to your country of residence
7. Encompasses the universal declaration of human rights
8. Believes in all verses of the Quran and forbids lying
9. Recognizes no religion can monopolize salvation
10. Believes in the need for unified Muslim leadership
11. Wholly rejects the concept of a bloody Messiah
As we launch this campaign locally, more information can be obtained our Facebook page AMC.Bermuda and by following us on Twitter AMC_Bermuda. One can also endorse these points at TrueIslam.com or by using #TrueIslamBermuda.
- Shabnam Jheengoor, Ahmadiyya Muslim Community Bermuda

20 Most Recent Opinion Columns

Opinion columns reflect the views of the writer, and not those of Bernews Ltd. To submit an Opinion Column/Letter to the Editor, please email info@bernews.com. Bernews welcomes submissions, and while there are no length restrictions, all columns must be signed by the writer's real name.
-


Read More About